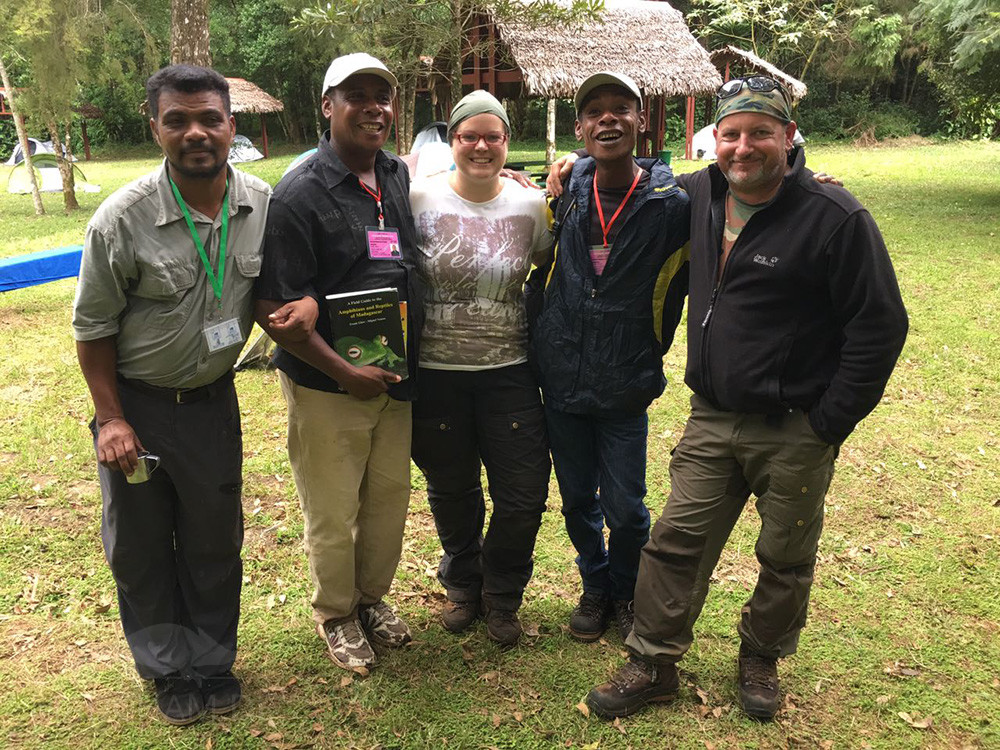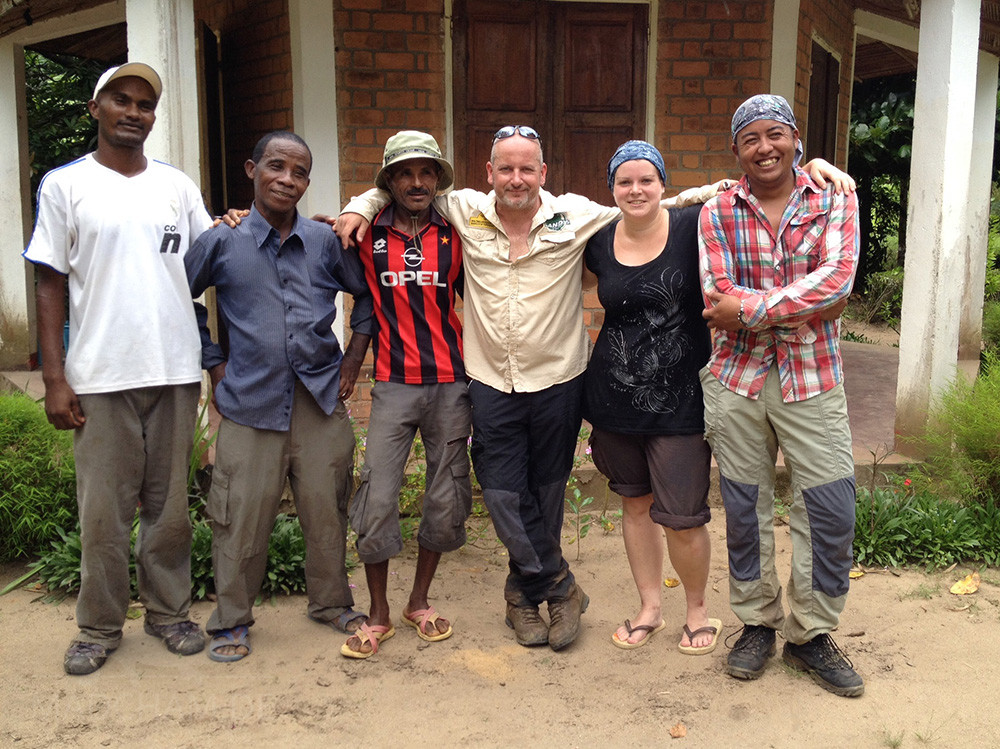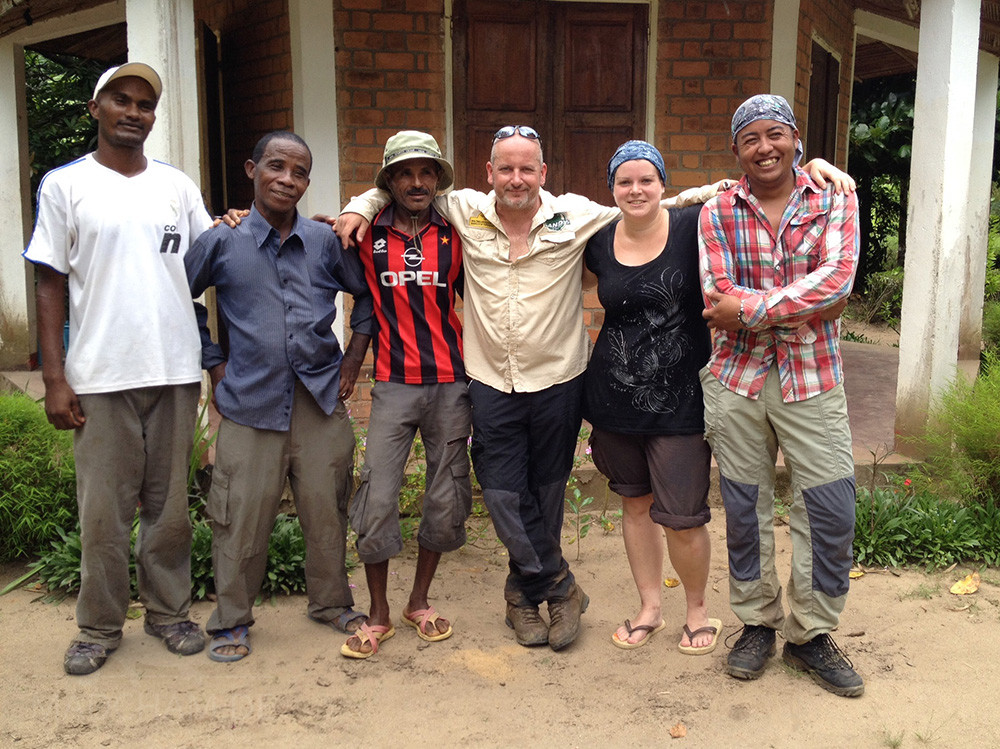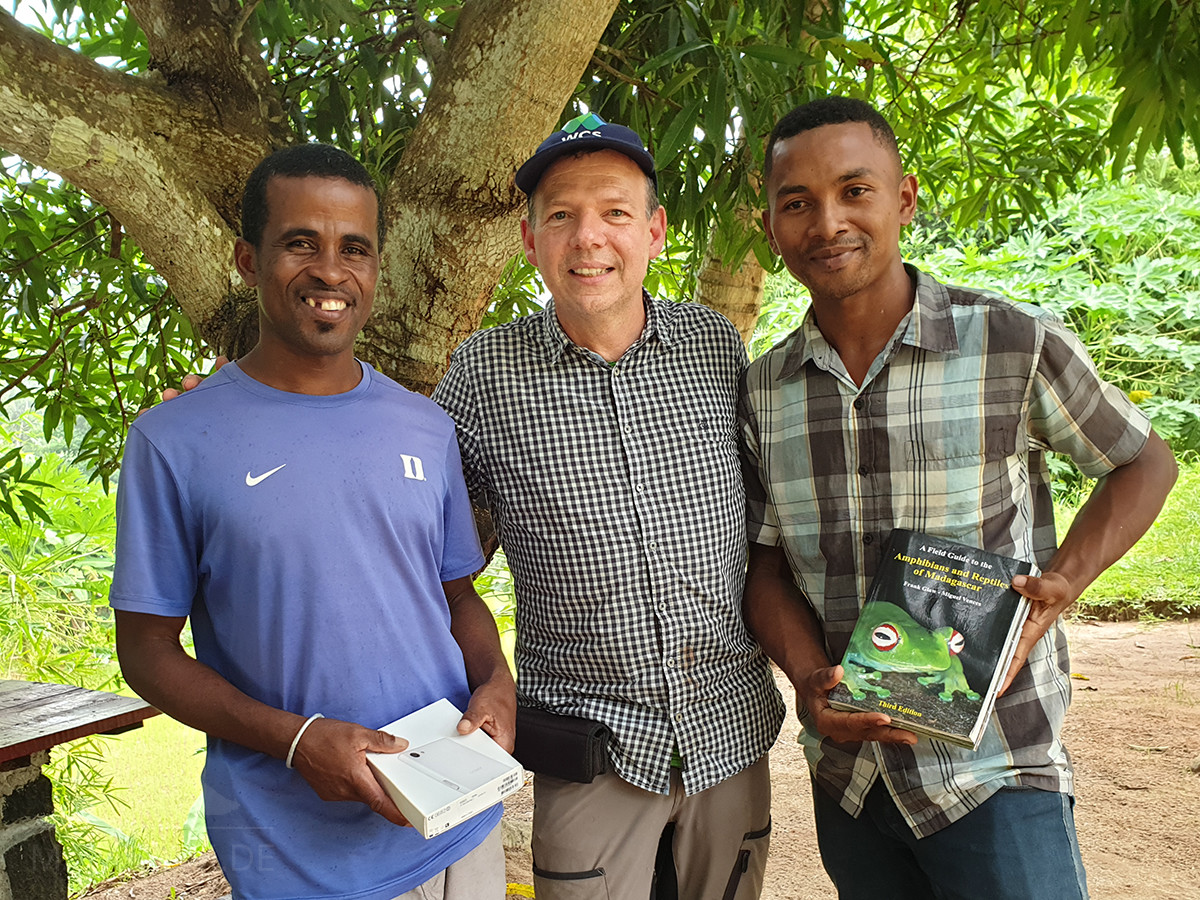 There are guides in many national parks and reserves in Madagascar who would like to learn more about reptiles. Unfortunately, there is a lack of literature on the island. The only large field guide about amphibians and reptiles costs about 50 € and is from 2007, but since then countless new species have been described, all of which are missing in the old field guide. However, an updated version of the field guide is not expected in the next few years. So what to do?
Alex clarified this relatively quickly for herself: She compiled the additions for the field guide herself, working for hours in the evening. The whole thing was then formatted appropriately, equipped with photos, reduced in size, printed out, cut to size and then glued into the "old" field guide in the appropriate places. It takes about one day to glue in each field guide alone. We didn't count how long it took to write the additions… In the end, a single field guide, updated by hand, existed at the beginning of 2015.
The idea for the project "Fieldguides for Madagascar" was born on a trip to Marojejy in the northeast of Madagascar in the same year. The guides on site tried extremely hard to show us as many reptiles as possible. In the evening, Alex's field guide, filled with dozens of handwritten notes and updates, came to the table to identify all the animals found. And then suddenly it was gone – because the guides had borrowed it to copy by hand all the new species they didn't know yet with a tiny, broken-off pencil and individual pages of paper from an old notebook. It quickly became clear that such a field guide would be worth its weight in gold! Finally, Alex gave away her own field guide to Mosesy, one of the best guides in Marojejy. And he was speechless when he really held the book in his hands. The joy and pride of this gift were immense. Thus the idea was born to provide other local guides with an updated field guide.
Since then we have been asking friends and acquaintances to donate a used field guide for this project or give away their own for a good cause. In fact, some field guides already came together and with the help of good friends, we were able to provide them with all updates one by one. In 2017 the first updated field guides could be given away: In Isalo, Kirindy, Ankarafantsika, Andasibe and Amber Mountain. Since then, we have given away updated field guides every year, which are now in good hands all over Madagascar. The guides who receive them are incredibly happy, and some of them count the book as one of their most valuable possessions. This is probably the biggest 'thank you' we can achieve with this project. By the way, in 2022, a second field guide found its way to remote Marojejy – and Mosesy received all updates for his field guide since 2015. Since Frank Glaw, who wrote the 2007 field guide with Miguel Vences, was himself on this expedition with us this year, there was even a very personal author dedication to it.
…so if you also have an old field guide "too much", we will gladly take it!