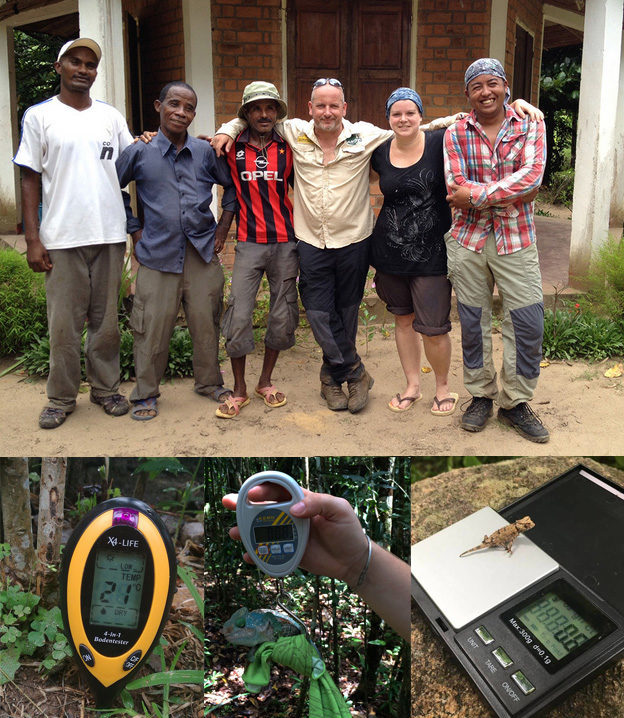 We are Thorsten, Alex and Dimby.
We're the team of Madcham.de!
Thorsten is educated master of photography and chief of Tanalahorizon, the travel agency for Madagascar expeditions. Thorsten's nickname is Tanala (Malagasy for chameleon). He founded Madcham.de together with a friend. Alex is veterinarian with foible for reptiles, especially chameleons, and wrote her doctoral thesis about panther chameleons. That's why she and Thorsten have been to Madagascar on a regular term to photograph and collect data. Alex soon joined Madcham.de and expanded and updated the website. Finally, Dimby joined the team and the love for chameleons via Tanalahorizon, too. He is tour coordinator and national guide. There are few people in Madagascar with so much experience and skills concerning the colourful lizards of the island. Additionally, he's always looking for unknown habitats of rare species.
Our aims

Our aim is to collect as much data about Malagasy chameleons and Madagascar's climate as possible. This all is an absolute non-profit-project we're caring for in our free time. None of us earns any money by sharing self-collected data, information and pictures via the world wide web. With Madcham.de we want to build a platform as encyclopedia for ourselves, other chameleon keepers, breeders and people interested in chameleons in general. Finally this shall lead to higher awareness for species conservation in Madagascar. Of course this is just the beginning, and despite a lot of pictures and information there is still a lot to do.
Copyright secured by Digiprove