Glass
Cages made of glass belong to the oldest in keeping reptiles, and have been staying keepers in good stead for years. Unfortunately, many standard glass cages in common shops are not suitable for keeping chameleons due to their bad ventilation. That means before using a glass terrarium for a chameleon, you have to add ventilation mesh and convert the original cage into a chameleon-appropriate one. In most cases, people remove the top and one pane and replace it with aluminium screens. We use modified glass terrariums as quarantine cages.
Advantages:
easy to look through the glass
easy to clean and disinfect
translucent
waterproof
Disadvantages:
Top has to be replaced with metal screen, because glass does not leave UVB radiation through
The standard perforated metal plates on top absorb too much light and UVB radiation
difficult to install sufficient ventilation areas
high weight
some chameleons react aggressively towards their mirror image
Polystyrene or styrofoam

Especially hobby do-it-yourselfer love to create their own terrarium out of polystyrene or similar material, but it never became prevalent in chameleon keeping. If you want to invest a lot of time and efforts and have a creative streak,  you will be able to get pretty results with hairdrier and other tools. But in most cases, these self-built back panels and terrarium walls do not reach the original expectations, especially in terms of optics.
Advantages:
relatively cheap material
lightweight
can be built exactly after personal ideas
self-made look
Disadvantages:
need to be coated several times (epoxy resin, tile cement)
very difficult to clean and disinfect (almost impossible)
enormous amount of time needed
self-made look
teils instabil
OSB (oriented strand boards)
Especially beginners in keeping chameleons like these kind of cage material, because it is cheap and easy to work with. You can get OSB in every DIY-shop. Even ready bought OSB terrariums can be easily changed or converted into chameleon-appropriate style. It is a big disadvantage that you have to coat OSB with epoxy resin or similar seals several times, otherwise the high humidity of a chameleon terrarium will make the OSB swell up. Partially, this might lead to much more intense costs than thought before. Optically, we do not like to have OSB cages inside our living rooms.
Advantages:
cheap material
DIY centers can cut all boards individually
dimensionally stable, ventilation areas can be cut out even in the final cage
Disadvantages:
very difficult to clean and disinfect (hardly possible)
not waterproof: all boards have to be coated and sealed
bad look / rarely well taped with decoration soil
Rigid foam boards

In the last years, rigid foam boards have come to popularitiy among chameleon and reptile keepers. It has a noble appearance, is easy to clean and disinfect and lightweight. This is set against higher costs only. Rigid foam boards are rather soft, so you have to make sure your boards are thick enough to avoid bending.
Advantages:
very lightweight, easy to transport
clean, pretty look
easy to clean and disinfect
easy to cut and work with
Welding without preheating possible for small cages
can be combined with alu profiles for larger cages
Disadvantages:
very soft and flexible material, but only useful with small cage sizes
adhesive bonds might come loose over time
relatively expensive
conditionally  UV-stable (yellowing), UV-stable boards are more expensive
Aluminium profiles

This is probably the best choice when building terrariums: A mixture of aluminium profiles and other materials. They leave nothing to be desired, since almos every shape, look and size is possible. The profiles are linked with plastic profile connectors. Well done, the ready aluminium frames are extremly robust, almost indestructible. You can build whole terrarium walls as well as single cages. The profiles come in different colours, so you can use them without any problems in living rooms, too. You can combine aluminium profiles with every other material, e.g. glass, rigid foam boards or aluminium composte panels – or mix it all up.
Advantages:
very stable and robust
leightweight
made for the long-term
hardly loss of value over time
very nice look
Disadvantages:
Aluminium composte panels + aluminium profiles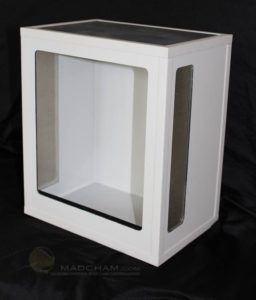 Cages made of aluminium profiles and white aluminium composte panels have an elegant appearance, similar to rigid foam board terrariums. But they have many advantages concerning stability, size and durability, and are even cheaper in price. This material is generally UV-stable and you can cut surfaces for ventilation screens everywhere. Best choice ever would be using aluminium profiles combined with composte panels: They are almost indestructible.
Advantages:
clean, elegant look
dimensionally stable even with 200 cm heights
lightweight
good price-performance ratio
easy to clean and disinfect
Disadvantages:
might be a little more expensive