CITES quotas
no legal export possible
First description:
Raxworthy & Nussbaum, 2006

Origin of the species name:
Christopher J. Raxworthy of the American Museum of Natural History, New York (USA) and Ronald A. Nussbaum of the University of Michigan, Ann Arbor (USA), named this chameleon species after its origin, the mountain range of Marojejy. Jejy is Malagasy and has several meanings, including local round stones, rain, animals, and ancestral spirits. Raxyworthy and Nussbaum also found the name fitting because several individuals of the species have been discovered basking on stones – the very ones called jejy.
Distribution:
Calumma jejy is found exclusively in the area around the summit of the Marojejy Mountains in north-eastern Madagascar. The species lives mainly in the unusually barren habitat above the rainforest to just below the boundary where the rainforest begins.
Marojejy is a national park that is very difficult to access. Travelers regularly visit the two lower camps, to which you already have to walk for several hours. Calumma jejy, however, is only found much higher up. So far it has been found between 2132 m and 1800 m, with a higher chance of finding it in the upper distribution area. Around the summit at 2132 m, the weather changes very quickly and the steep climb of several hours is extremely exhausting. Therefore, only a few travelers dare to climb up to Camp Simpona (the third camp) or even higher to the summit. And the few who make it to the top need a lot of luck with the weather to find chameleons. As a result, Calumma jejy had effectively not been found or photographed since 1992. The photos above were taken in 2022 by our local guide Franco Rajaoarison (and are used here with his kind permission).
Appearance and size:
Calumma jejy belongs to the medium-sized chameleons. They reach a snout-vent-length of just under 10 cm, with total lengths up to 20 cm. Both sexes have large occipital lobes, which are fused centrally over about 3 mm. The gular crest is well-defined and up to two millimetres high. Females also carry a dorsal crest, which is not heavily serrated in the distal half of the tail in males.  Neither sex carries a rostral appendage, which is unusual. In all similar species of the genus Calumma, the males carry at least a small rostral appendage – only Calumma jejy is an exception here.
The somewhat larger, bright turquoise conical scales, which are found on the body trunk as well as on the arms and legs, are a striking feature of the scalation. Colour-wise, Calumma jejy always shows white lips and a white lateral stripe, the body's ground colour is beige to brownish. The occipital lobes are more reddish brown, with the lower end picking up the white of the lateral stripe.
| | | | | | | | | | | | | |
| --- | --- | --- | --- | --- | --- | --- | --- | --- | --- | --- | --- | --- |
| | Jan | Feb | Mar | Apr | May | Jun | Jul | Aug | Sep | Oct | Nov | Dec |
| Average temperature | 26 | 26 | 26 | 25 | 25 | 23 | 23 | 22 | 23 | 24 | 25 | 26 |
| Minimum temperature | 24 | 24 | 23 | 23 | 22 | 21 | 20 | 19 | 20 | 21 | 22 | 24 |
| Maximum temperature | 30 | 29 | 29 | 29 | 28 | 27 | 25 | 25 | 25 | 27 | 28 | 30 |
| Rain days | 28 | 23 | 27 | 22 | 24 | 21 | 20 | 18 | 23 | 22 | 16 | 25 |
Marojejy mainly consists of rainforest that extends over the eponymic sacred mountain at elevations of 200 to maximally 2100 m above sea level. In the highest areas, climate is cool and vegetation sparse, but most chameleons live in the warmer dense rainforest below. Marojejy has different altitude levels, each with its own species living in its own climate. In the lowest altitude level it is very warm and humid, in the middle and high altitudes it becomes a little cooler, but not less humid.
In Marojejy, there is few difference between rainy and dry season. Humidity is always very, very high. In the rainy season, precipitation is more intense with rainfalls that may last for days and sometimes are accompagnied by heavy storms. In the dry season, temperatures are a little lower, but it never becomes really cold. And it still rains almost daily. It really cannot become dry in Marojejy during "dry" season. Humidity is the main key factor of this rainforest. In 2022, we measured relative humidity on various days during the rainy season, and the data can be found below.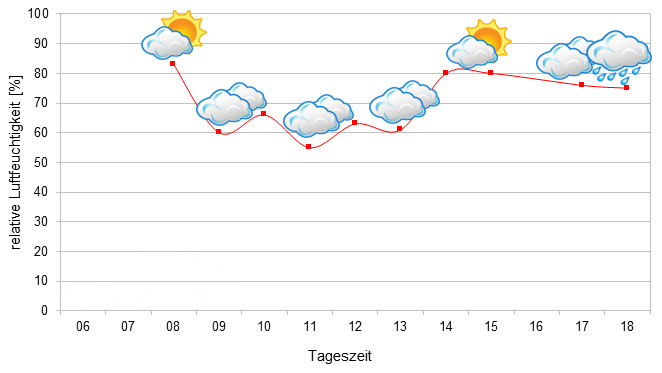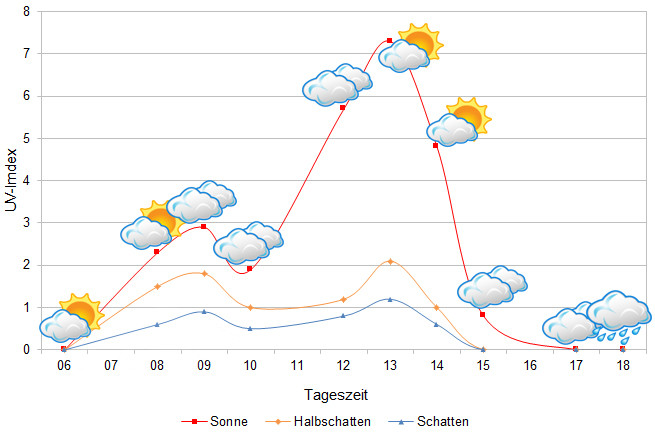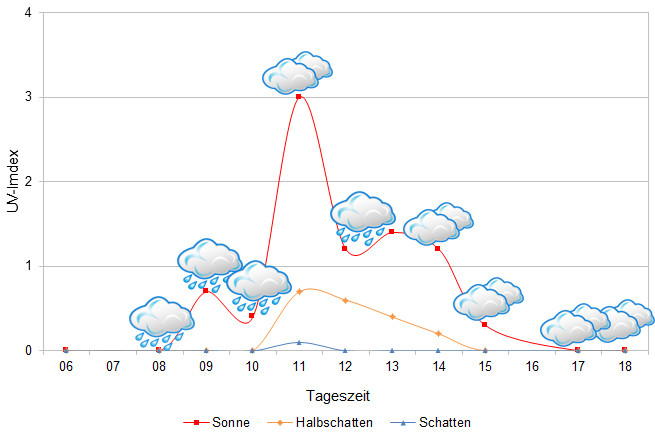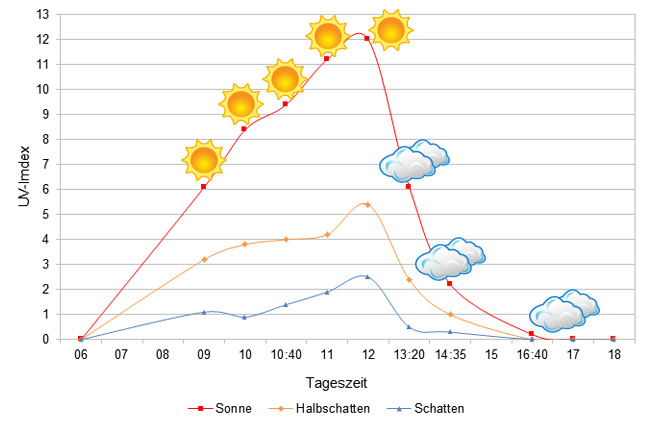 Tageszeit = day time, Sonne = sun, Halbschatten = half shade, Schatten = shade
We have measured UVB data with a Solarmeter 6.5 in spring (end of March until beginning of April) at the peak of activity of chameleons in Madagascar. We always measured the values that a chameleon could maximally reach in its habitat.
Unfortunately, we have no ground temperatures for Marojejy available yet.
Since 2022, in addition to other climate data, we have been measuring air pressure at the locations we visit in Madagascar. The following data is from different days during the rainy season. On the X-axis is the time of day or night. In Madagascar, the day begins around 6 a.m., and night falls at 6 p.m. The Y-axis shows the atmospheric pressure in hPa.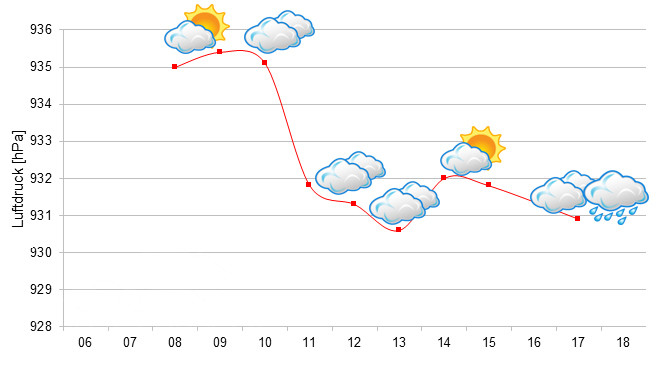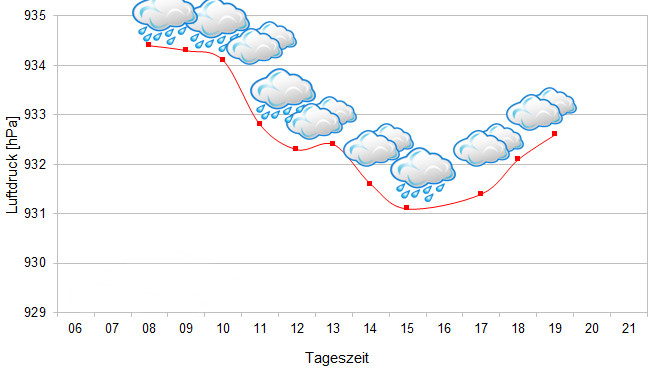 Habitat:
The habitat of Calumma jejy is extremely unique. Above the rainforest, the vegetation consists of a kind of heath landscape with low, gnarled, thick-leaved small trees and herbaceous ground covers. The few plants are almost defenceless against wind and weather. Accordingly, this barren landscape dries out in the dry season to such an extent that only yellow grasses remain. This is a stark contrast to the lush rainforest a few hundred metres below, which remains constantly moist. The ground around the summit of Marojejys is extremely stony and rocky. The vegetation is repeatedly interrupted by large stones and rock slabs. Calumma jejy are known to use these rock slabs – also unusual for chameleons – to warm up.