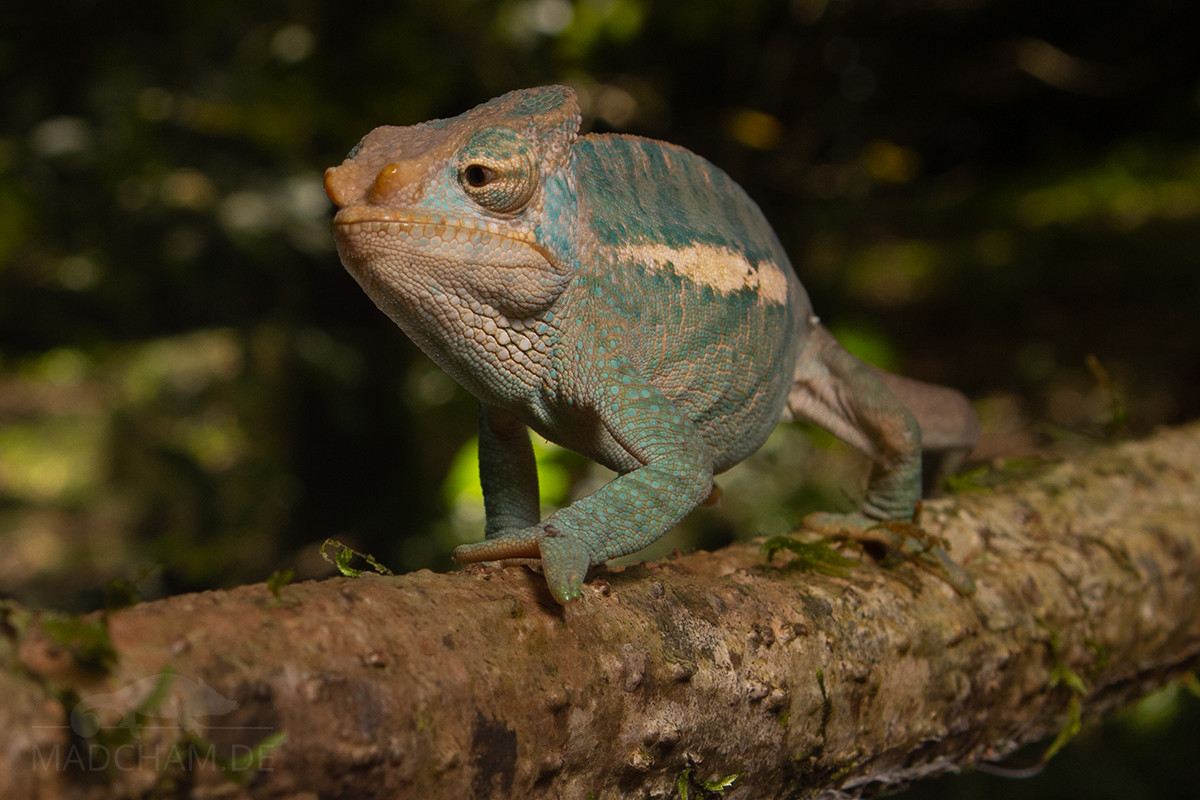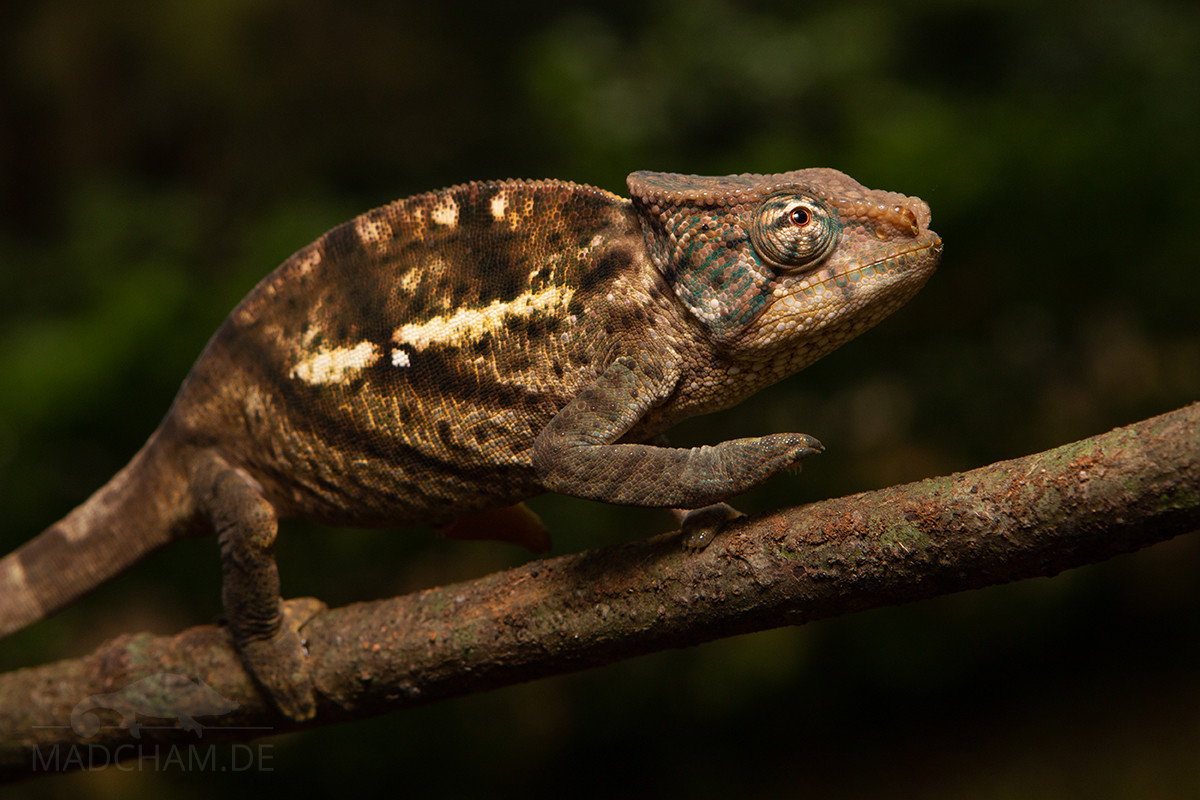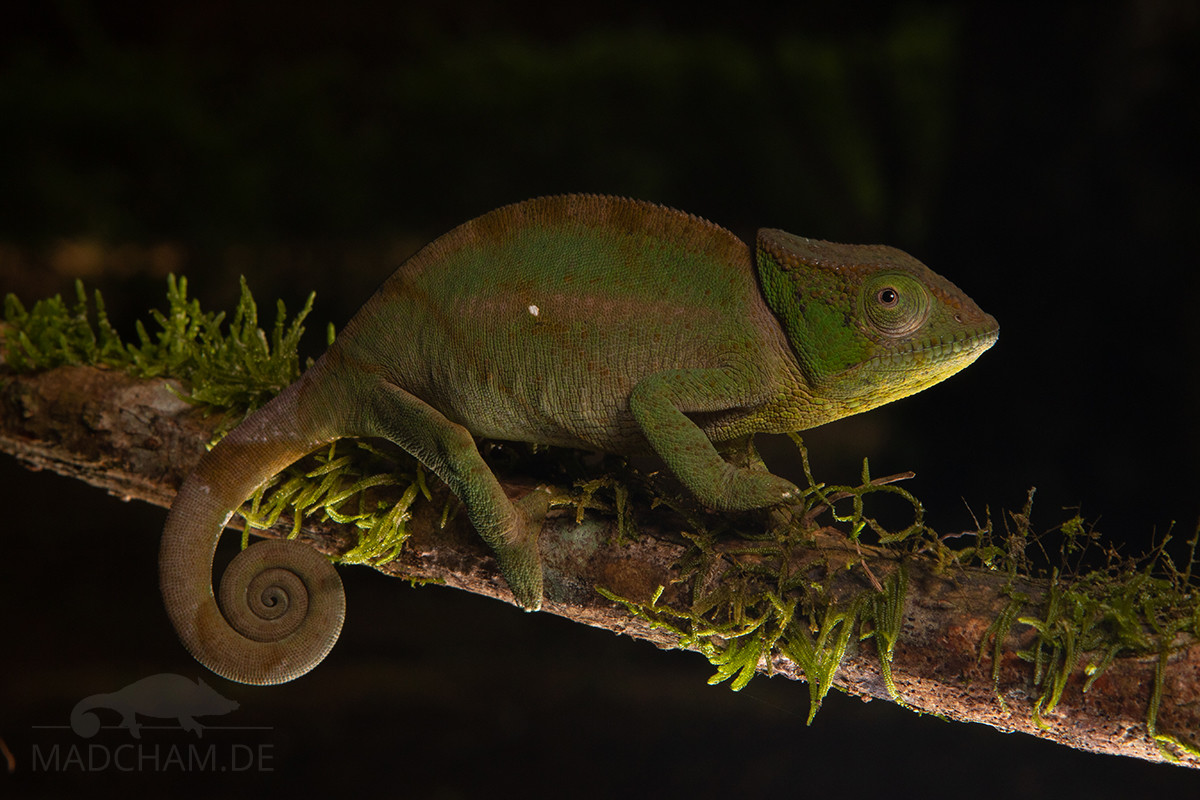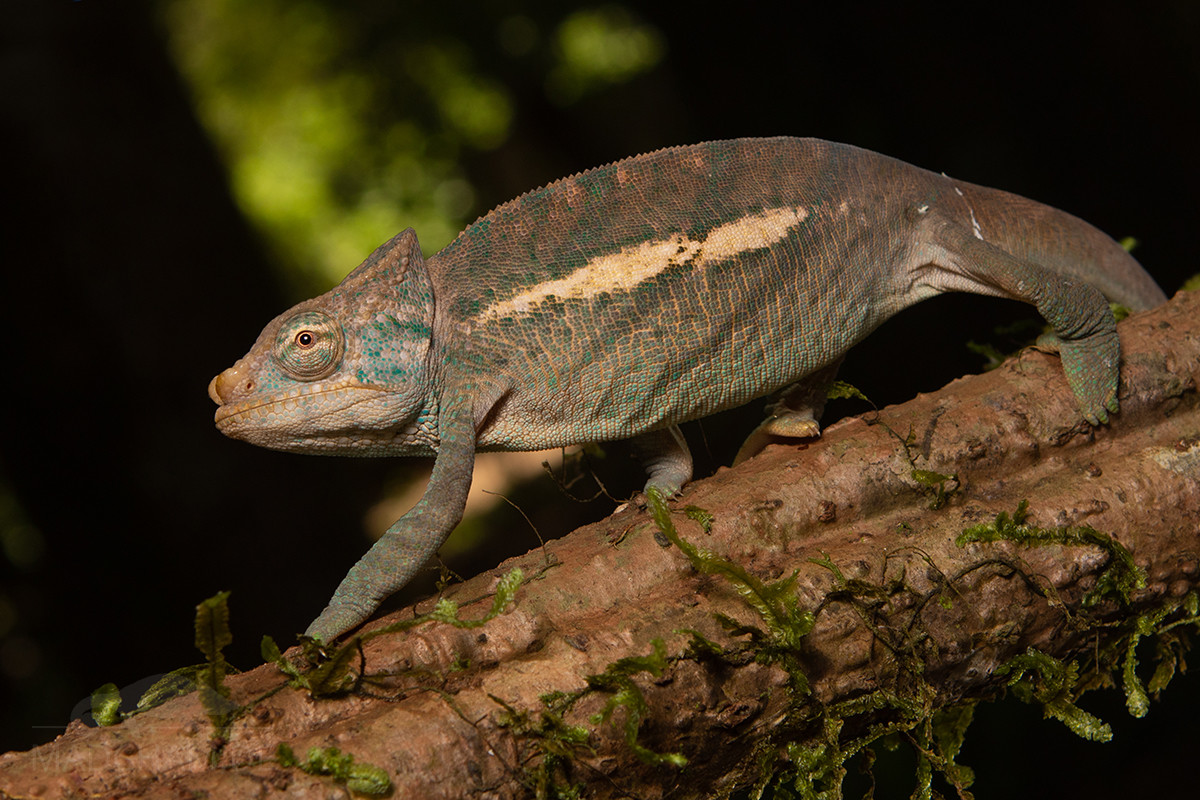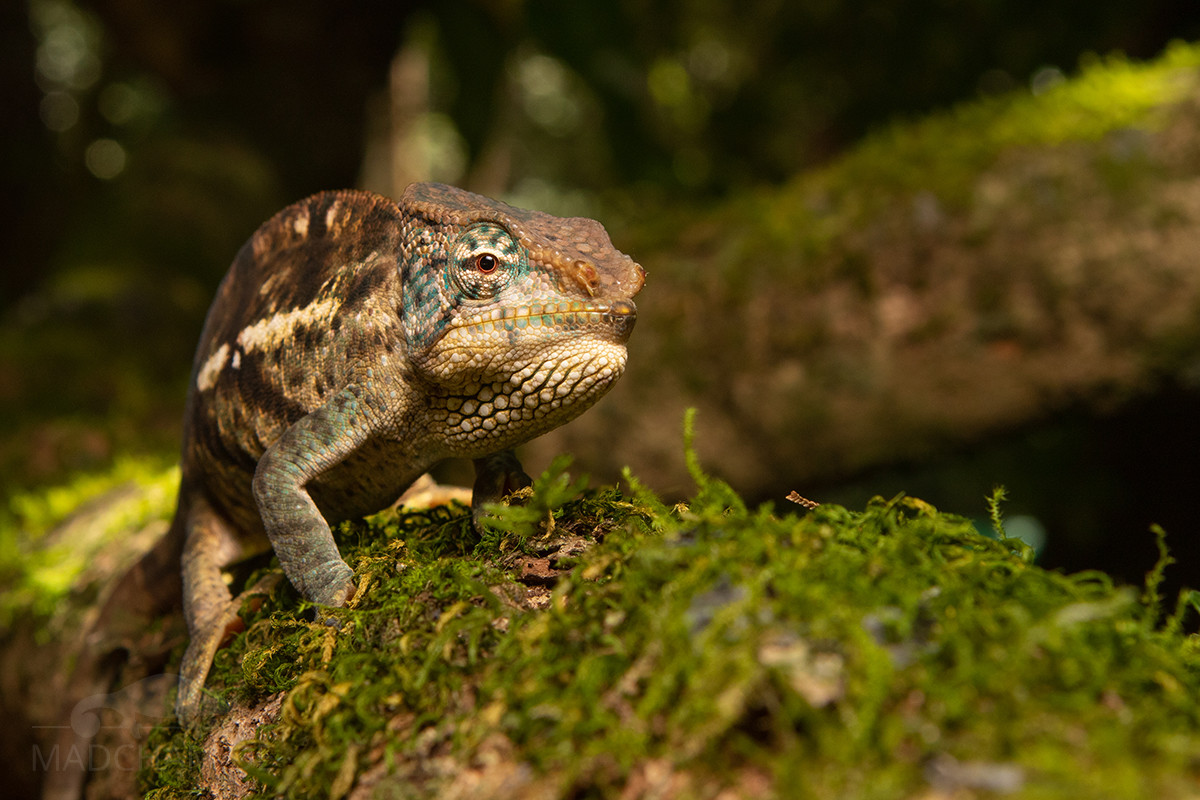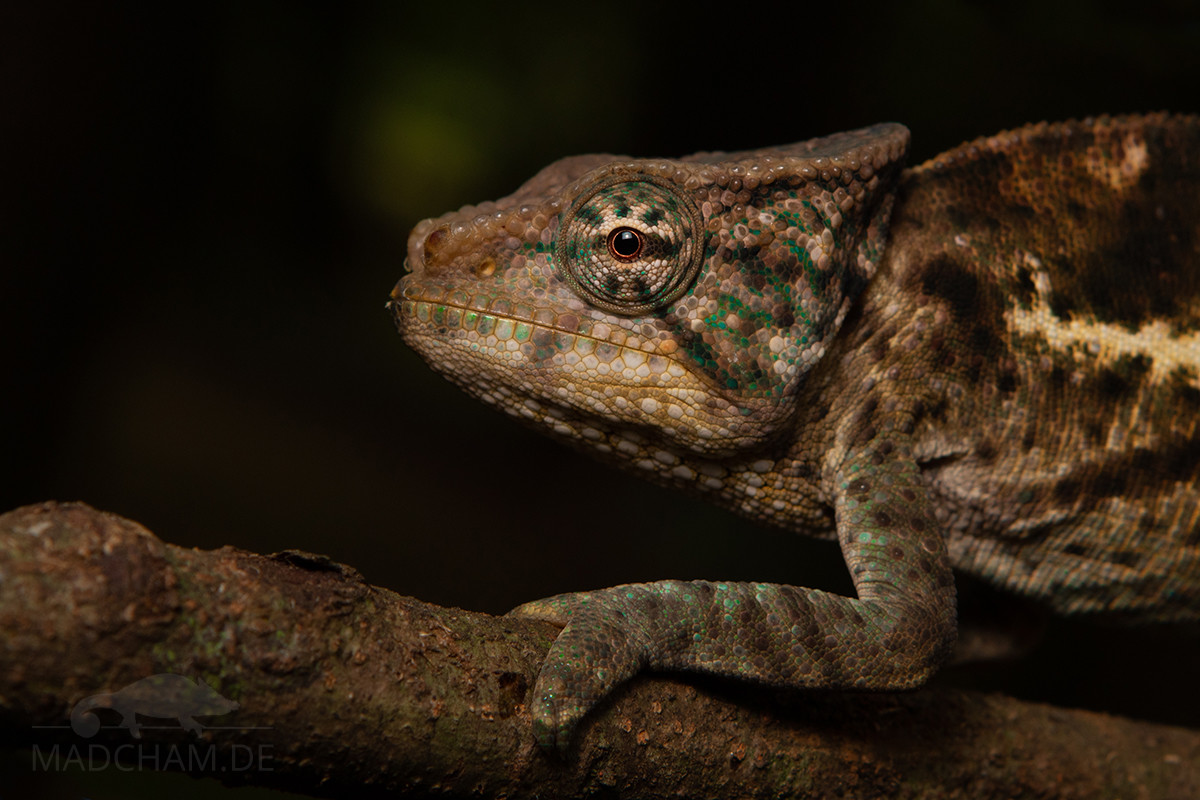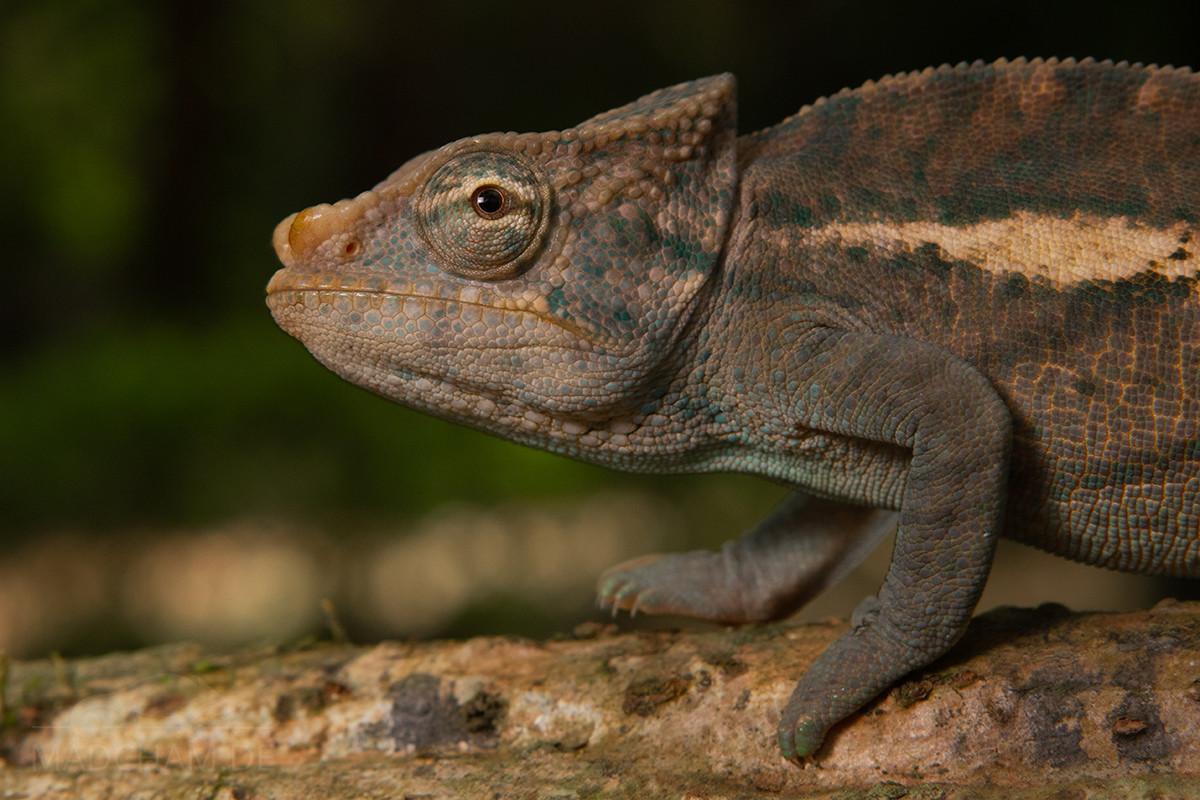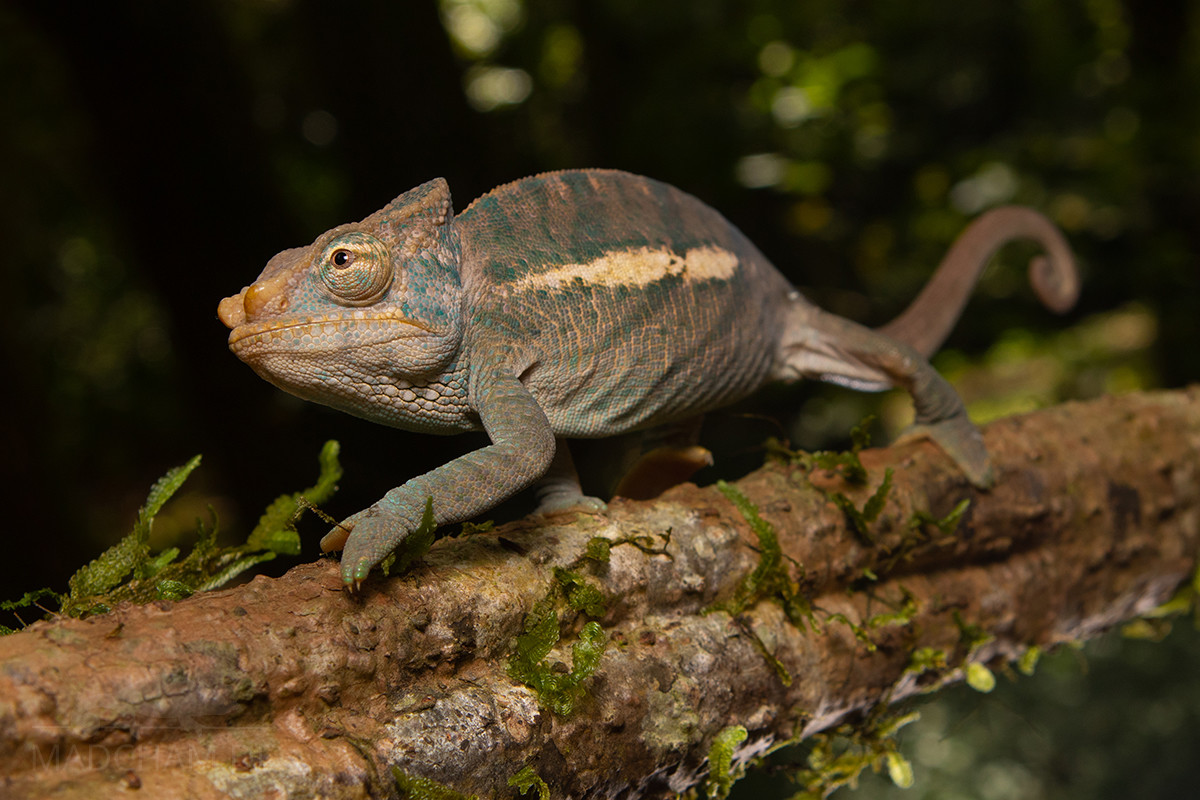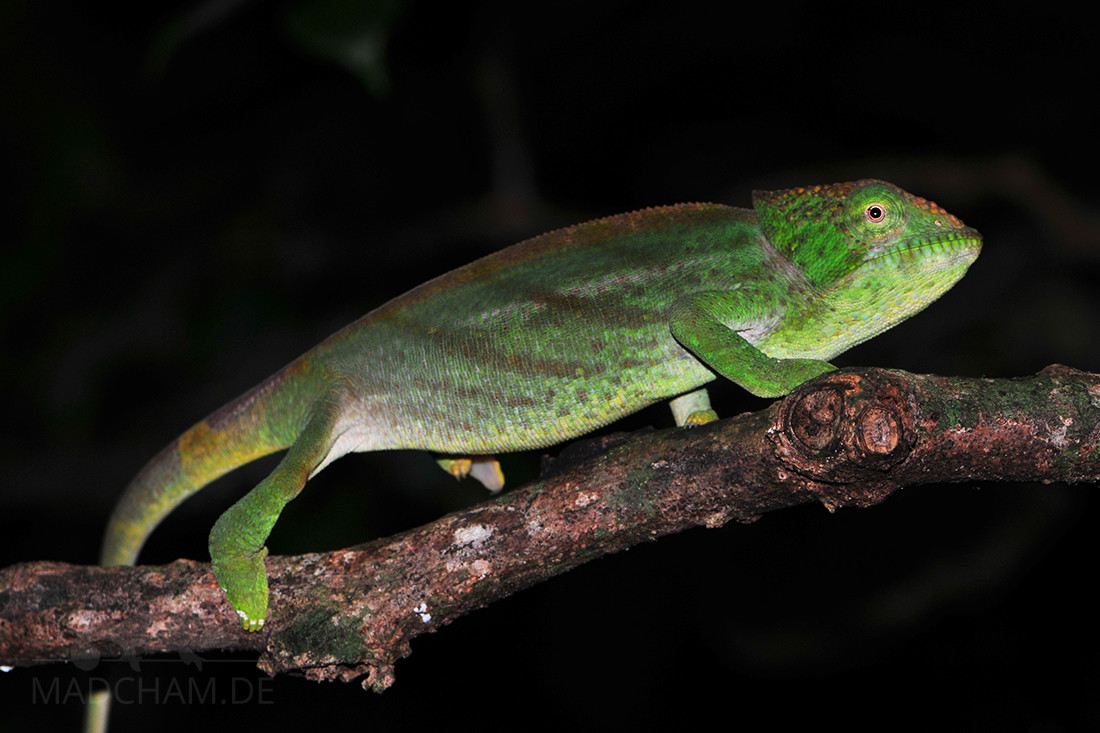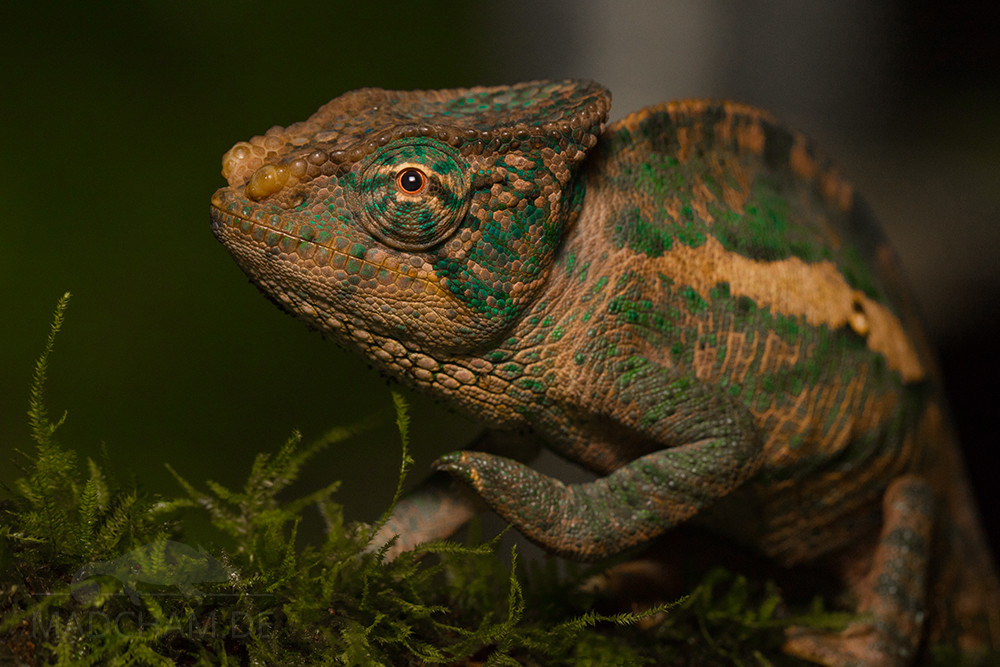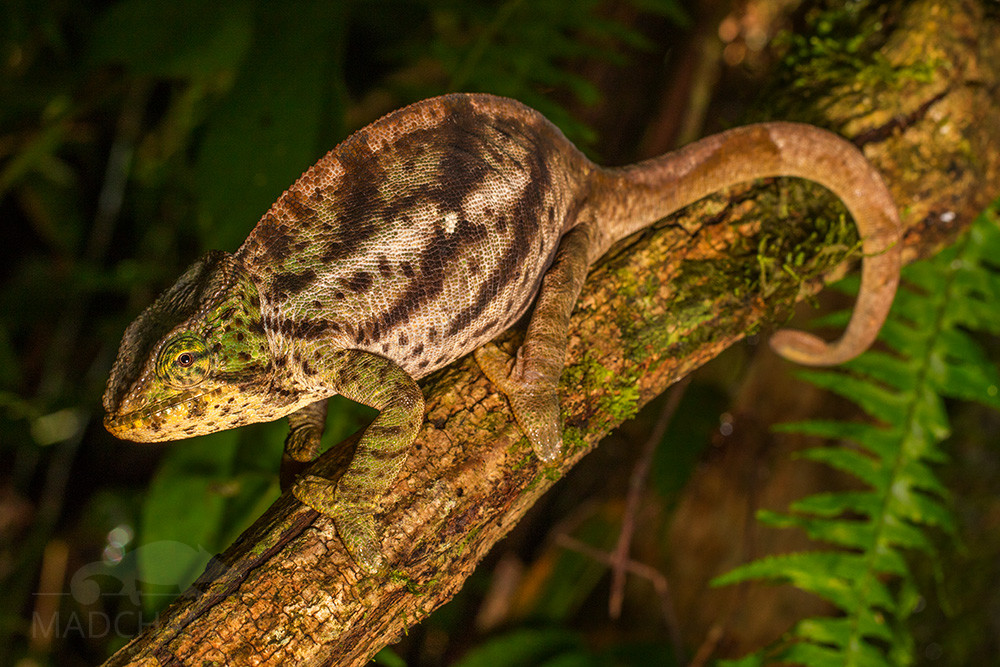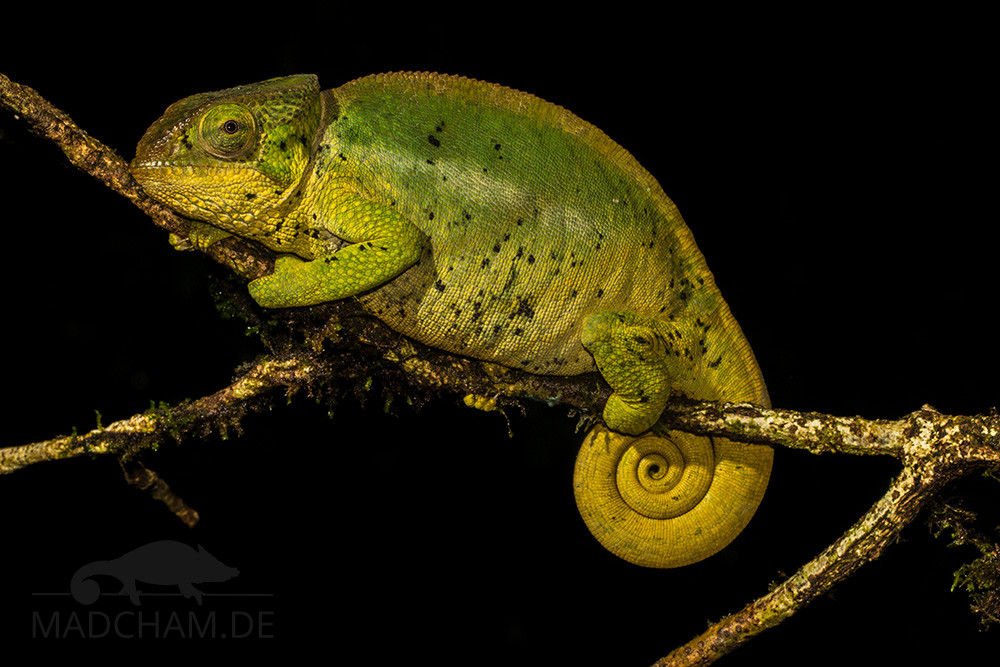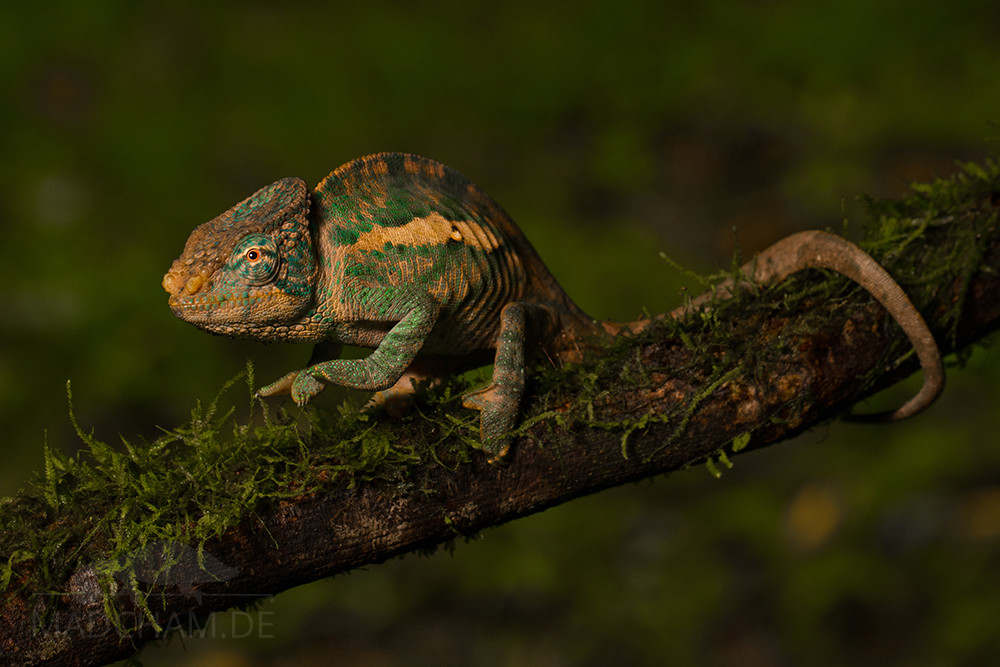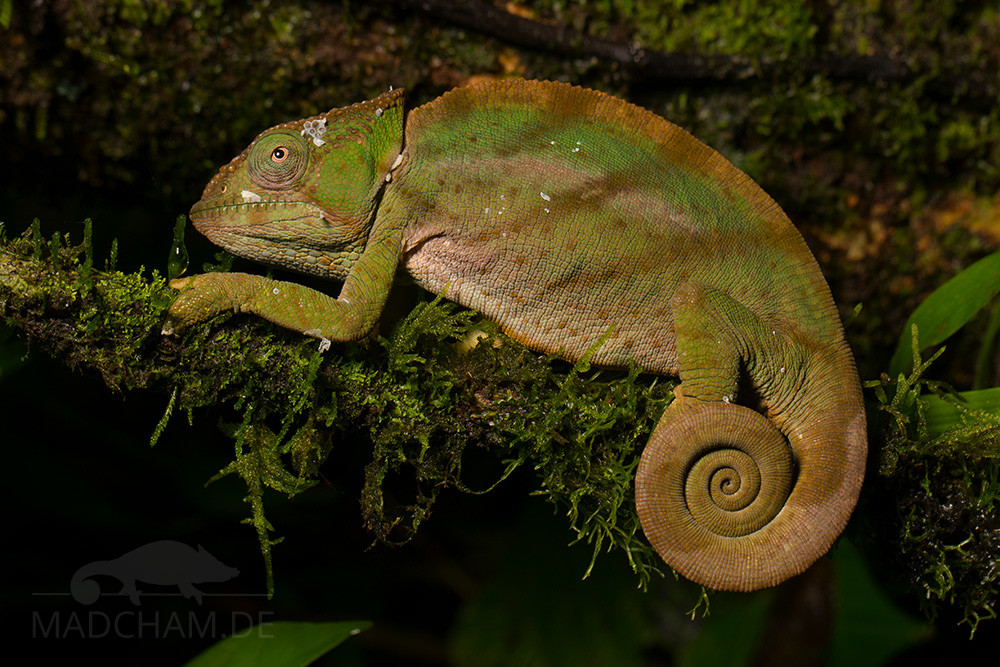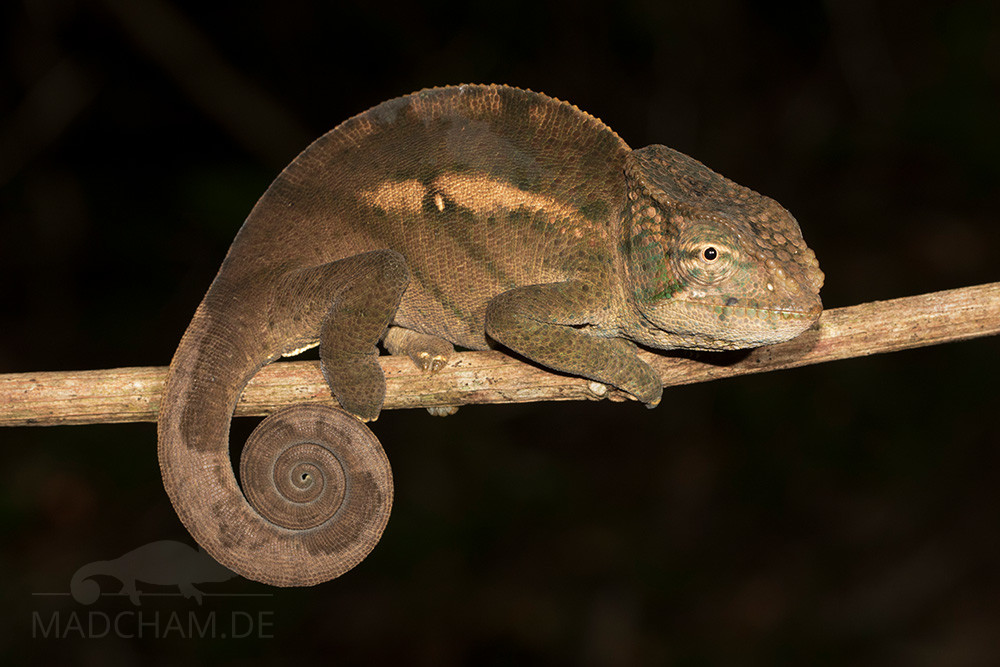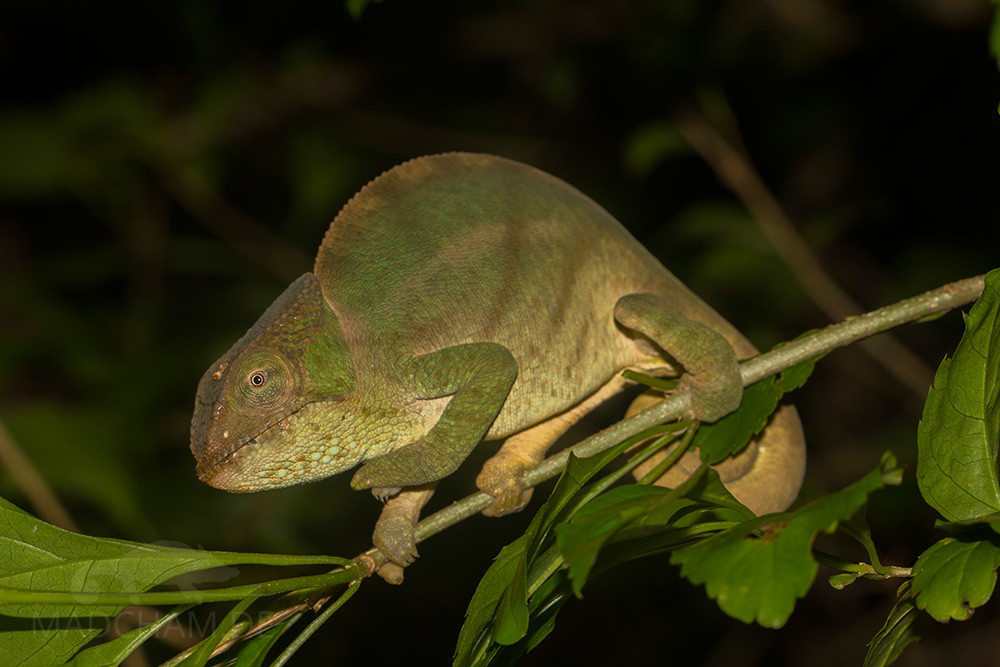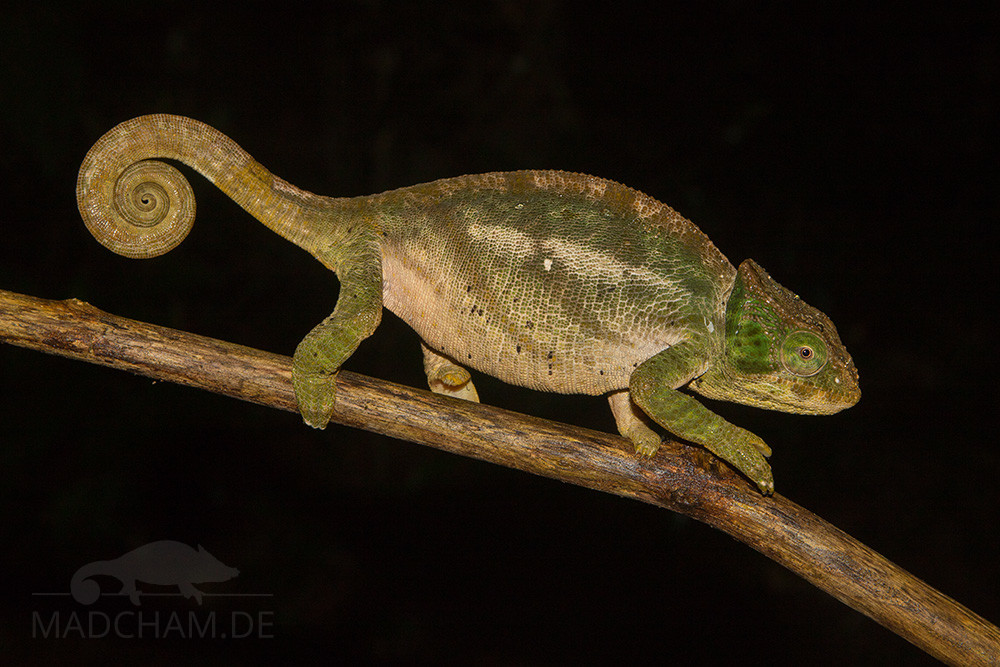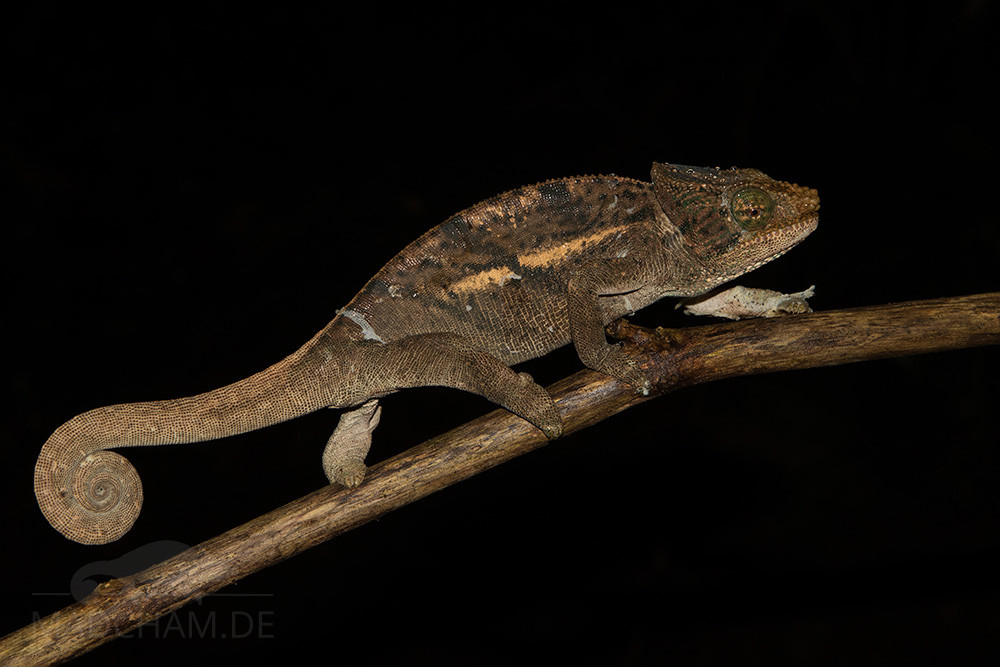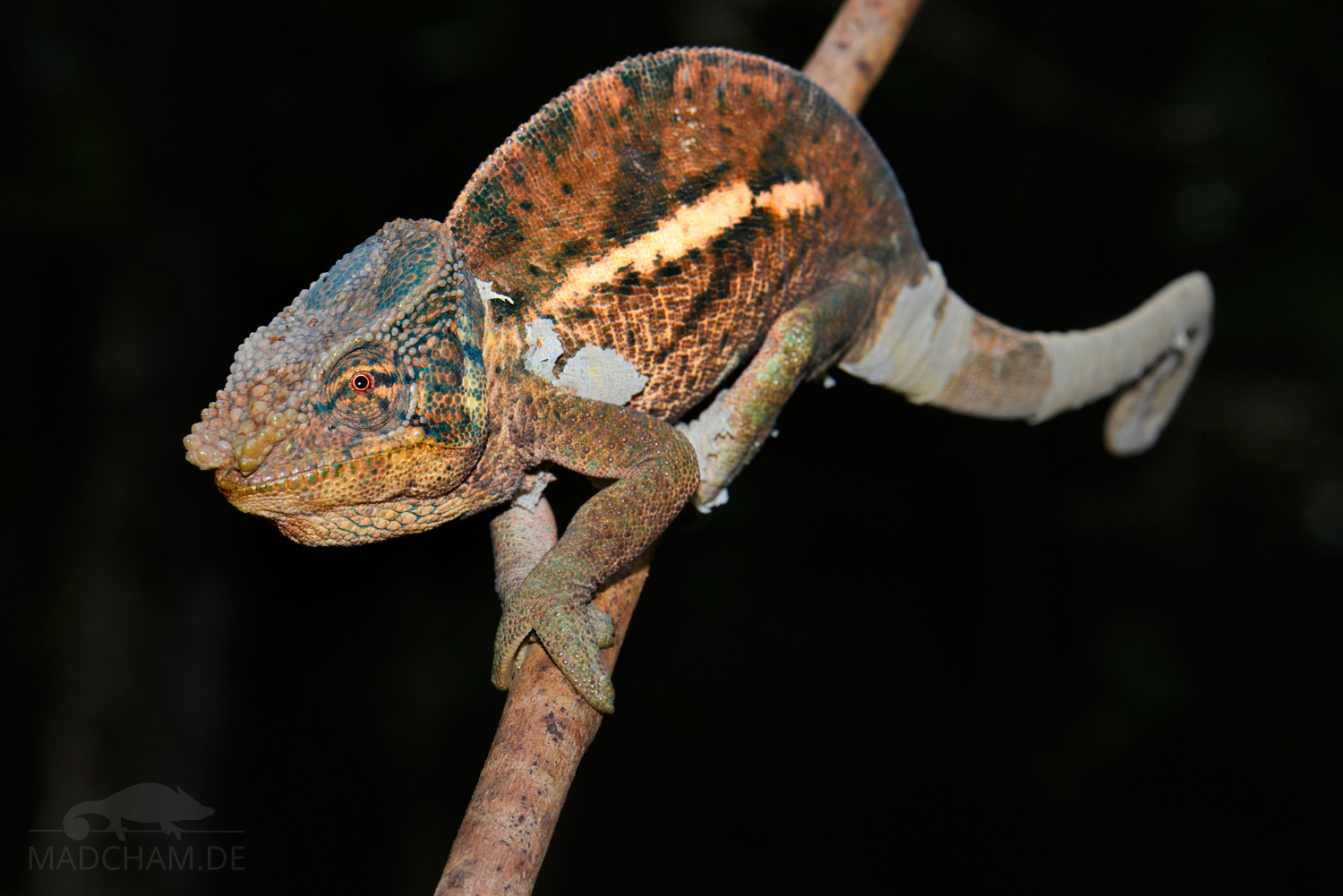 CITES quotas
no legal export possible
First description:
(Ramanantsoa, 1974)
Origin of the species name:
The zoologist Guy A. Ramanantsoa of the University of Antananarivo, Madagascar, named the species after its origin, the Amber Mountain. Originally described as a subspecies of Calumma oshaughnessyi, the former subspecies name ambreense was preserved when Frank Glaw from the State Zoological Collection Munich (Germany) and Miguel Vences from the Zoological Institute of the TU Braunschweig (Germany) raised the species to species status in 2007. Another species called Calumma amber was also already present.
Distribution:
Calumma ambreense is an inhabitant of the rainforests of Amber Mountain national park. You can only find it in elevations between 600 and 1200 meters above sea level. The species mainly live on trees between one and a half to ten meters in height. They prefer very high, slender trees overgrown with ferns and moss (like everything in Amber Mountain). Astonishingly, we have found some of these also around the campground of Amber Mountain in pine trees. At the night, these chameleons are – like almost all species – brighter coloured, and thus easy to find with a torch in big trees. Even then they mostly sit well above 2 m in height. During the daytime, it is more difficult to find this species – although they are rather big, they are well camouflaged. Young Calumma ambreense of few days of age often still sleep on very thin plants very close to the ground.
Appearance and size:
These chameleons count among the large chameleon species due to their size from 40 to 55 cm. Like in all Calumma species, the helmet is rather high, and they have very small, hardly recognizable occipital lobes. There is hardly a dorsal and ventral ridge, and there are no enlarged scales. Males have a greyish-green color with a broad, white lateral stripe and dark bands, and short nose appendages. The females lack any nose appendage but are greener and sometimes yellowish colored. Both genders may have bright green and blue patterns on the head.
Character:
We have experienced this species to be very gentle and calm in the wilderness – never a Calumma ambreense hissed at us. However, they are usually less relaxed when handled than for example Calumma parsonii which has a similar size.
Weight table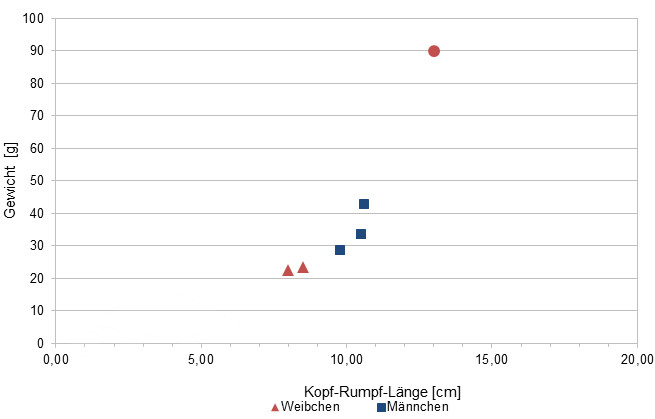 Since 2022, we have been measuring the weights of Calumma ambreense found on Madagascar, as far as the animals (and our scales) are willing to cooperate. So far, there are only a few weights, but in the long term we hope to be able to read off an average weight in relation to the head-torso length (measured from the tip of the nose to the cloaca) from as many measurements as possible. It is important to know that all weights were measured towards the end of the rainy season (= best food supply), so these are probably maximum weights in Madagascar. Triangular symbols on females mean not pregnant, round symbols mean pregnant.
Gewicht = weight, Kopf-Rumpf-Länge = snout vent length, Weibchen = female, Männchen = male
| | | | | | | | | | | | | |
| --- | --- | --- | --- | --- | --- | --- | --- | --- | --- | --- | --- | --- |
| | Jan | Feb | Mar | Apr | May | Jun | Jul | Aug | Sep | Oct | Nov | Dec |
| Average temperature | 23 | 23 | 24 | 23 | 22 | 21 | 20 | 20 | 21 | 22 | 23 | 23 |
| Minimum temperature | 19 | 19 | 19 | 19 | 18 | 16 | 15 | 15 | 16 | 17 | 18 | 19 |
| Maximum temperature | 28 | 28 | 28 | 28 | 27 | 26 | 25 | 25 | 26 | 27 | 28 | 28 |
| Rain days | 20 | 20 | 17 | 9 | 6 | 6 | 7 | 6 | 5 | 6 | 7 | 14 |
We have collected the data given above over several years with thermometers and hygrometers at the finding places of the chameleons. "Average temperature" means that values of a whole month have been calculated to one average value per month. For example all measured minimum temperature values of February have been calculated to one average minimum temperature for February. In plain language, this means single peak values of a day may be a little higher or lower than the average minimum and maximum temperatures. It is possible that a location has an average maximum temperature of 29°C, but one day during that month it had 33°C or even 35°C there.
Amber Mountain is an evergreen rainforest which extends over a mountain massif of volcanic origin at elevations between 850 and 1450 m. Due to the height, nights can become rather cold with temperature drops to 10°C.
During rainy season, day temperatures rise to 28°C, in sunny places even warmer. But the average temperature is a little lower. During rainy season, it rains every day for several hours. Simply the way it is in a rainforest. 😉 But also dry season has regular precipitation, just a little shorter. Climate in Amber Mountain is very humid all year long. During dry season, temperatures are somewhat lower with day temperatures up to 25°C.
Tageszeit = day time, Sonne = sun, Halbschatten = half shade, Schatten = shade
We have measured UVB data with a Solarmeter 6.5 in spring (end of April) at the peak of activity of chameleons in Madagascar. We always measured the values that a chameleon could maximally reach in its habitat.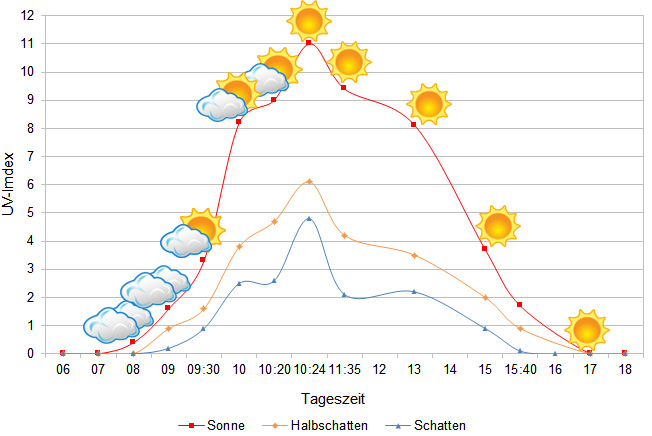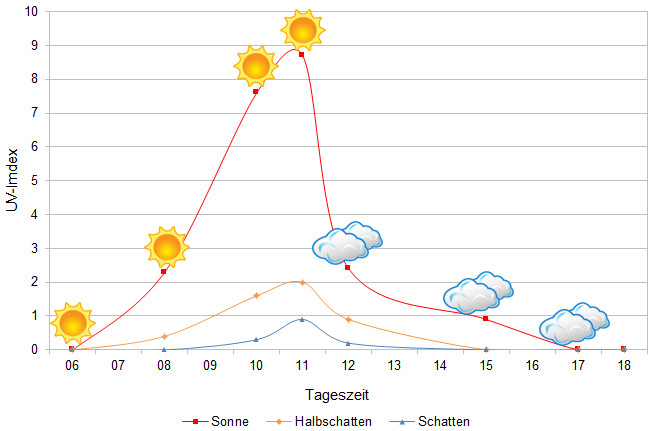 Unfortunately, we have no ground temperatures for Amber Mountain available yet.
Since 2022, in addition to other climate data, we have also been measuring air pressure at the locations we visit in Madagascar. The following data is from a day during the rainy season. On the X-axis is the time of day or night. In Madagascar, the day begins around 6 am, and night falls as early as 6 pm. The Y-axis shows the atmospheric pressure in hPa.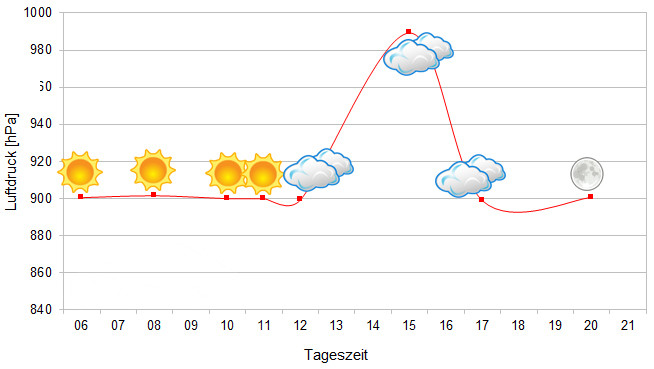 Habitat:
The following pictures show the habitat of Calumma ambreense in Amber Mountain. Some are even from finding places of this species. Amber Mountain is an impressing rainforest full of old tree giants with meter-sized nest ferns. Everything is full of lianas, moss, and lichens. Calumma amber is mostly climbing on large trees, and partially even inhabits introduced pines.
Hereinafter you can find some 360° pictures from Amber Mountain. You can move inside these pictures via mouse click in all directions. If you click on the Theta logo, a new window with an enlarged view will open. You will also have the opportunity to look at the pictures in full-screen mode. Enjoy!