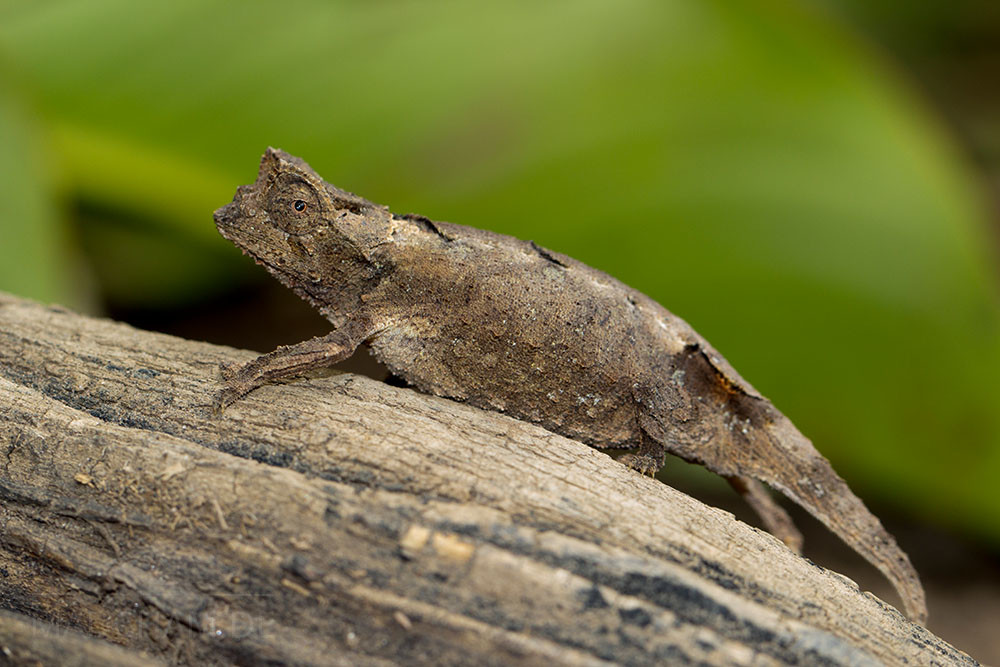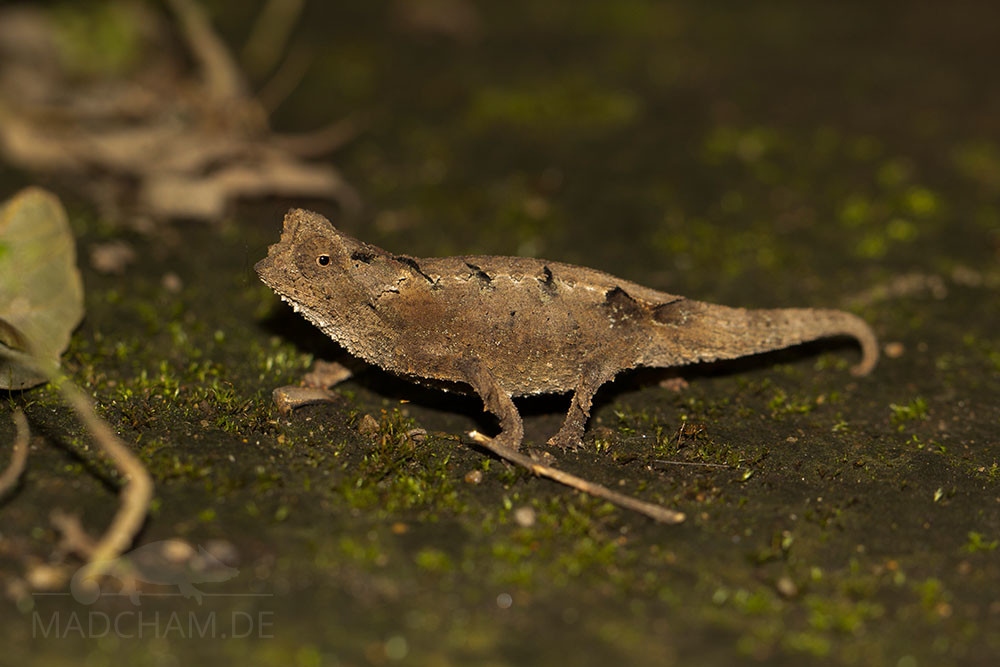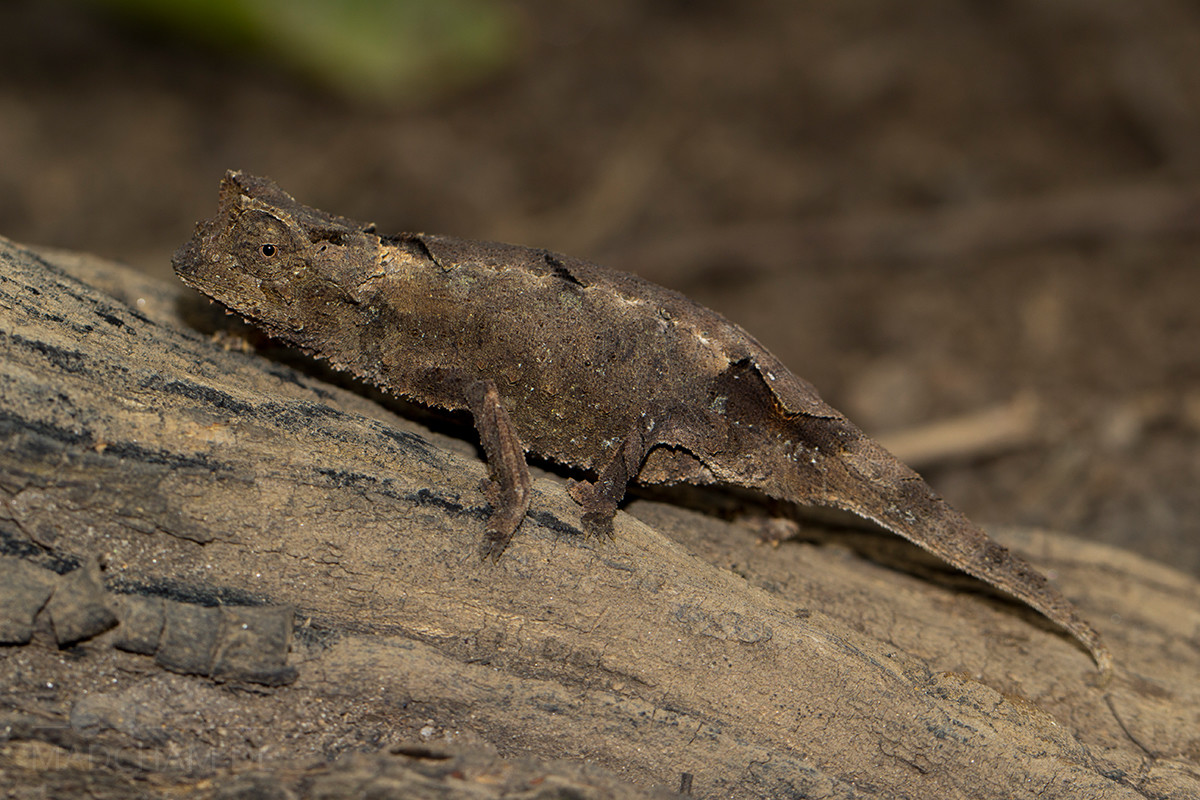 CITES quotas
no legal export possible
First description:
Crottini, Miralles, Glaw, Harris, Lima & Vences, 2012

Origin of the species name:
Angelica Crottini from the University of Porto (Portugal) named this chameleon after her partner Bruno Grassi. In addition, the word bruno also means "brown" in Italian, which matches the color of the leaf chameleon.
Distribution:
Brookesia brunoi lives solely in Anja Community Reserve, a communally led protected area at the edge of the southern highlands near the city Ambalavao. It thus belongs to few leaf chameleons that have settled in dry areas. The region is at an elevation of 950 m above sea level and very rocky. The small residues of forests are mainly restricted to the mentioned reserve. The forest is rather dry here, and in many places, there has been wild ginger introduced. The area around Ambalavao is the coldest region of Madagascar – during the dry season, temperatures usually become lower than 10°C.
It takes some time and patience to find these animals. In 2012, a similar-looking leaf chameleon was found in Ambovombe in Madagascar's deep south, but it could not be identified as Brookesia brunoi cleary. It remains open whether the species might occur further south, too.
Appearance & size:
Brookesia brunoi wears a characteristic helmet that is decorated with four spines at each side and continued above the eyes. Between the nose and eyes, each side has a little bulge. Along the dorsum, there nine latero-vertebral spines that end up in a diamond-shaped, characteristic pelvic shield and continue only indistinctly on the tail. The venter has no enlarged scales in contrast to similar species, and Brookesia brunoi has no dorsal ridge. All animals we have found were uniformly beige-brown colored. The following pictures show young specimens.
| | | | | | | | | | | | | |
| --- | --- | --- | --- | --- | --- | --- | --- | --- | --- | --- | --- | --- |
| | Jan | Feb | Mar | Apr | May | Jun | Jul | Aug | Sep | Oct | Nov | Dec |
| Average temperature | 20 | 20 | 20 | 19 | 16 | 15 | 13 | 12 | 15 | 18 | 18 | 19 |
| Minimum temperature | 15 | 15 | 15 | 13 | 11 | 9 | 8 | 8 | 9 | 11 | 14 | 15 |
| Maximum temperature | 25 | 26 | 25 | 24 | 23 | 21 | 19 | 19 | 21 | 25 | 26 | 26 |
| Rain days | 23 | 21 | 21 | 16 | 10 | 7 | 8 | 6 | 8 | 15 | 22 | 26 |
We have collected the data given above over several years with thermometers and hygrometers at the finding places of the chameleons. "Average temperature" means that values of a whole month have been calculated to one average value per month. For example all measured minimum temperature values of February have been calculated to one average minimum temperature for February. In plain language, this means single peak values of a day may be a little higher or lower than the average minimum and maximum temperatures. It is possible that a location has an average maximum temperature of 29°C, but one day during that month it had 33°C or even 35°C there.
Anja Community Reserve is located in Madagascar's southern highlands at elevations of 1000 m above sea level. It covers the last piece of dry forest of the southern highlands and has a large rock formation behind. Around the reserve, there are only rice fields and savannas left. The city of Ambalavao is only a few kilometers away from the reserve.
Rainy season is the warmest time of the year. Regular rain showers hit the region, almost daily. During the daytime, temperatures reach pleasantly 25°C, nights are moderately cool around 15°C. During the dry season, the region gets precipitation on a regular base, it hardly becomes dust-dry in this region. But temperatures fall during the dry season, at night even to 5-10°C. Temperatures during daytime in the dry season only reach an average of 20°C.
Tageszeit = day time, Sonne = sun, Halbschatten = half shade, Schatten = shade
We have measured UVB data with a Solarmeter 6.5 in spring (beginning of March) at the peak of activity of chameleons in Madagascar. We always measured the values that a chameleon could maximally reach in its habitat.
Unfortunately, we have no ground temperatures for Ambalavao available yet.
Habitat:
The following pictures show the habitat of Brookesia brunoi in Anja Community Reserve. Some are even from finding places of this species. The reserve consists of dry forest on rocky ground, it is located right in front of a rock formation. Trees are rather young, slender and not very high. The undergrowth is partially overgrown by wild ginger and is mainly made of dry, broken twigs and dry foliage.
Hereinafter you can find some 360° pictures from Anja Community Reserve. You can move inside these pictures via mouse click in all directions. If you click on the Theta logo, a new window with an enlarged view will open. You will also have the opportunity to look at the pictures in full-screen mode. Enjoy!