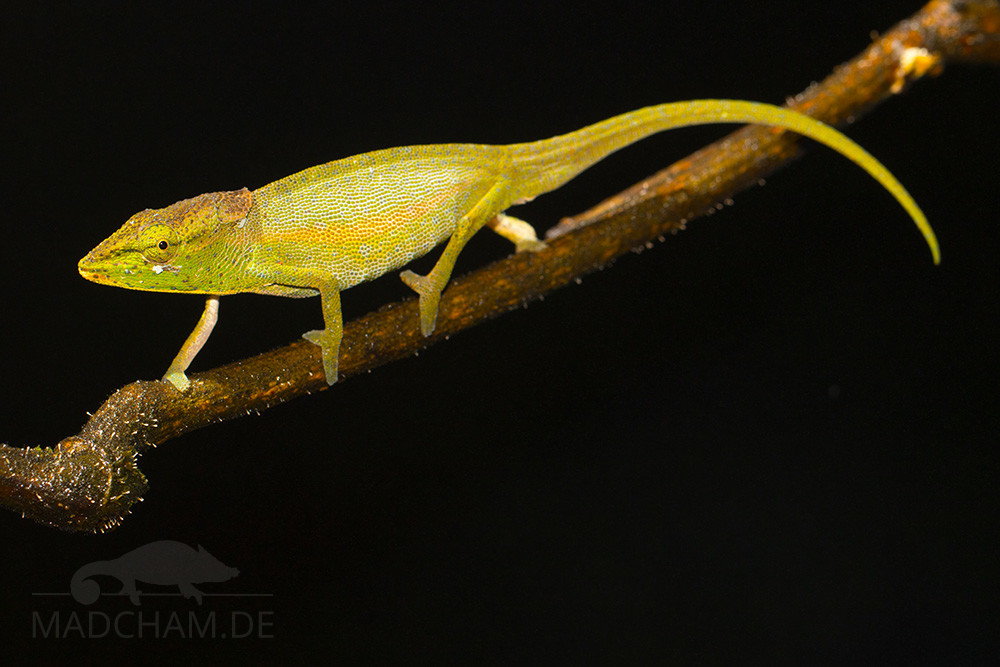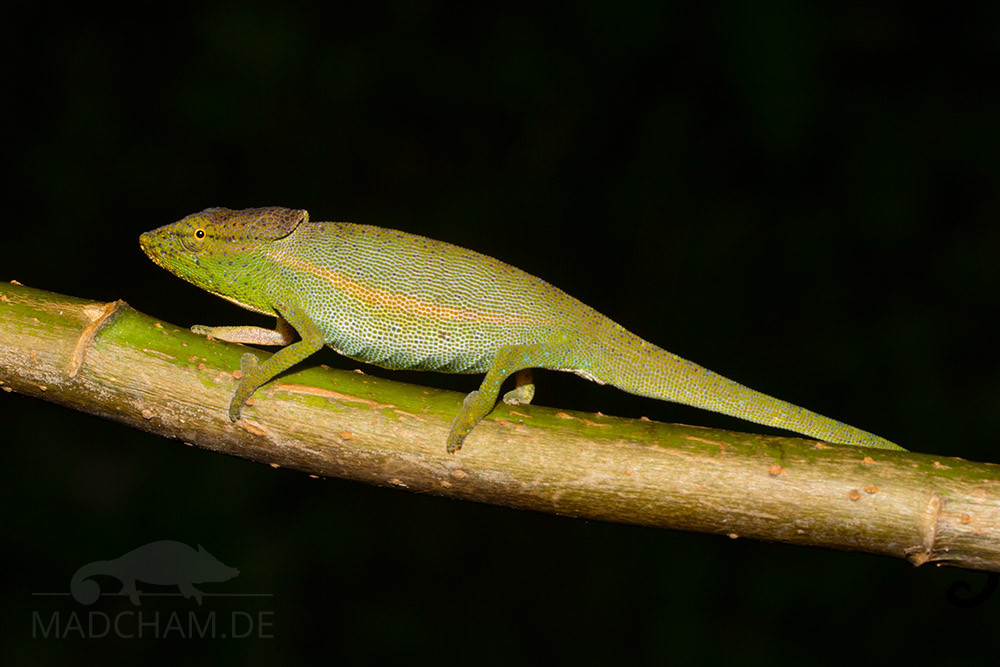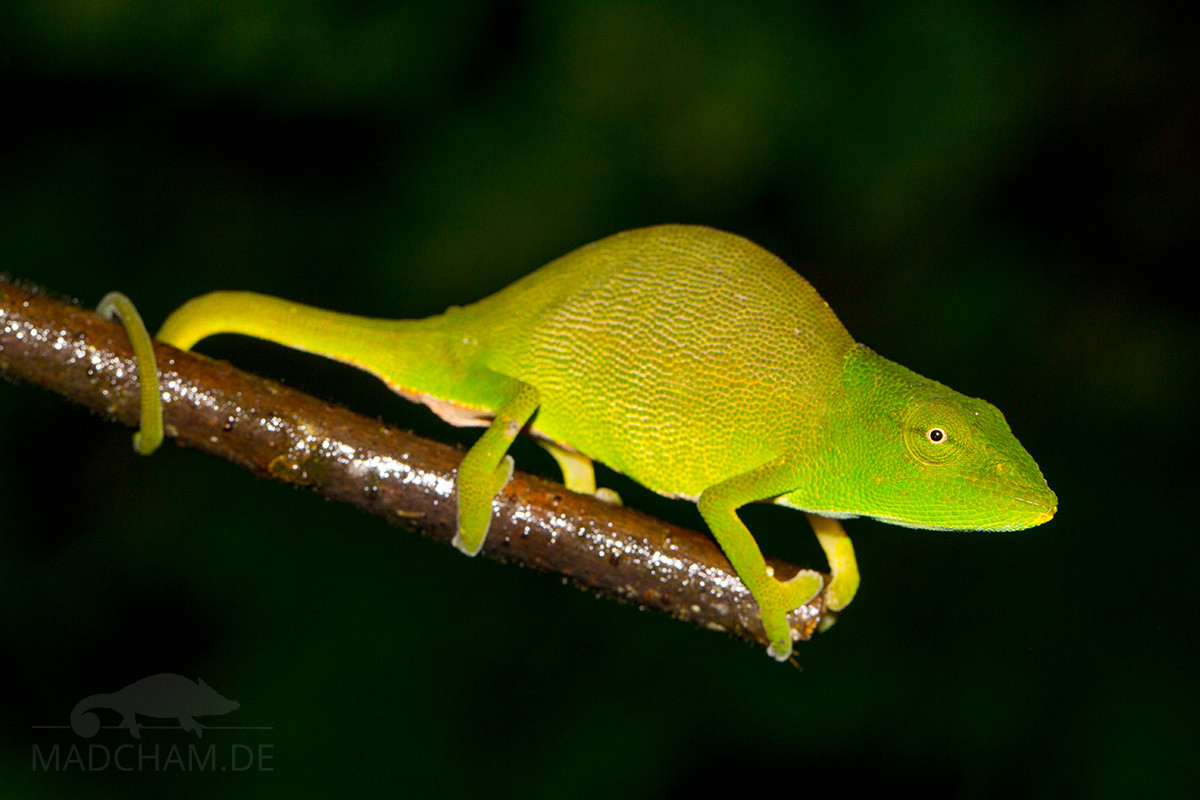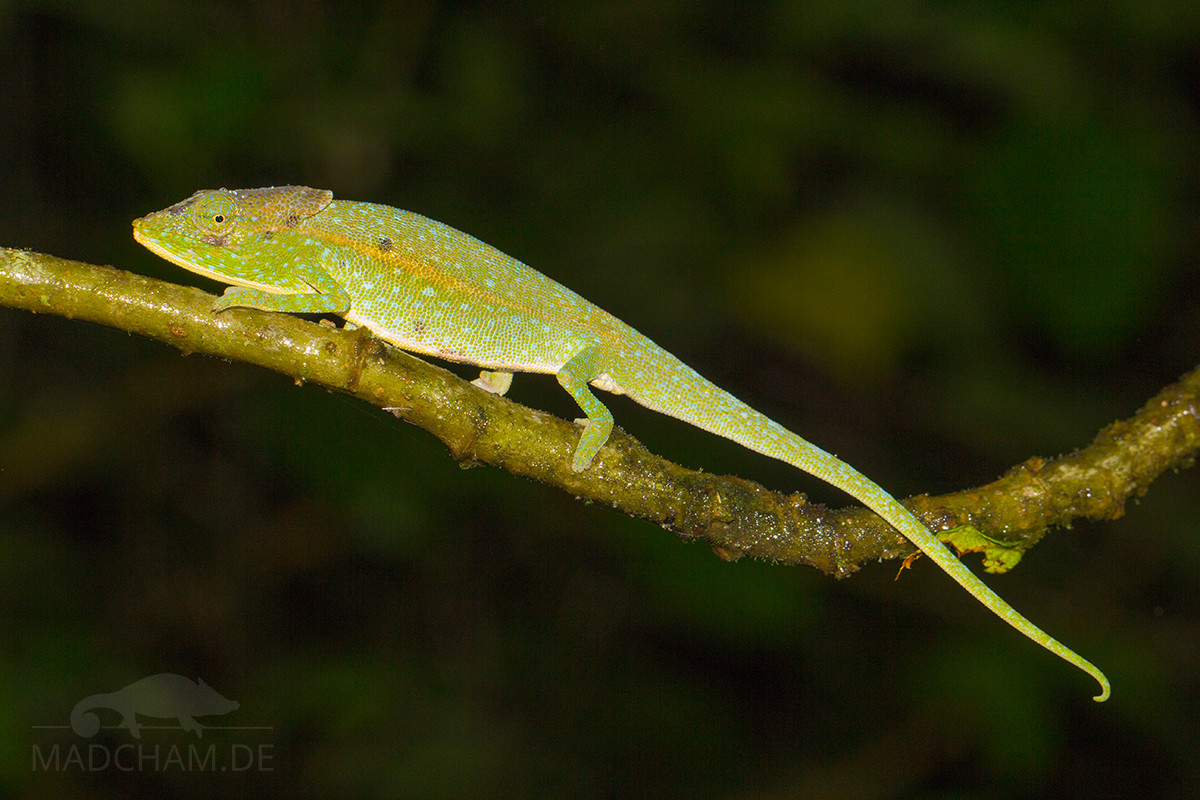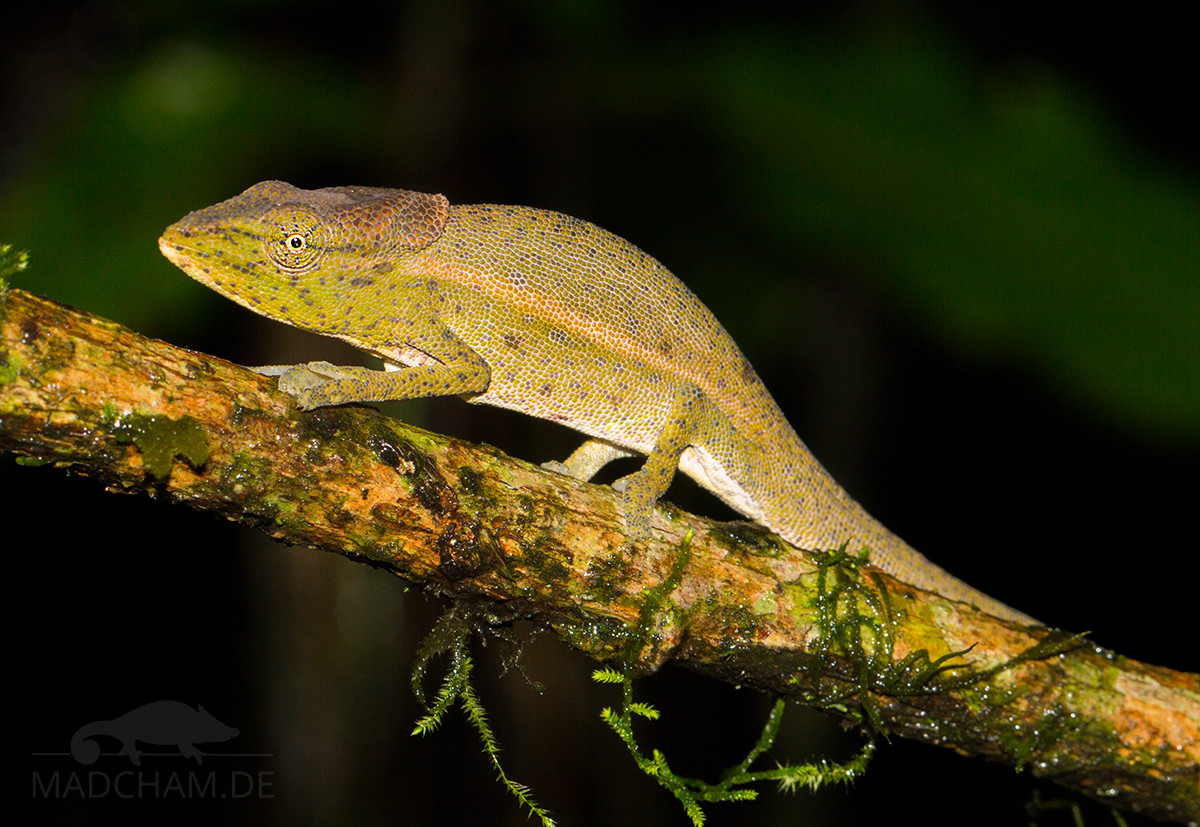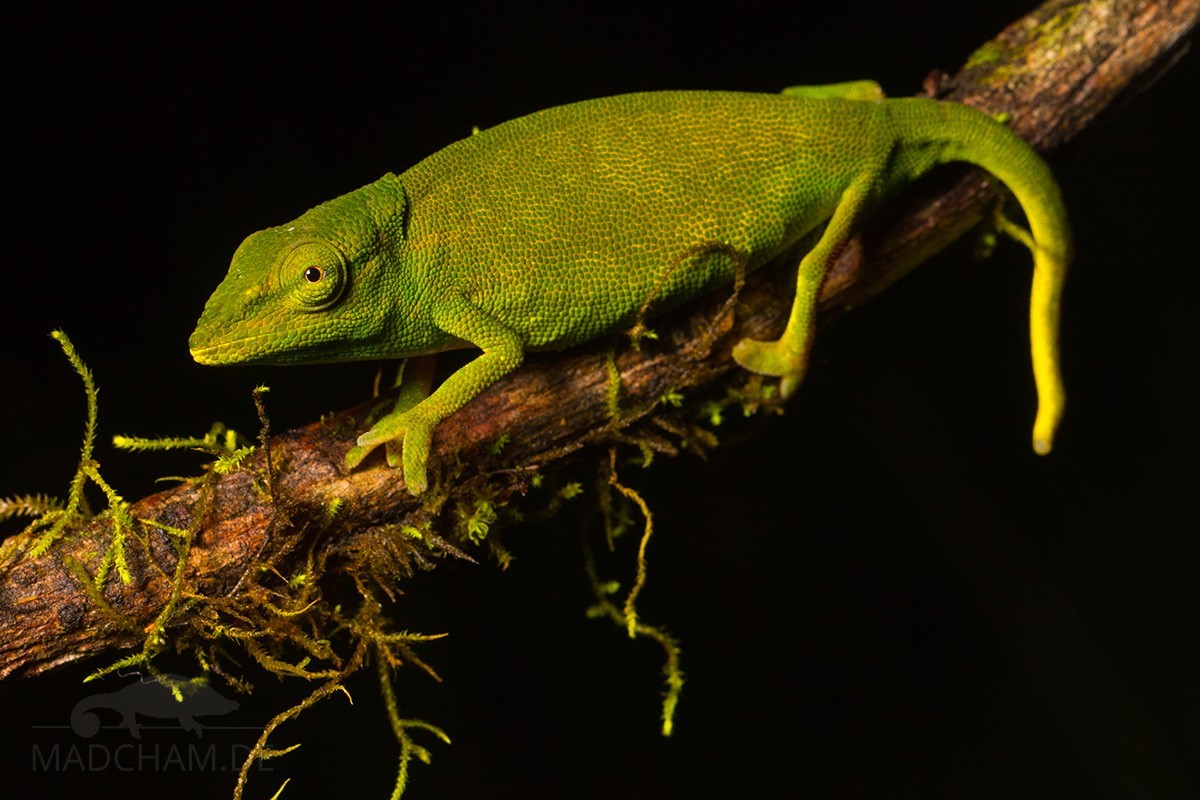 CITES quotas
no legal export possible
First description:
Böhme, 1997
Origin of the species name:
The German herpetologist Wolfgang Böhme, former head of the section for herpetology of the Museum König in Bonn (Germany), named this chameleon species in honor of the German herpetologist Frank Glaw. Frank Glaw works in the State Zoological Collection in Munich (Germany) and has been responsible for a large number of new species descriptions of Madagascar's reptiles and amphibians in recent decades. Not only did he collect the specimen specimens of Calumma glawi himself in Madagascar in 1996, but in the meantime, he has also collected the holo- and paratypes of numerous other chameleon species.
Distribution:
Calumma glawi is an inhabitant of the humid rainforest areas of Ranomafana in Madagascar's south-central highlands. Here you can find it at elevations of 300-800 meters. The habitat is restricted to the dense rainforest where it is difficult to find. At night, it is a little easier, but nevertheless you have to be lucky. Like most young chameleons, the young of Calumma glawi always sit at the outer end of leaves.
Appearance & size:
With a total length of 14 to 14 cm, this species belongs to the smaller chameleons. They are predominantly green colored with a yellowish lateral stripe in males, and during mating season, they often show a lot of bright turquoise-blueish spots. Males have a slightly elevated, dark-colored helmet with small, even dark occipital lobes. In females, the occipital lobes are less developed. Throat and belly are bright in males, partially yellow-colored. When stressed, female Calumma glawi may show dark bandings, that dissolve into spots on the head. Both genders have no enlarged scales on the back, belly or throat.
| | | | | | | | | | | | | |
| --- | --- | --- | --- | --- | --- | --- | --- | --- | --- | --- | --- | --- |
| | Jan | Feb | Mar | Apr | May | Jun | Jul | Aug | Sep | Oct | Nov | Dec |
| Average temperature | 23 | 24 | 23 | 23 | 21 | 19 | 19 | 19 | 20 | 21 | 22 | 23 |
| Minimum temperature | 20 | 20 | 20 | 19 | 18 | 15 | 15 | 15 | 15 | 16 | 18 | 19 |
| Maximum temperature | 27 | 27 | 27 | 27 | 25 | 23 | 23 | 23 | 24 | 25 | 26 | 27 |
| Rain days | 27 | 24 | 26 | 19 | 17 | 18 | 21 | 20 | 15 | 16 | 20 | 25 |
We have collected the data given above over several years with thermometers and hygrometers at the finding places of the chameleons. "Average temperature" means that values of a whole month have been calculated to one average value per month. For example all measured minimum temperature values of February have been calculated to one average minimum temperature for February. In plain language, this means single peak values of a day may be a little higher or lower than the average minimum and maximum temperatures. It is possible that a location has an average maximum temperature of 29°C, but one day during that month it had 33°C or even 35°C there.
The rainforest of Ranomafana is located in Madagascar's southern highlands at elevations around 1000 m above sea level. Thus climate is generally cooler than e.g. on the coast or in the southwestern part of the island. Days reach temperatures around 25°C, rainy season may become a little warmer. Sunny places may get a little above 30°C sometimes. At night, temperature drops down to 20°C in rainy season and even lower to 15°C in dry season.
But "dry" season is very relative in Ranomafana, because the forest does not get dry at all. Never. It may rain less and precipitation is not lasting for days, but it is still rich enough to let ground and trees never dry completely. Key factors of Ranomafana's climate are high humidity and cool nights.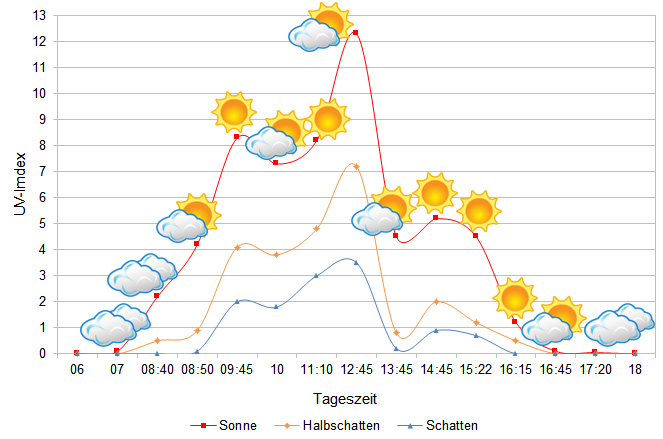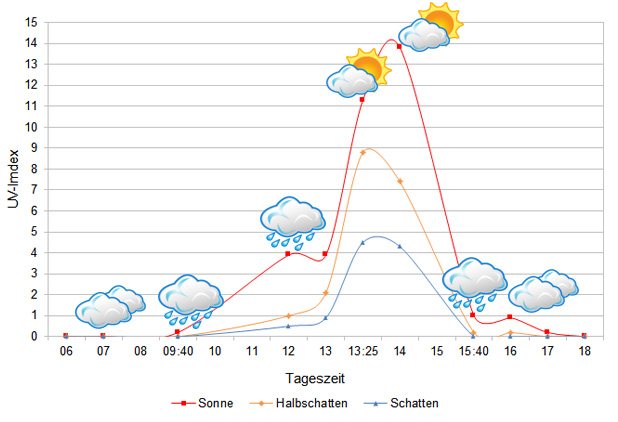 Tageszeit = day time, Sonne = sun, Halbschatten = half shade, Schatten = shade
We have measured UVB data with a Solarmeter 6.5 in spring (March) at the peak of activity of chameleons in Madagascar. We always measured the values that a chameleon could maximally reach in its habitat.
Unfortunately, we have no ground temperatures for Ranomafana available yet.
Habitat:
The following pictures show the habitat of Calumma glawi in Ranomafana. In Ranomafana, this species occurs mainly in the pristine rainforest with huge trees, lianas, and many ferns. The trees are quasi always moist and mossy overgrown. The forest extends over several canyons and is accordingly rocky. The ground is covered by thick foliage.
Hereinafter you can find some 360° pictures from Ranomafana that we took in 2017. You can move inside these pictures via mouse click in all directions. If you click on the Theta logo, a new window with an enlarged view will open. You will also have the opportunity to look at the pictures in full-screen mode. Enjoy!
Regenwald im Nationalpark Ranomafana, Region Haute Matsiatra und Vatovavy-Fitovinany, südliches Hochland, Madagaskar März 2017 – Spherical Image – RICOH THETA
Regenwald im Nationalpark Ranomafana, Region Haute Matsiatra und Vatovavy-Fitovinany, südliches Hochland, Madagaskar März 2017 – Spherical Image – RICOH THETA
Regenwald im Nationalpark Ranomafana, Region Haute Matsiatra und Vatovavy-Fitovinany, südliches Hochland, Madagaskar März 2017 – Spherical Image – RICOH THETA
Regenwald im Nationalpark Ranomafana, Region Haute Matsiatra und Vatovavy-Fitovinany, südliches Hochland, Madagaskar März 2017 – Spherical Image – RICOH THETA