CITES quotas
2011-13 each 100 specimen, 2014-16 each 500 specimen, 2017 for the first time 1000 animals, 2018 and 2019 each 500 specimen for legal export
First description:
Brygoo & Domergue, 1969
Distribution:
Brookesia thieli is found in central eastern Madagascar in the areas of Moramanga, Andasibe, Vohimana and Anjozorobe. There is also a further population higher up in the north near Masoala. So far we have been able to find the animals in the rainforest of Andasibe-Mantadia National Park, Ranomafa National Park and Anjozorobe.

Appearance & size:
These leaf chameleons reach a maximum size of 73 mm. At the back a row of eleven spinous processes runs on both sides, which continues over the tail. Both sexes have turbekel at the chin. The basic colour of these animals are different shades of brown, most individuals have a lightcolored back and darker sides and belly. The projection above the nose is well developed.
Jan
Feb
Mär
Apr
Mai
Jun
Jul
Aug
Sep
Okt
Nov
Dez
Durchschnittl. Temperatur
23
24
23
23
22
19
19
19
20
21
22
23
Minimale Temperatur
20
20
20
19
18
15
15
15
15
16
18
19
Maximale Temperatur
27
27
27
27
25
23
23
23
24
25
26
27
Regentage
27
24
19
17
18
21
20
15
16
20
25
Die angegebenen Daten wurden von uns innerhalb mehrerer Jahre mit Thermo- und Hygrometern direkt an den Fundorten der Tiere gemessen und zusammengetragen. "Durchschnittliche Temperatur" bedeutet, dass die Werte eines gesamten Monats zu einem Durchschnittswert berechnet wurden, z.B. wurden alle gemessenen Minimalwerte eines Monats zu einem durchschnittlichen Minimalwert für Februar berechnet. Das bedeutet im Klartext, dass einzelne Spitzenwerte eines Tages deutlich höher oder niedriger als die durchschnittlichen Minimal- und Maximalwerte liegen können. Es ist also möglich, dass zwar das durchschnittliche Maximum bei 29 Grad liegt, es aber an einigen Tagen des Monats 33°C oder gar 35°C warm war.
Die Region um Andasibe mit den dazugehörigen Wäldern Mantadia und Analamazaotra liegen im östlichen Hochland Madagaskars auf Höhen zwiscen 900 und 1250 m über Meeresniveau. Es wird deshalb tagsüber zwar mal über 25°C warm, über die 30°-Grenze klettert das Thermometer aber eher selten oder nur in Sonnenflecken. Nachts fallen die Temperaturen immer tief in den Keller. 10° bis 15° Grad sind die Regel.
Die Luftfeuchtigkeit in den Regenwäldern um Andasibe ist das ganze Jahr über hoch. Während der Regenzeit regnet es täglich ausgiebig, manchmal hält der Regen über Tage an. Aber auch die Trockenzeit unterscheidet sich nicht massiv, außer dass sie etwas kühlere Temperaturen aufweist. Es regnet trotzdem mindestens jeden zweiten Tag, eher öfter. Regen, hohe Luftfeuchtigkeit und nächtlicher Temperatursturz sind daher die zentralen Punkte im Klima Andasibes.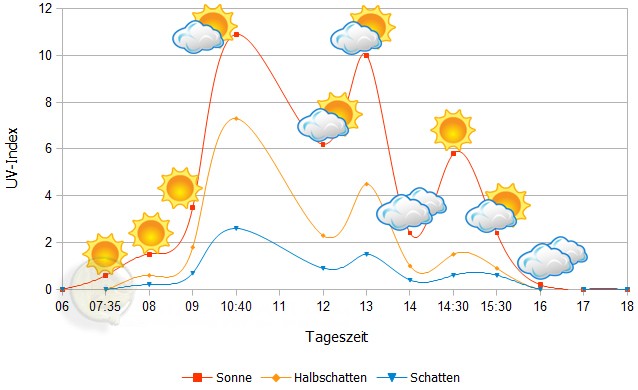 Die UVB-Daten wurden mit einem Solarmeter 6.5 im Frühjahr (März, April) zur höchsten Aktivitätszeit der Chamäleons gemessen. Gemessen wurden jeweils maximal für das Chamäleon zu erreichende Werte im Habitat.
Leider sind noch keine Bodentemperaturen für die Region Andasibe verfügbar.
Habitat:
The following photos show extracts from the habitat of Brookesia thieli in Andasibe and finding sites in Anjozorobe. The species hides well in the undergrowth, which consists of many small plants, loose branches and few fallen tree trunks. The animals live on the thick layer of leaves and on very low branches and branches of bushes. In Anjozorobe, Brookesia thieli lives mainly in microhabitats heavily overgrown with ferns.
Here are some 360° pictures from Anjozorobe-Angavo. With the mouse you can rotate in all directions. If you click on the Theta logo, the pictures open in an enlarged view in a separate window. There is also the possibility to execute the images in full screen mode. Have fun watching!

Regenwald neben Reisfeldern im Schutzgebiet Anjozorobe-Angavo, Region Analamanga, zentrales Hochland, Madagaskar, April 2018 – Spherical Image – RICOH THETA
Copyright secured by Digiprove