Distribution of the local form Masoala:
Masoala National Park is located on the east coast of Madagascar on the peninsula of the same name. The rainforest here reaches directly to the sea – the peninsula borders the Bay of Antongil. With more than 2100 km², Masoala is Madagascar's largest national park and also the country's largest contiguous rainforest. The rainforest, which is now recognised as a UNESCO World Natural Heritage Site, ranges in altitude from sea level to 1224 metres. Masoala has been severely threatened by deforestation and slash and burn for years. For the most part, the park boundaries are hardly visually discernible, especially in the northeast, and are constantly being displaced by the creation of illegal fields. Illegal logging of rosewood and other precious woods is a recurring theme in the region.
Ecotourism activities in Masoala National Park are limited to the western side of the park in Antongil Bay. To get there, you fly about 700 km by plane from the capital Antananarivo to Maroantsetra at the northern end of Antongil Bay. From there, it is a two to three hour boat ride to Tampolo beach. There, most travellers use one of the four rustic hotels for visits to the national park. Unfortunately, there are still no guides specialised in reptiles in Masoala. In addition, the rainforest is very tall and dense, which makes it difficult to find animals.
The Antainambalana River separates the Masoala peninsula from the town of Maroantsetra. At the easternmost tip of the national park, there is also a buffer zone of mangroves and secondary vegetation, bordered by Cap Est. Several rivers run northwards, almost all of which have their source in the high elevations of Masoala. In the bay of Antongil lies the island of Nosy Mangabe, which officially belongs to Masoala National Park, but is listed as a separate local form on our pages because of its isolation as an island.
Appearance of the local form:
Surprisingly, the local form Masoala looks completely different from the nearby local form Cap Est. Panther chameleons in Masoala are very similar to those of the nearby local form Maroansetra. The males are green on the body with yellow-orange tints on the chest and belly. The limbs and head are usually deep red, although the helmet and bridge of the nose may be green. When excited, the animals often show more and more intense red.
It is illegal in Madagascar to take animals from protected areas or even national parks. Anyone who finds this local form outside Madagascar can be sure that the chameleons were either exported illegally or that it is not this local form. In almost all cases, they are simply animals of other local forms that are sold under false names to increase the price.
Weight table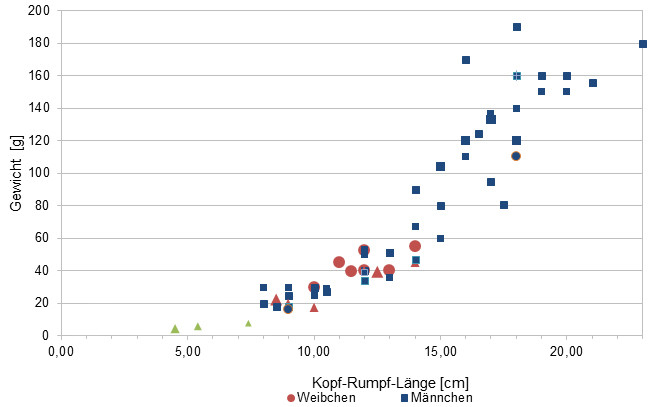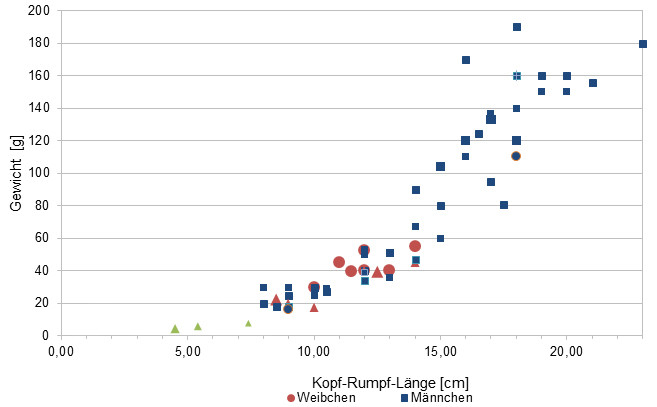 Since 2015, we have been measuring the weights of chameleons we found on Madagascar, as far as the animals (and our scales) cooperate. In the long term, the aim is to obtain an average weight in relation to the head-torso length (measured from the tip of the nose to the cloaca) for each species from as many measurements as possible. It is important to know that all weights were measured towards the end of the rainy season (= best food supply), so these are probably maximum weights on Madagascar. Triangular symbols on females mean not pregnant, round symbols mean pregnant. In the case of Furcifer pardalis, contrary to our original assumption, it has so far turned out that there are no serious differences in the ratio of the SVL to the weight between the individual local forms.
| | | | | | | | | | | | | |
| --- | --- | --- | --- | --- | --- | --- | --- | --- | --- | --- | --- | --- |
| | Jan | Feb | Mar | Apr | May | Jun | Jul | Aug | Sep | Oct | Nov | Dec |
| Average temperature | 24 | 25 | 25 | 24 | 24 | 23 | 21 | 20 | 21 | 22 | 23 | 24 |
| Minimum temperature | 20 | 21 | 20 | 20 | 18 | 17 | 16 | 16 | 17 | 17 | 19 | 20 |
| Maximum temperature | 28 | 29 | 28 | 27 | 25 | 25 | 25 | 25 | 25 | 27 | 27 | 28 |
| Rain days | 26 | 23 | 25 | 19 | 17 | 18 | 21 | 21 | 16 | 17 | 20 | 24 |
We have collected the data given above over several years with thermometers and hygrometers at the finding places of the chameleons. "Average temperature" means that values of a whole month have been calculated to one average value per month. For example all measured minimum temperature values of February have been calculated to one average minimum temperature for February. In plain language, this means single peak values of a day may be a little higher or lower than the average minimum and maximum temperatures. It is possible that a location has an average maximum temperature of 29°C, but one day during that month it had 33°C or even 35°C there.
Several examples of a daily pattern of temperatures in Masoala in the rainy season are given below. They were recorded with data loggers in 2023.
Masoala's rainforest is located at the coast with broad side to Antongil bay which behaves more like an open sea concerning climate. Accordingly, spring brings cyclones each year. During rainy season, it rains very intensively on a daily base. But also dry season is not really dry but has regular precipitation.
From October to April it is warmer than usual in Masoala, with temperatures reaching over 30°C in sunny spots. At night, temperatures drop only slightly. The rest of the year, from May to September inclusive, it is different: at night, during the dry season, temperatures plummet to 16°C at night, while at night it is still Mediterranean warm. In 2023 we measured relative humidity with data loggers on several days in Masoala during the rainy season, the data can be found below.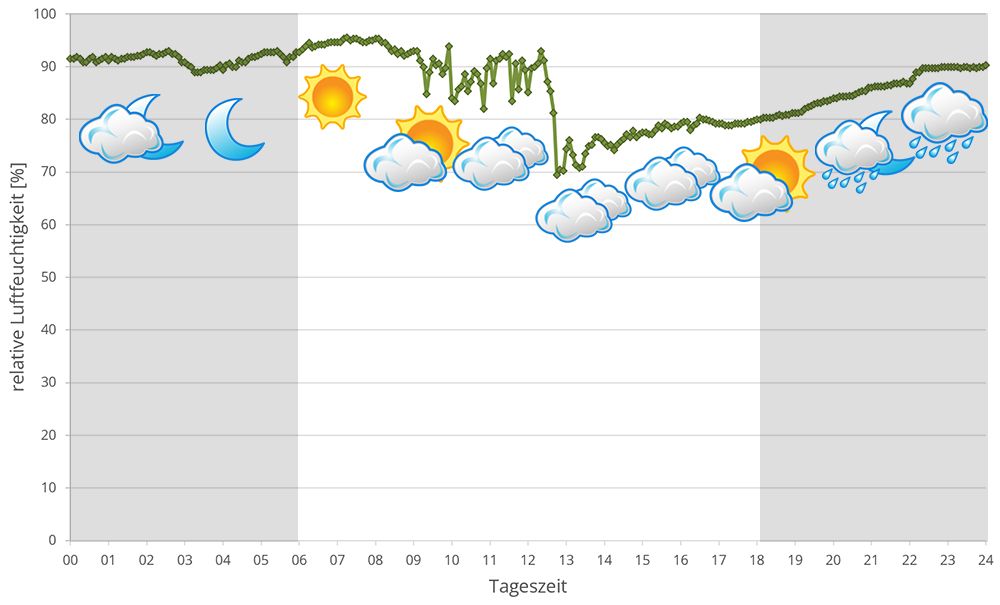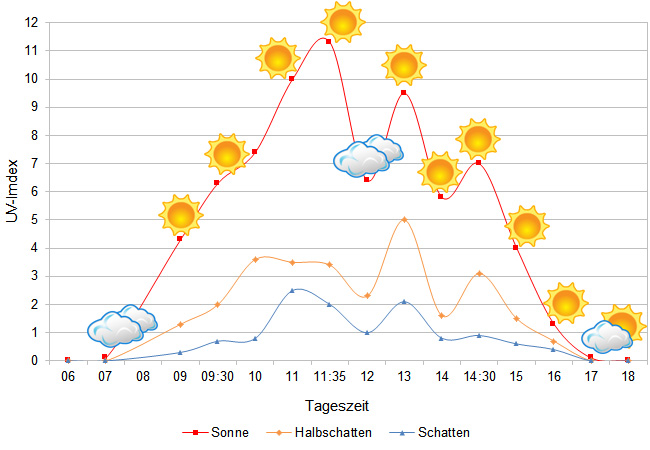 Tageszeit = day time, Sonne = sun, Halbschatten = half shade, Schatten = shade
We have measured UVB data with a Solarmeter 6.5 in spring (end of March) at the peak of activity of chameleons in Madagascar. We always measured the values that a chameleon could maximally reach in its habitat.
Unfortunately, we have no ground temperatures for Masoala available yet.
In 2023, in addition to other climate data, we also measured the air pressure at the places we visited in Madagascar. The following data is from several days during the rainy season in Masoala. The X-axis shows the time of day or night. In Madagascar, the day begins around 6 am, and night falls at 6 pm. The Y-axis shows the atmospheric pressure in hPa.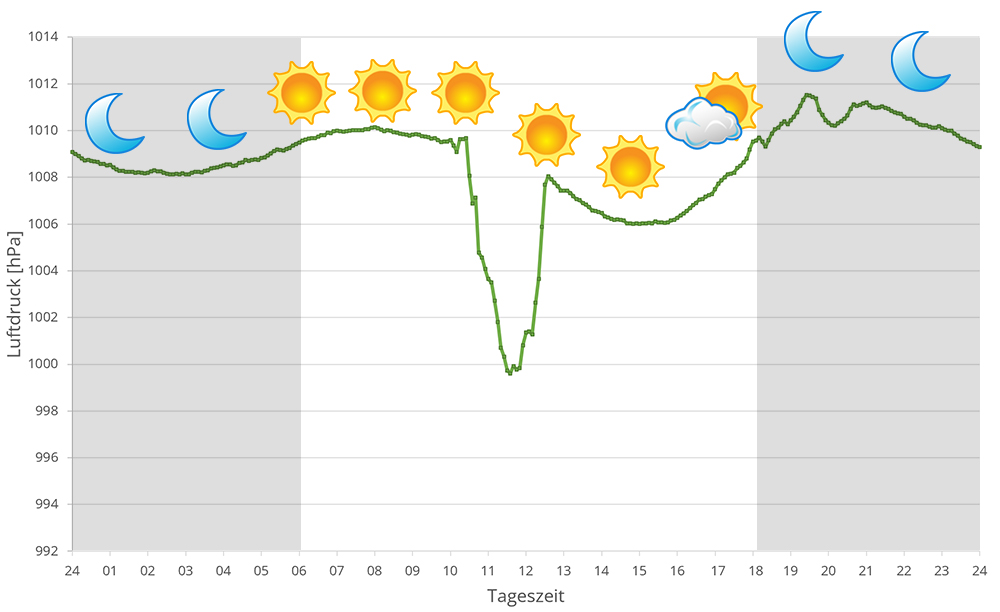 Habitat:
The habitat of the panther chameleons here consists of a very dense, very high rainforest, which is criss-crossed by countless streams and rocks. The soil is sandy and only a little further from the beach is it mixed with earth, which is, however, covered by a thick layer of foliage. A special feature of Masoala is the golden-coloured beach, directly bordered by the rainforest. Giants of the jungle, countless lianas, ferns, and mosses make this an extremely humid, but very versatile and primeval home for panther chameleons.