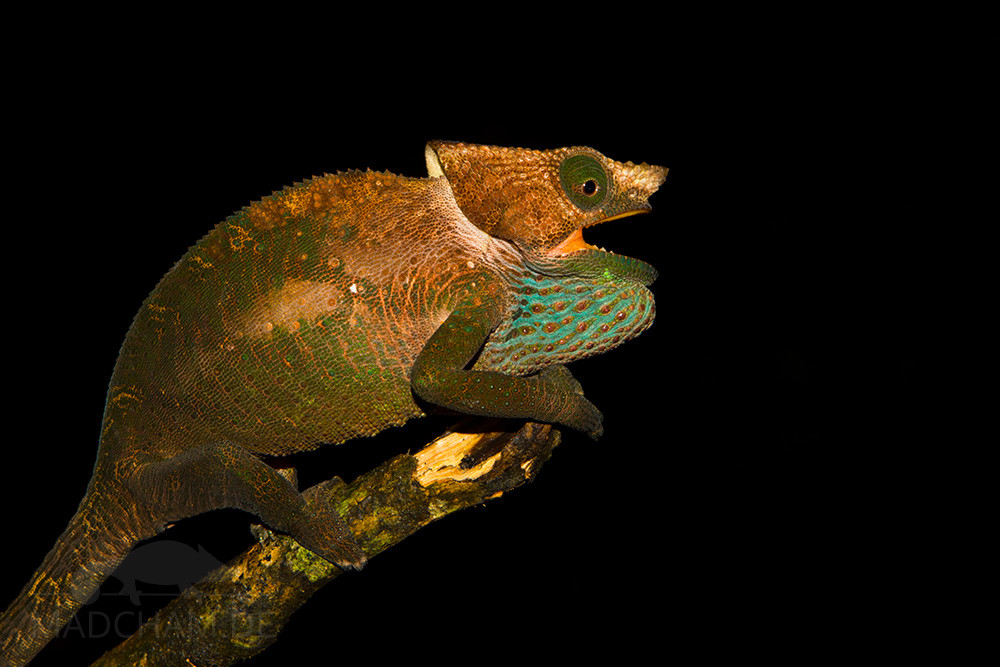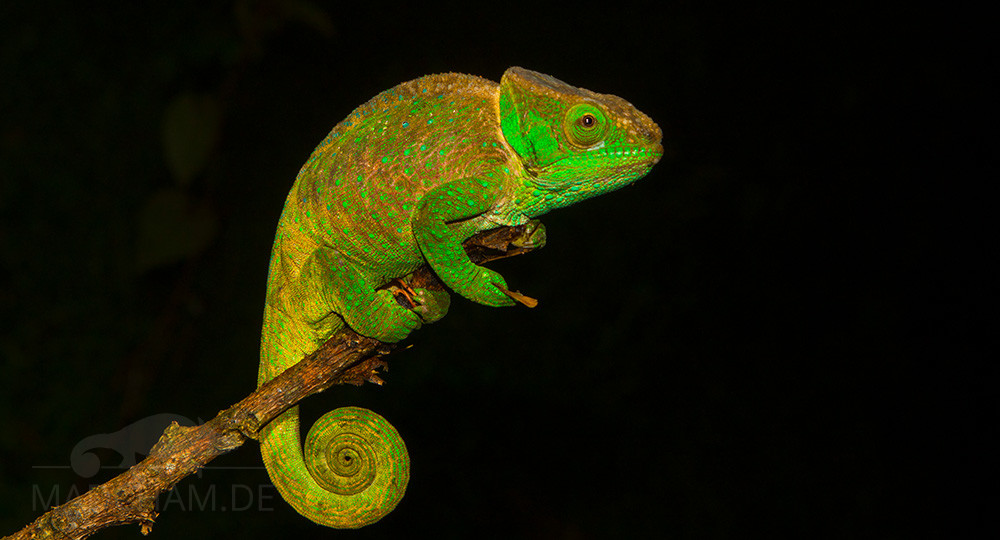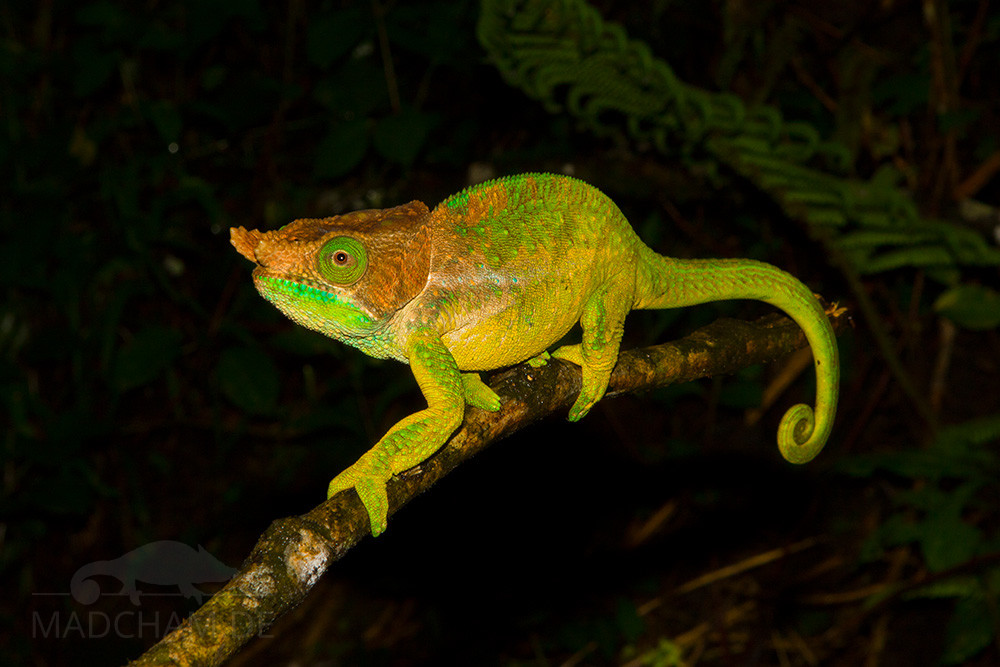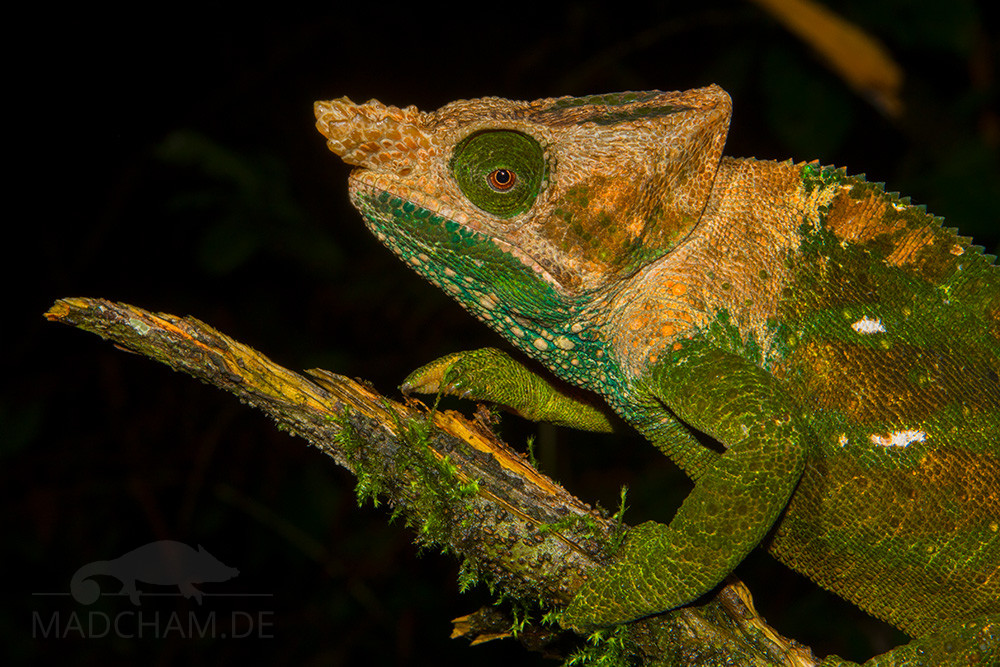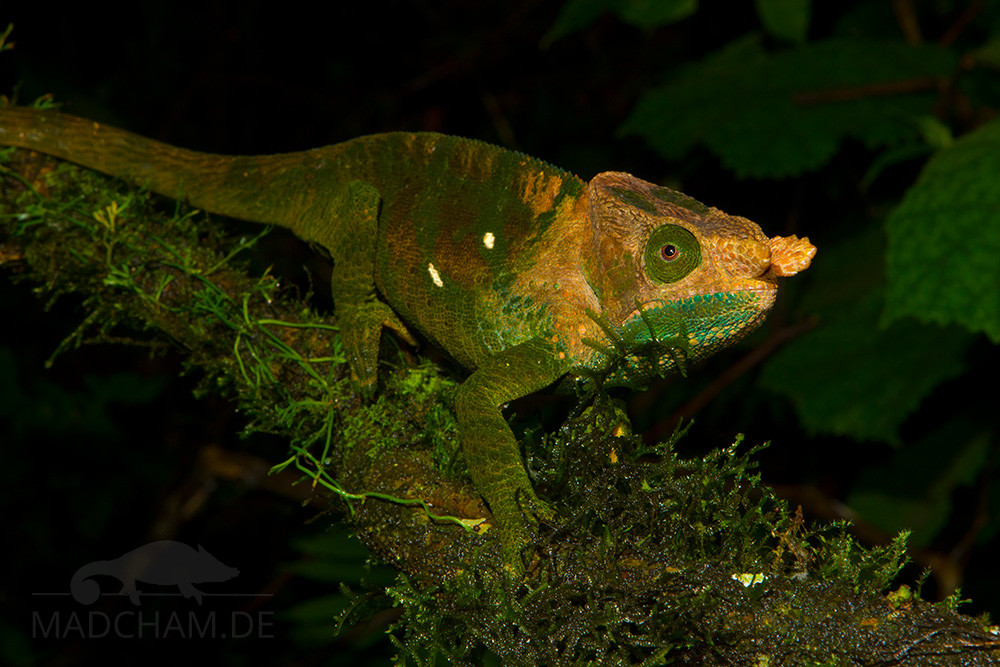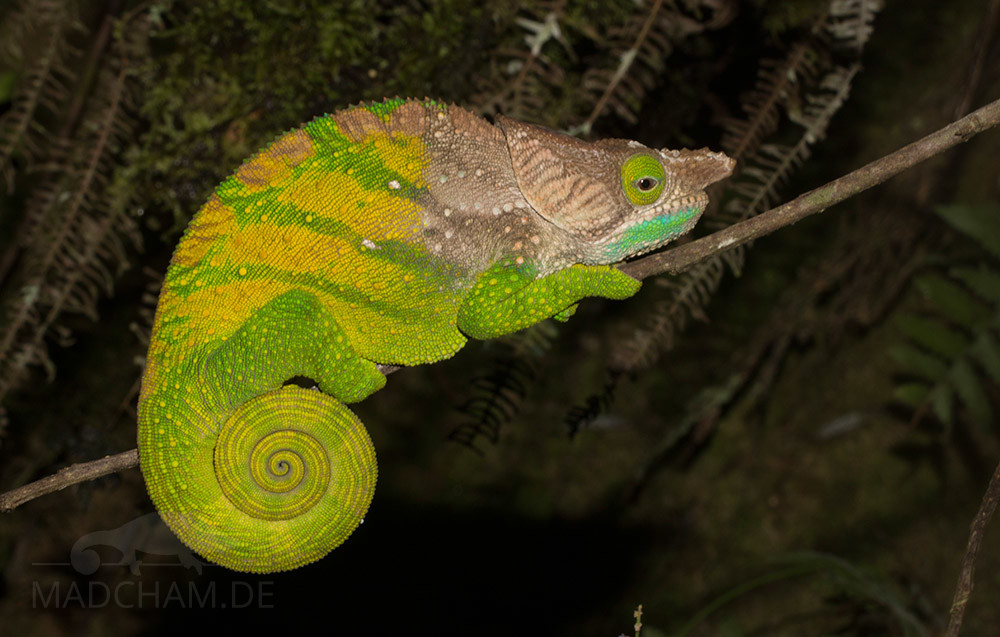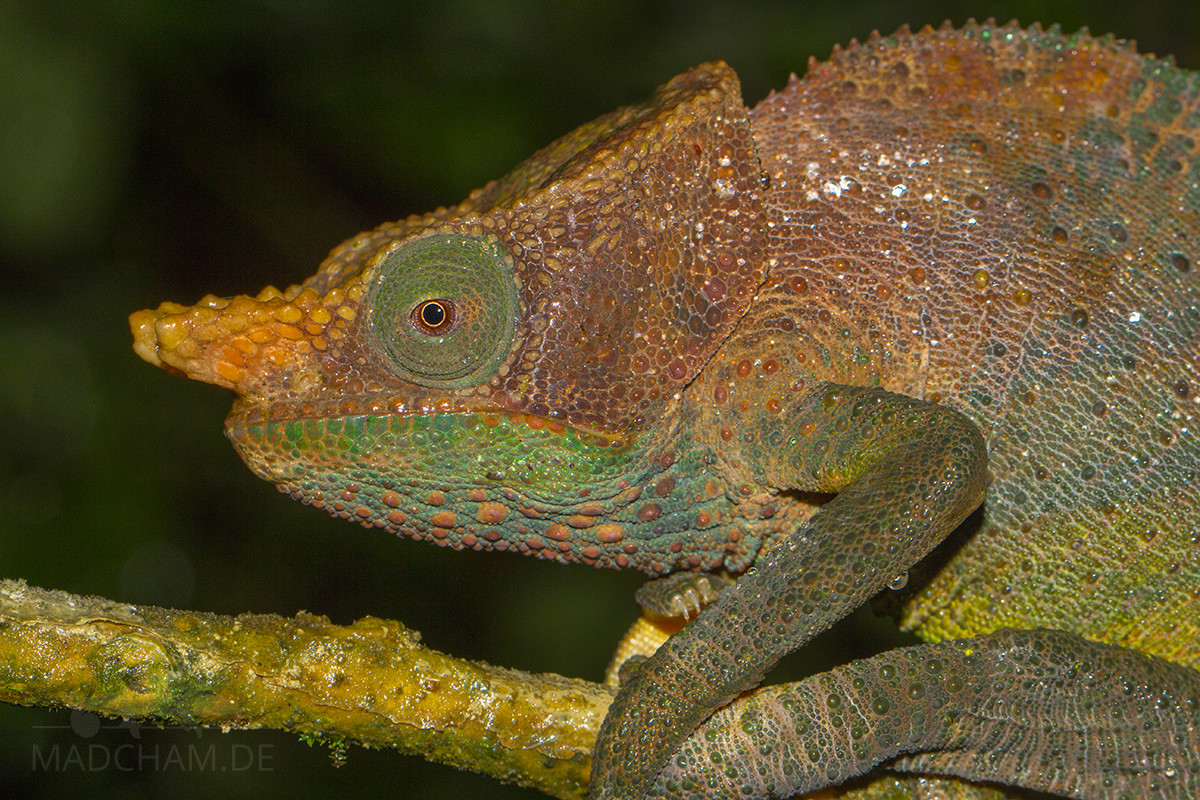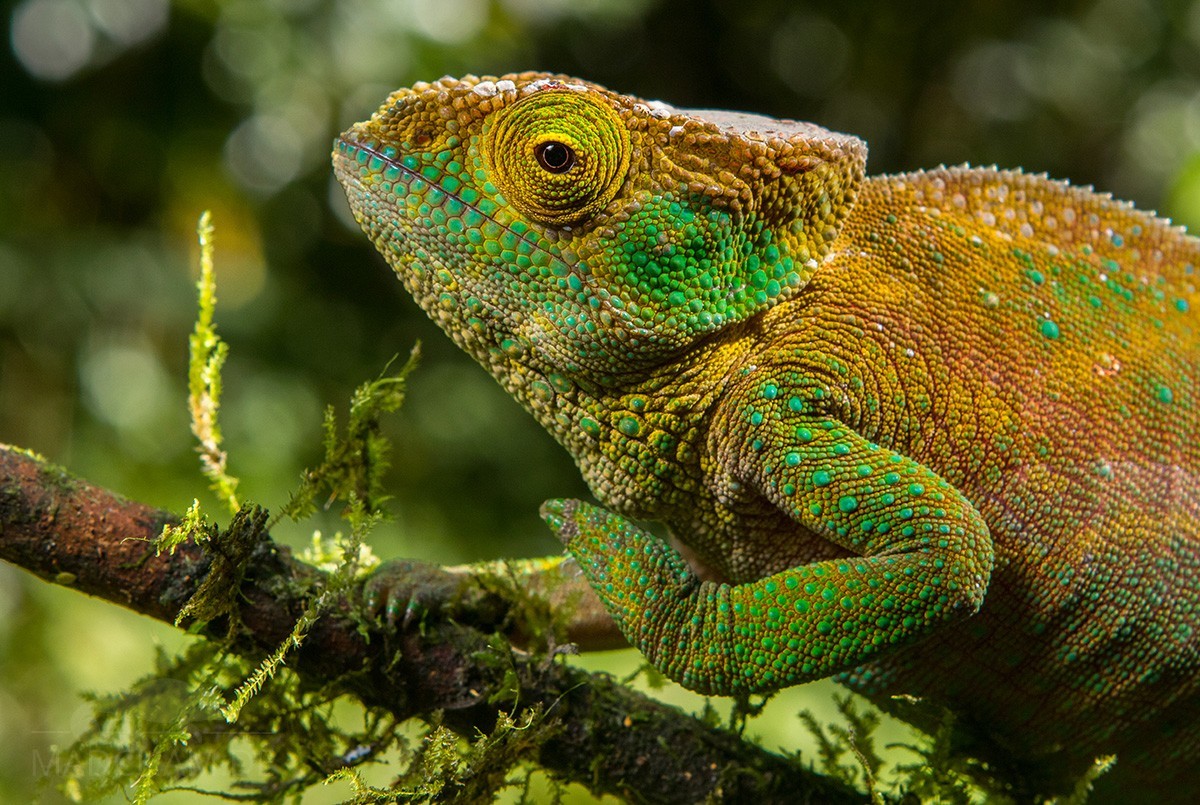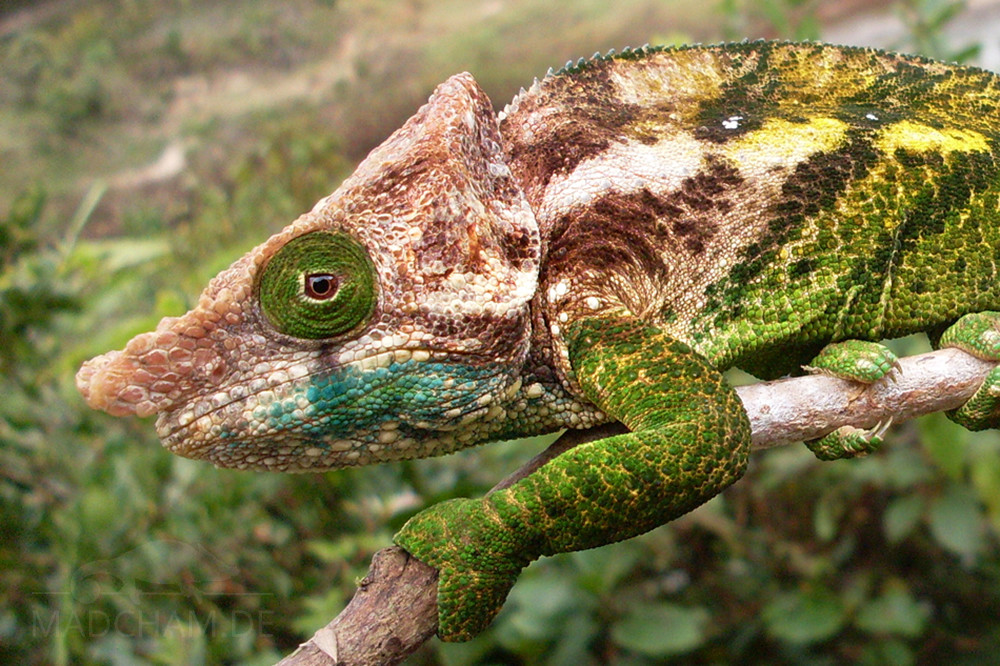 CITES quotas
2011-13 no specimens, 2014-23 each 250 specimens for legal export
First description:
(Günther, 1881)

Origin of the species name:
The German zoologist Albert Carl Ludwig Gotthilf Günther, then Director of the Zoological Department of the Natural History Museum of London (Great Britain), gave only a few species names in honour of specific individuals. He made an exception for this chameleon species, which he dedicated to his English friend and colleague Arthur William Edgar O'Shaughnessy. O'Shaughnessy was already employed by the Natural History Museum at the age of 19 and remained there until his death at the age of only 37 in January 1881, shortly before the description of Calumma oshaughnessyi was completed.
Distribution:
The distribution of this chameleon species reaches from Ranomafana national park to the northern edges of Andohahela national park in south-east Madagascar. They prefer to live in dense evergreen rainforests where it is always extremely humid. Calumma oshaughnessyi loves deep primary forests overgrown with ferns and moss. You will hardly find them in secondary vegetation. During night excursions, you can see them in the rainforest at the ends of branches at heights of 2-4 meters.
Appearance and size:
With a total length of almost 40 cm, Calumma oshaughnessyi belongs to the large representatives of the colorful dragons. The males have two big nose appendages. Besides their green-greyish colors, they also have blue and yellow accents in the gular area and on the flanks. The head and shoulder parts are grey-whitish mainly in males, partially with, partially without a turquoise green throat. Females lack the characteristic nose appendages. Both genders have small but distinct occipital lobes. Some individuals of Calumma oshaughnessyi show some enlarged spines at the back, but most specimens completely lack them.
Weight table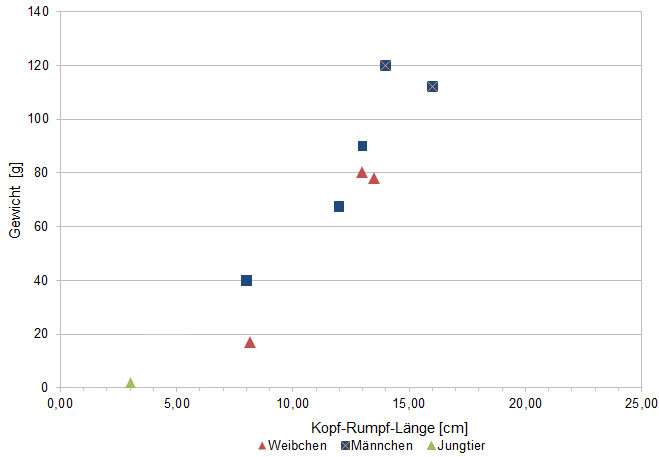 Gewicht = weight in grams, Kopf-Rumpf-Länge = snout-vent-length in cm, Weibchen = female, Männchen = male
Since 2017, we measure the weights of most Calumma oshaughnessyi that we find in Madagascar, of course only if practicable with calm animals (and working scales). Up to date, we have only a few weights. Over the long term, we want to get an average weight in proportion to the snout-vent-length (measured from the tip of the nose to the cloaca) from a large number of measurements for each Madagascan chameleon species. It is important to know that weights were all measured at the end of the rainy season when the chameleons have been having the highest food supply of the year. So our table may show the maximum weights of chameleons in Madagascar. Triangular symbols in females mean not pregnant, spherical symbols mean pregnant.
| | | | | | | | | | | | | |
| --- | --- | --- | --- | --- | --- | --- | --- | --- | --- | --- | --- | --- |
| | Jan | Feb | Mar | Apr | May | Jun | Jul | Aug | Sep | Oct | Nov | Dec |
| Average temperature | 23 | 24 | 23 | 23 | 21 | 19 | 19 | 19 | 20 | 21 | 22 | 23 |
| Minimum temperature | 20 | 20 | 20 | 19 | 18 | 15 | 15 | 15 | 15 | 16 | 18 | 19 |
| Maximum temperature | 27 | 27 | 27 | 27 | 25 | 23 | 23 | 23 | 24 | 25 | 26 | 27 |
| Rain days | 27 | 24 | 26 | 19 | 17 | 18 | 21 | 20 | 15 | 16 | 20 | 25 |
We have collected the data given above over several years with thermometers and hygrometers at the finding places of the chameleons. "Average temperature" means that values of a whole month have been calculated to one average value per month. For example all measured minimum temperature values of February have been calculated to one average minimum temperature for February. In plain language, this means single peak values of a day may be a little higher or lower than the average minimum and maximum temperatures. It is possible that a location has an average maximum temperature of 29°C, but one day during that month it had 33°C or even 35°C there.
The rainforest of Ranomafana is located in Madagascar's southern highlands at elevations around 1000 m above sea level. Thus climate is generally cooler than e.g. on the coast or in the southwestern part of the island. Days reach temperatures around 25°C, rainy season may become a little warmer. Sunny places may get a little above 30°C sometimes. At night, temperature drops down to 20°C in rainy season and even lower to 15°C in dry season.
But "dry" season is very relative in Ranomafana, because the forest does not get dry at all. Never. It may rain less and precipitation is not lasting for days, but it is still rich enough to let ground and trees never dry completely. Key factors of Ranomafana's climate are high humidity and cool nights.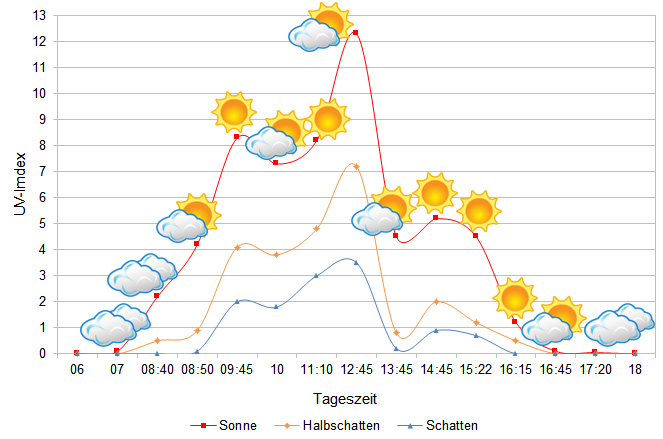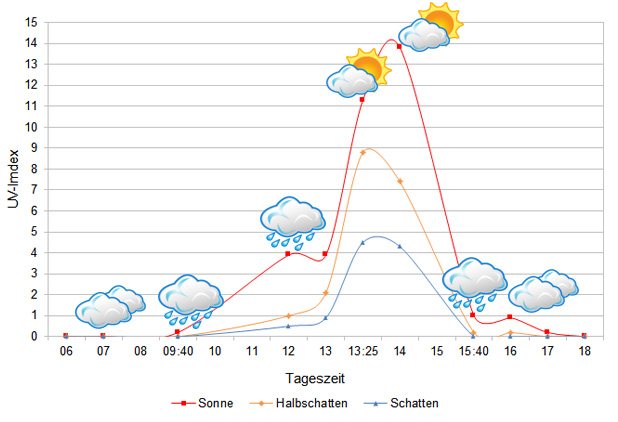 Tageszeit = day time, Sonne = sun, Halbschatten = half shade, Schatten = shade
We have measured UVB data with a Solarmeter 6.5 in spring (March) at the peak of activity of chameleons in Madagascar. We always measured the values that a chameleon could maximally reach in its habitat.
Unfortunately, we have no ground temperatures for Ranomafana available yet.
Habitat:
The following pictures show the habitat of Calumma oshaughnessyi in Ranomafana. This rainforest extends over several canyons so it may be rather steep sometimes. The ground is rocky with dense undergrowth. The trees are often huge and many parts are completely covered by lichen and moss. In the morning, it is often foggy, and it almost never gets dry in Ranomafana. That's why the rainforest greens and blooms so fantastically. Calumma oshaughnessyi prefers the dense parts of the rainforest with lianas and high trees. In the night they often sleep on small branches that are on the limit to hold their weight.
Hereinafter you can find some 360° pictures from Ranomafana. You can move inside these pictures via mouse click in all directions. If you click on the Theta logo, a new window with an enlarged view will open. You will also have the opportunity to look at the pictures in full-screen mode. Enjoy!
Regenwald im Nationalpark Ranomafana, Region Haute Matsiatra und Vatovavy-Fitovinany, südliches Hochland, Madagaskar März 2017 – Spherical Image – RICOH THETA
Regenwald im Nationalpark Ranomafana, Region Haute Matsiatra und Vatovavy-Fitovinany, südliches Hochland, Madagaskar März 2017 – Spherical Image – RICOH THETA
Regenwald im Nationalpark Ranomafana, Region Haute Matsiatra und Vatovavy-Fitovinany, südliches Hochland, Madagaskar März 2017 – Spherical Image – RICOH THETA
Regenwald im Nationalpark Ranomafana, Region Haute Matsiatra und Vatovavy-Fitovinany, südliches Hochland, Madagaskar März 2017 – Spherical Image – RICOH THETA
Regenwald im Nationalpark Ranomafana, Region Haute Matsiatra und Vatovavy-Fitovinany, südliches Hochland, Madagaskar März 2017 – Spherical Image – RICOH THETA
Regenwald im Nationalpark Ranomafana, Region Haute Matsiatra und Vatovavy-Fitovinany, südliches Hochland, Madagaskar März 2017 – Spherical Image – RICOH THETA