CITES quotas
2011-13 each specimens, 2014-22 each 300 specimens for legal export
First description:
(Methuen & Hewitt, 1913)
Origin of the species name:
The English zoologist Paul Ayshford Methuen, 4th Baron Methuen, and the South African zoologist John Hewitt gave this subspecies of the Parsons Chameleon the name cristifer. Both worked at the Transvaal Museum of Pretoria (South Africa) at that time and named the subspecies after the crest of the back (Latin crista = crest), which the second subspecies of the Parsons Chameleon does not have.
Distribution:
This subspecies of the Parson's chameleon mainly lives in the rainforest around Andasibe. They are rather easy to find in Analamazaotra and the communally led reserve V.O.I.M.M.A. The habitat is an evergreen rainforest and the animals can even be found in the gardens of hotel Feon'ny Ala. They often sit in head height.
Appearance & size:
Calumma parsonii cristifer is a little smaller than Calumma parsonii parsonii, but nevertheless has an impressive size with 55 to 60 cm total length. They have a green-turquoise basic color with different accents. Males often have a distinct orange spot on the sides, they also have two nose appendages that are characteristic of Parson's. Females have only very small nose appendages. The easiest way to distinguish this species from its sister species is to look at the dorsal crest: Cristifer has a ridge, and parsonii has a smooth back. Until now, we could not distinguish any "locales" in this species. Males with many orange colors as well as turquoise-blueish males and even green specimen live in the same areas, partially only a few meters from each other. In females, we also could not find a difference between brown and green colored individuals, neither of which concerns age nor gravidity or finding places.
Gewichtstabelle
Weibchen = female, Männchen = male, Jungtier = juvenile, Gewicht = weight, Kopf-Rumpf-Länge = snout-vent-length
Since 2017 we measure the weights of Calumma parsonii cristifer found by us on Madagascar, as far as the animals (and our scales) participate. So far there are only a few weights, in the long term, an average weight in relation to the snout-vent-length (measured from the tip of the nose to the cloaca) for each species should be read off from as large a number of measurements as possible. This means that unfortunately not too much can be a readout of the current tables, but they can be the first clue. It is important to know that all weights were measured towards the end of the rainy season (= best food supply), so they are probably maximum weights in Madagascar. Triangular symbols in females do not mean pregnant, round symbols mean pregnant.
Jan
Feb
Mar
Apr
May
Jun
Jul
Aug
Sep
Oct
Nov
Dec
Average temperature
23
24
23
23
22
19
19
19
20
21
22
23
Minimum temperature
20
20
20
19
18
15
15
15
15
16
18
19
Maximum temperature
27
27
27
27
25
23
23
23
24
25
26
27
Rain days
27
24
19
17
18
21
20
15
16
20
25
We have collected the data given above over several years with thermometers and hygrometers at the finding places of the chameleons. "Average temperature" means that values of a whole month have been calculated to one average value per month. For example all measured minimum temperature values of February have been calculated to one average minimum temperature for February. In plain language, this means single peak values of a day may be a little higher or lower than the average minimum and maximum temperatures. It is possible that a location has an average maximum temperature of 29°C, but one day during that month it had 33°C or even 35°C there.
The region around Andasibe with the belonging forests Mantadia and Analamazaotra is located in Madagascar's eastern highlands at elevations between 900 and 1250 m above sea level. Thus temperatures sometimes reach temperatures above 25°C, but thermometers rarely climbs above 30°C or only in sunny places. At night, temperatures always drop to 10° to 15°C.
Humidity in Andasibe's rainforest is high all year long. During rainy season, it rains intensively every day, sometimes rain even lasts for days. But also dry season does not differ much besides the fact of cooler temperatures. It still rains at least every other day, in most years more often. Rain, humidity and temperature drop at night are the key features of the region around Andasibe.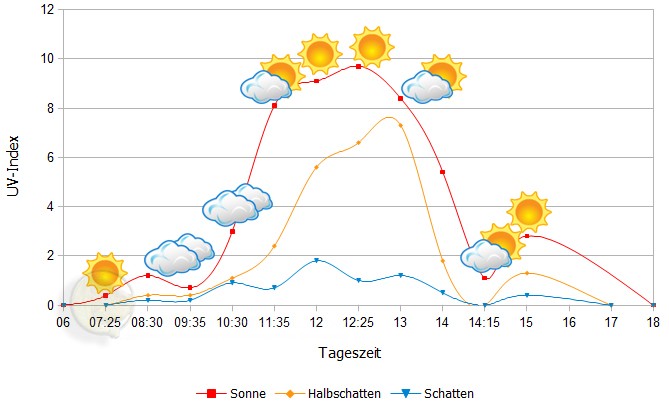 Tageszeit = day time, Sonne = sun, Halbschatten = half shade, Schatten = shade
We have measured UVB data with a Solarmeter 6.5 in spring (March, April) at the peak of activity of chameleons in Madagascar. We always measured the values that a chameleon could maximally reach in its habitat.
Unfortunately, we have no ground temperatures for the region of Andasibe available yet.
Habitat:
The following pictures show habitats of Calumma parsonii cristifer in the region of Andasibe. Some are even from finding places of the species. The rainforest of this area consists of slender trees. Calumma parsonii cristifer prefers high trees with thick branches inside the rainforest. Sometimes you can also find them in secondary vegetation when there's nothing else around.

Hereinafter you can find some 360° pictures from Andasibe. You can move inside these pictures via mouse click in all directions. If you click on the Theta logo, a new window with an enlarged view will open. You will also have the opportunity to look at the pictures in full screen mode. Enjoy!
Regenwald im Nationalpark Andasibe-Mantadia (Analamazaotra), Andasibe, Region Alaotra-Mangoro, östliches Hochland, Madagaskar, April 2018 – Spherical Image – RICOH THETA
Copyright secured by Digiprove