CITES quotas
2011-13 each 100 specimen, 2014-22 each 500 specimen for legal export
First description:
Brygoo & Domergue, 1970

Origin of the species name:
Édouard-Raoul Brygoo (later working at the Natural History Museum in Paris, France) and Charles Antoine Domergue of the then Institut Pasteur in Antananarivo, Madagascar, named the species after the biologist Yves Thérézien. Jean Thiel had brought animals of the species from Andasibe to Institut Pasteur in Antananarivo for scientific research in 1967, but another leaf chameleon was already named after him. Thérézien later worked at the Natural History Museum in Paris, France, where Brygoo and Domergue later worked as well. He was mainly concerned with freshwater algae and fish and worked in various institutes on Madagascar from 1958 to 1966.
Distribution:
This small chameleon species is distributed in Madagascar's eastern rainforests around Andasibe-Mantadia national park. We have found it successfully yet in the middle of the Vohimana reserve. Like all other leaf chameleons, the individuals of this species live in the forest litter, well hidden beneath the foliage or on small branches just above the soil.

Appearance & size:
This is a rather large leaf chameleon with a total length of 90 mm in males. Females reach a maximum of 68 mm. The ground colors of Brookesia therezieni are brown to beige, in general, they look similar to Brookesia superciliaris, but have a more heterogenous scalation. They also have a strong bone appendage above the eye and a point-like tubercle on the chin. To each side, there runs a series of ten or eleven spines that are – in contrast to B. superciliaris – continued on the tail. Some individuals have brighter areas on the belly.
Jan
Feb
Mar
Apr
May
Jun
Jul
Aug
Sep
Oct
Nov
Dec
Average temperature
23
24
23
23
22
19
19
19
20
21
22
23
Minimum temperature
20
20
20
19
18
15
15
15
15
16
18
19
Maximum temperature
27
27
27
27
25
23
23
23
24
25
26
27
Rain days
27
24
19
17
18
21
20
15
16
20
25
We have collected the data given above over several years with thermometers and hygrometers at the finding places of the chameleons. "Average temperature" means that values of a whole month have been calculated to one average value per month. For example all measured minimum temperature values of February have been calculated to one average minimum temperature for February. In plain language, this means single peak values of a day may be a little higher or lower than the average minimum and maximum temperatures. It is possible that a location has an average maximum temperature of 29°C, but one day during that month it had 33°C or even 35°C there.
The region around Andasibe with the belonging forests Mantadia and Analamazaotra is located in Madagascar's eastern highlands at elevations between 900 and 1250 m above sea level. Thus temperatures sometimes reach temperatures above 25°C, but thermometers rarely climbs above 30°C or only in sunny places. At night, temperatures always drop to 10° to 15°C.
Humidity in Andasibe's rainforest is high all year long. During rainy season, it rains intensively every day, sometimes rain even lasts for days. But also dry season does not differ much besides the fact of cooler temperatures. It still rains at least every other day, in most years more often. Rain, humidity and temperature drop at night are the key features of the region around Andasibe.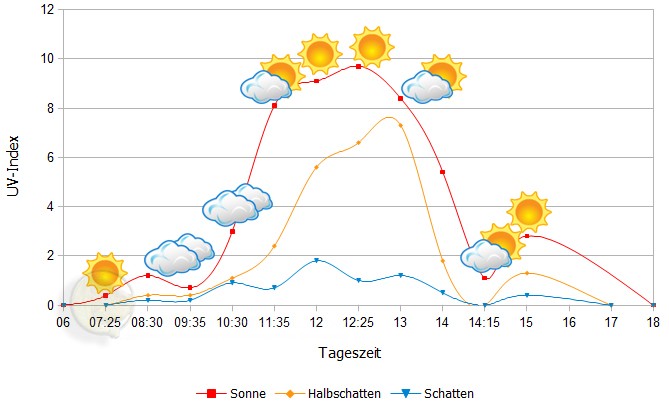 Tageszeit = day time, Sonne = sun, Halbschatten = half shade, Schatten = shade
We have measured UVB data with a Solarmeter 6.5 in spring (March, April) at the peak of activity of chameleons in Madagascar. We always measured the values that a chameleon could maximally reach in its habitat.
Unfortunately, we have no ground temperatures for the region of Andasibe available yet.
Habitat:
The following pictures show the habitat of Brookesia therezieni during the rainy season in Andasibe and Vohimana. The habitat is always moist with rich undergrowth, moss, ferns and lots of small bushes and plants. This species occurs only inside rainforests and avoid any secondary vegetation.
Below you will find some 360° images from Analamazaotra. With the mouse, you can rotate in all directions. If you click on the Theta logo, the images will open in an enlarged view in a separate window. There is also the possibility to run the pictures in full-screen mode. Have fun watching!
Regenwald im Nationalpark Andasibe-Mantadia, Region Alaotra-Mangoro, Madagaskar, April 2018 – Spherical Image – RICOH THETA
Copyright secured by Digiprove