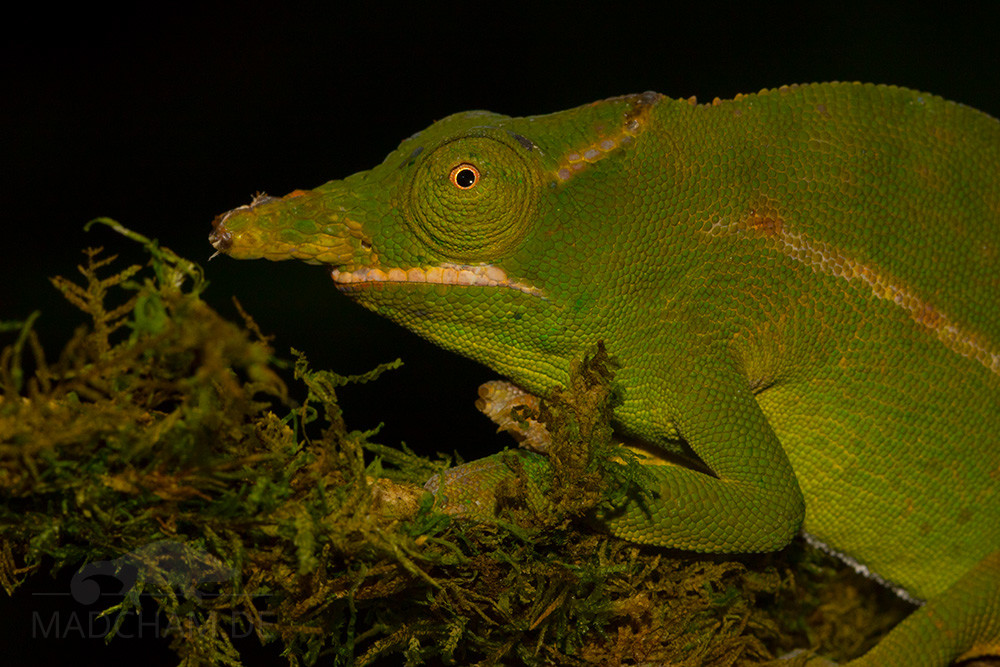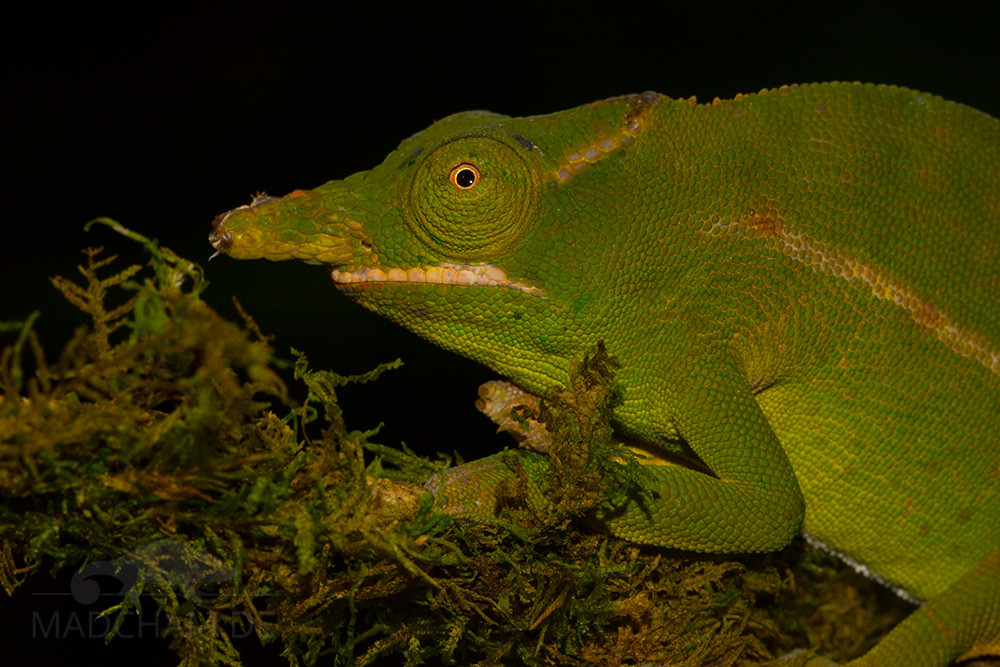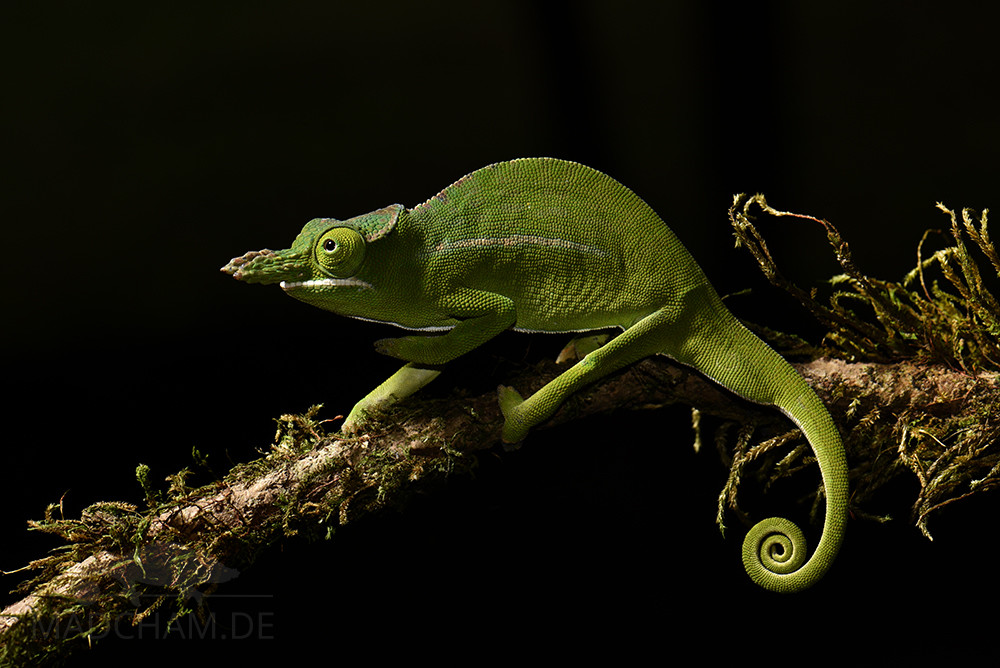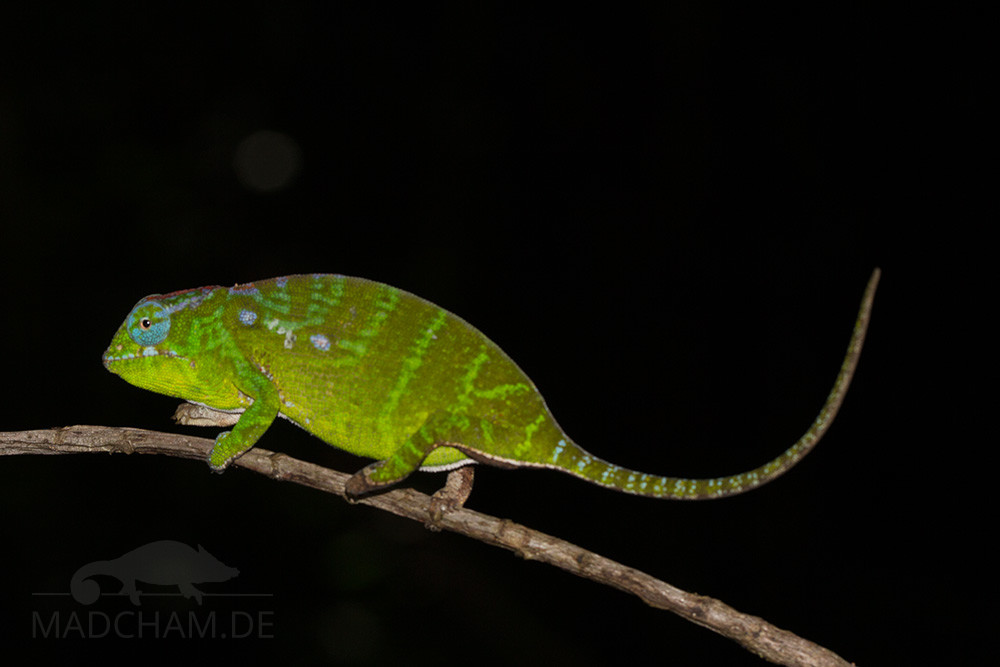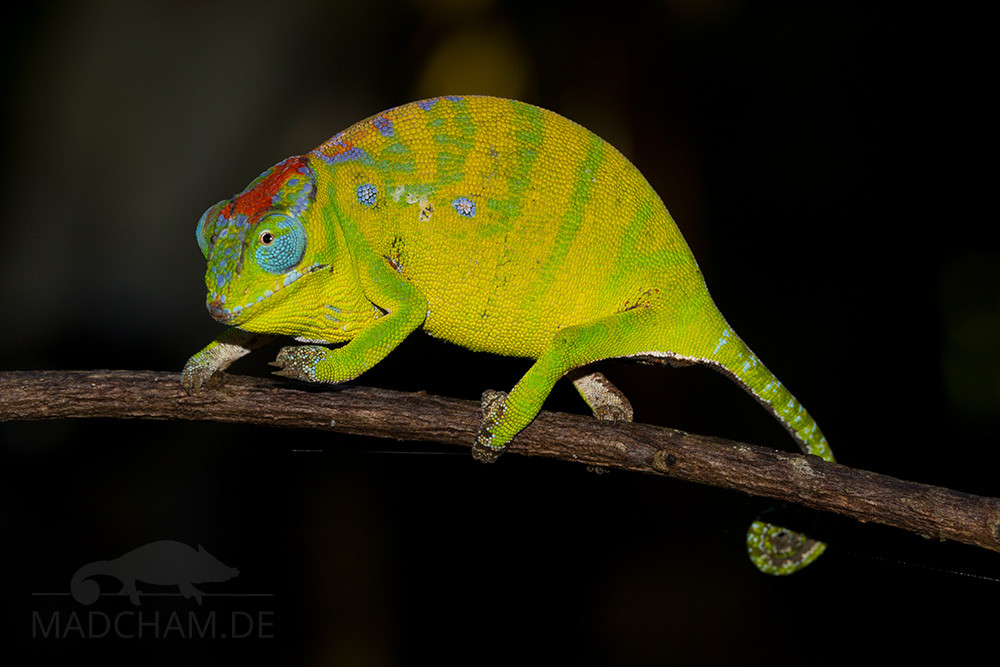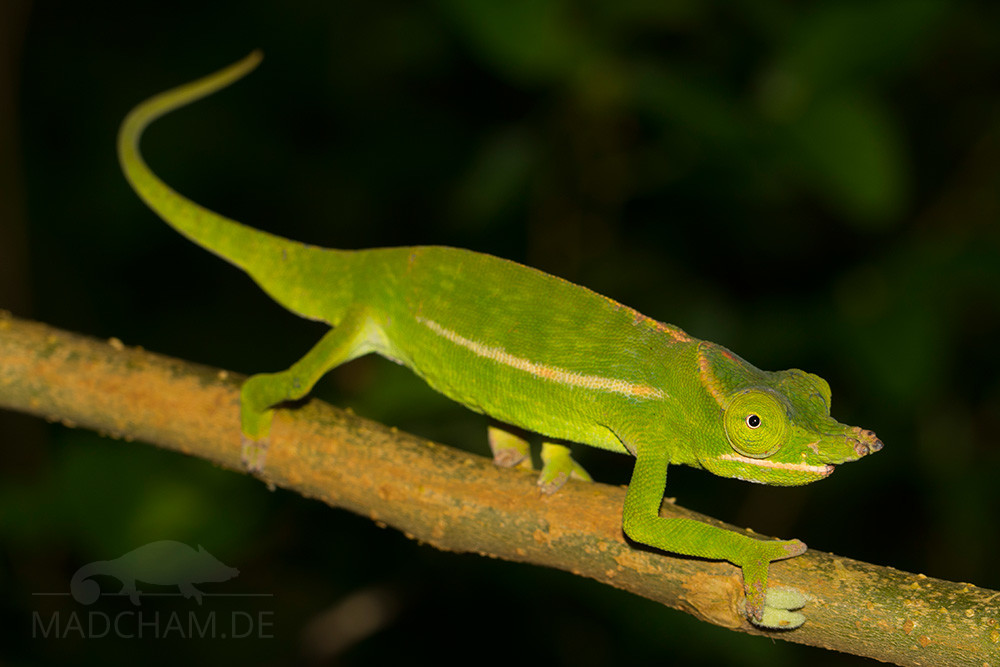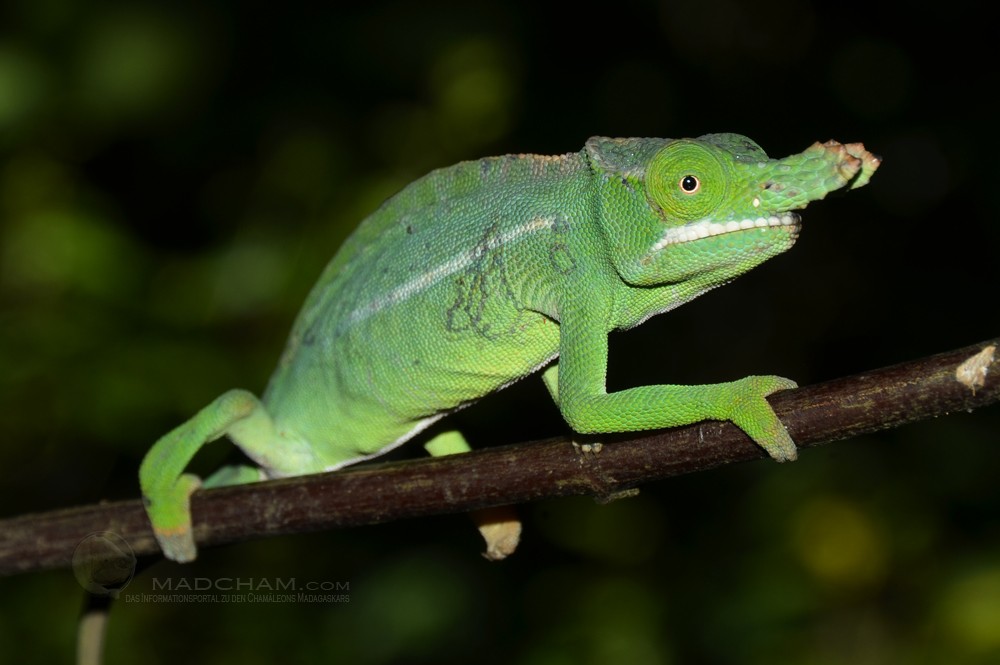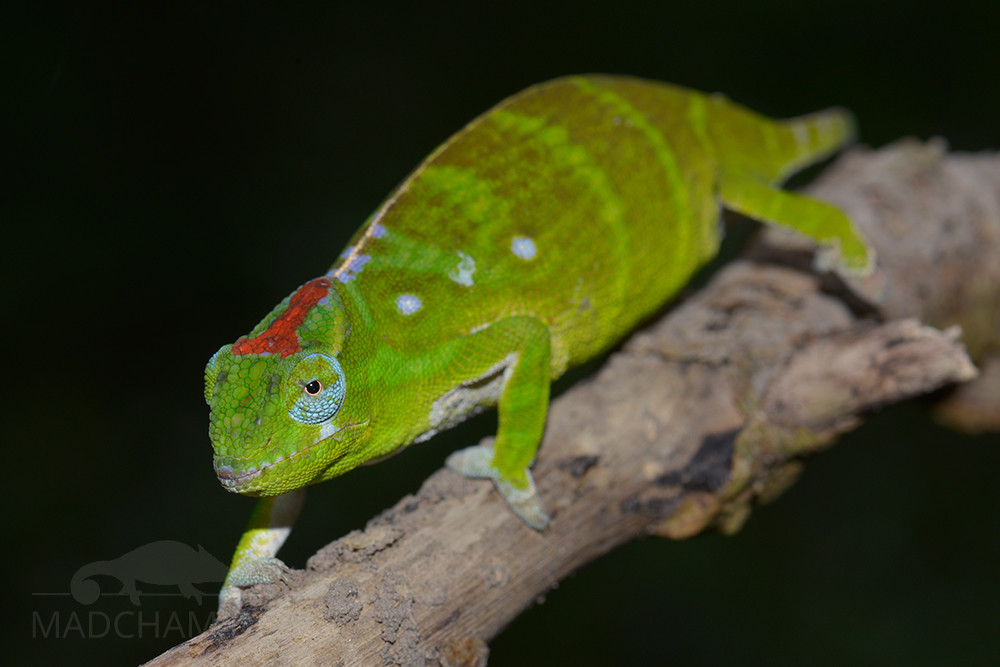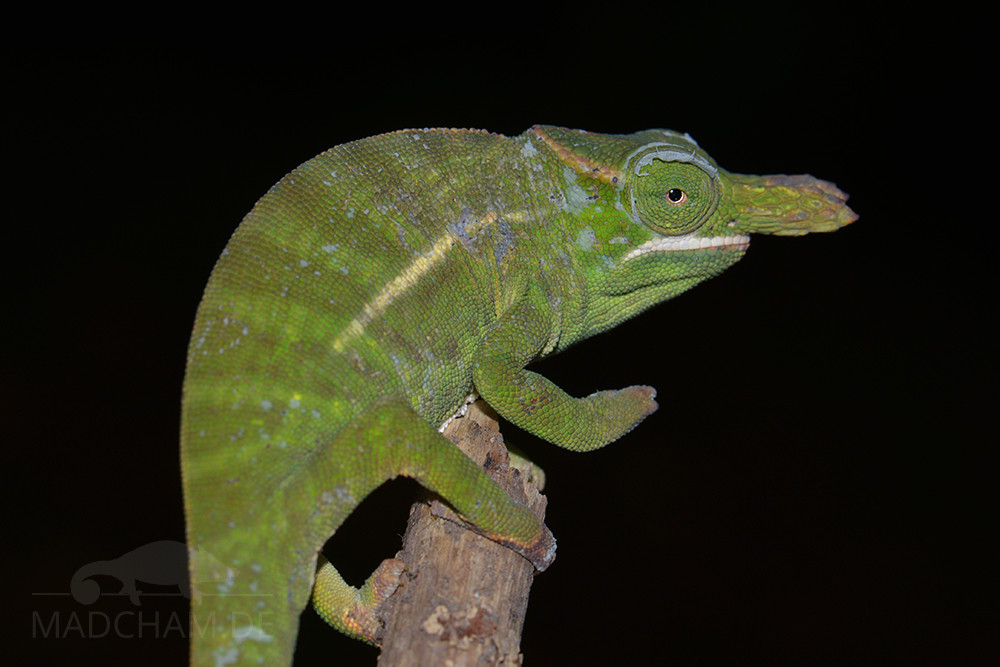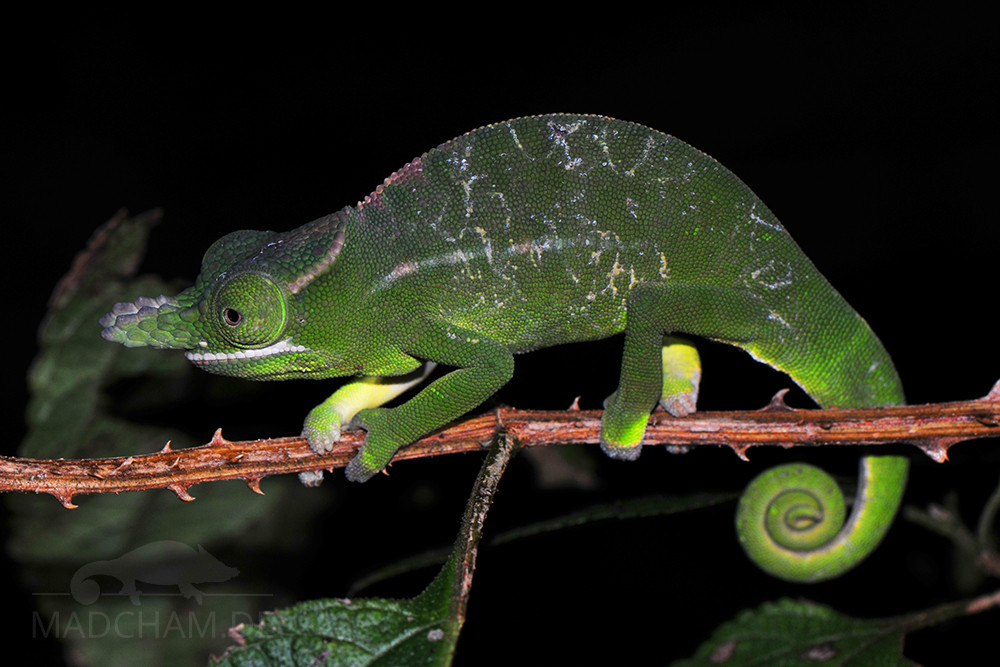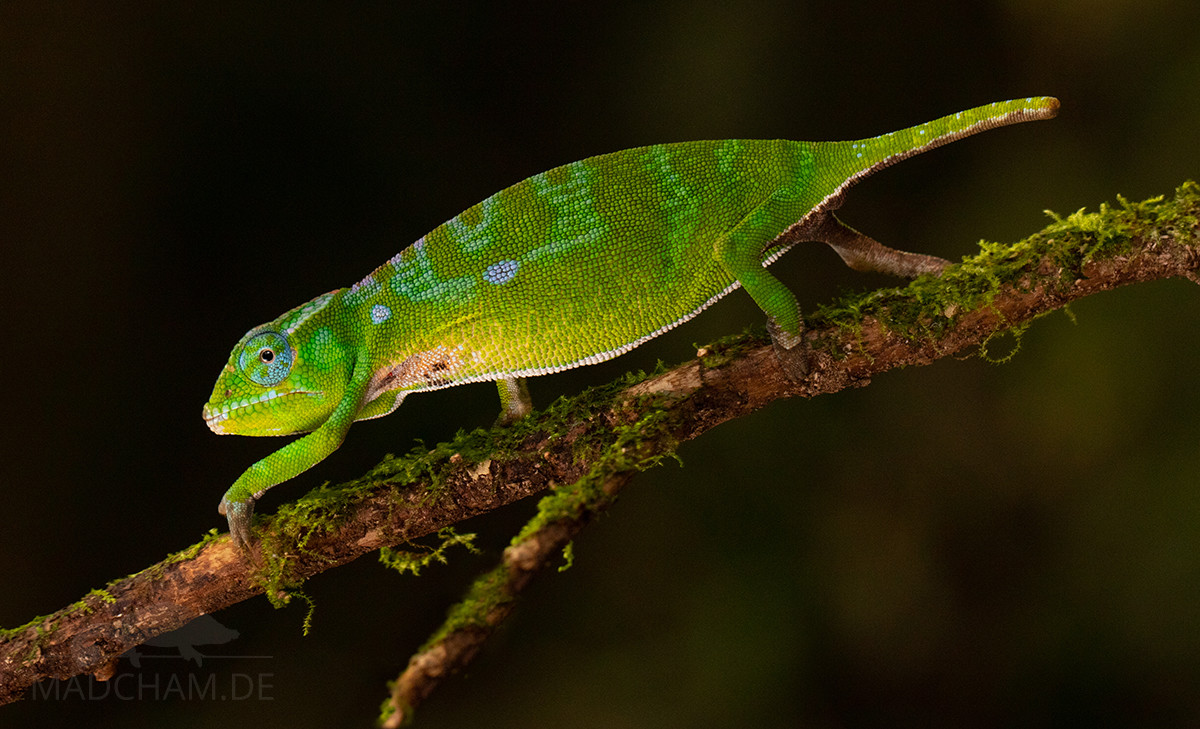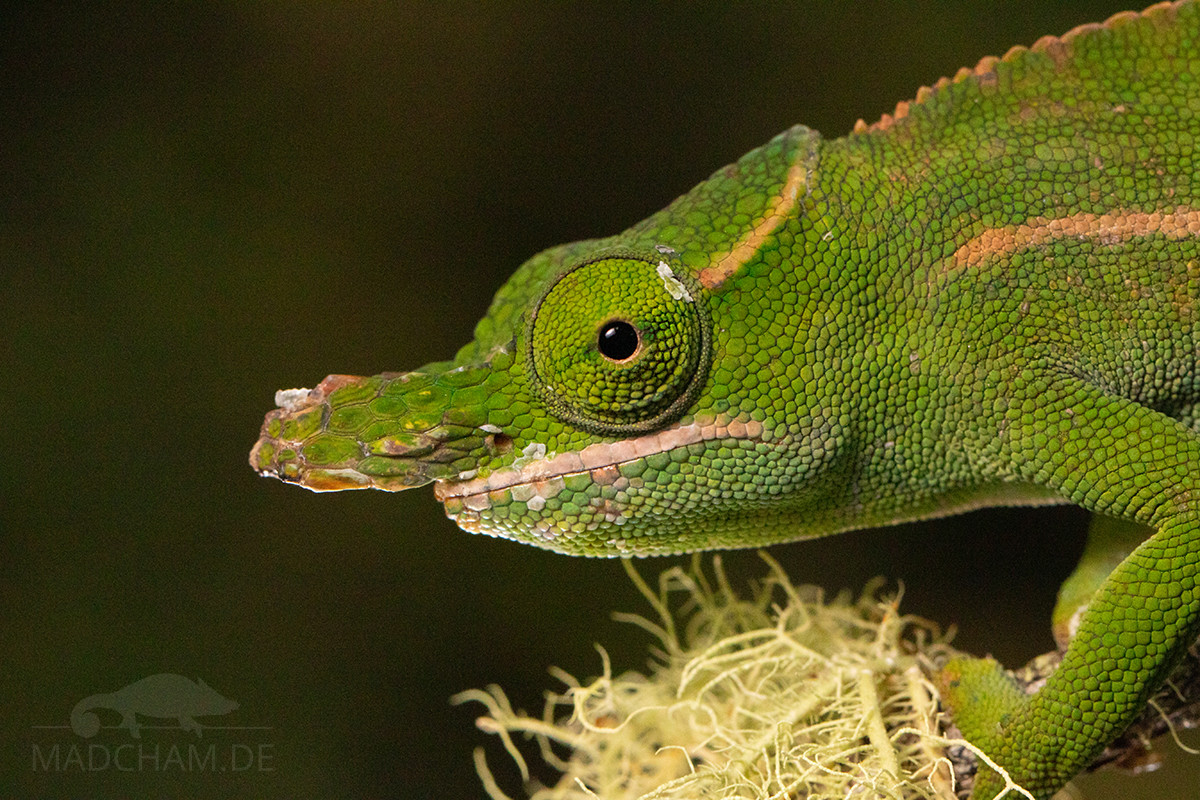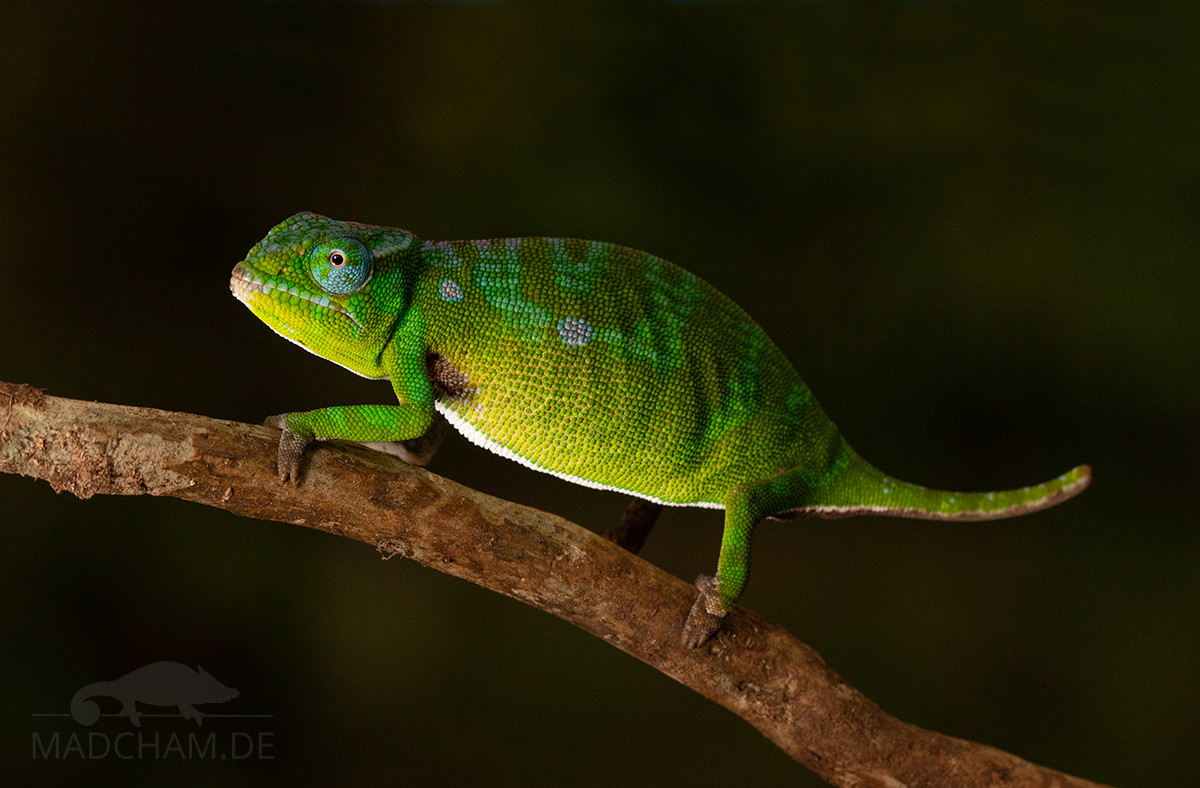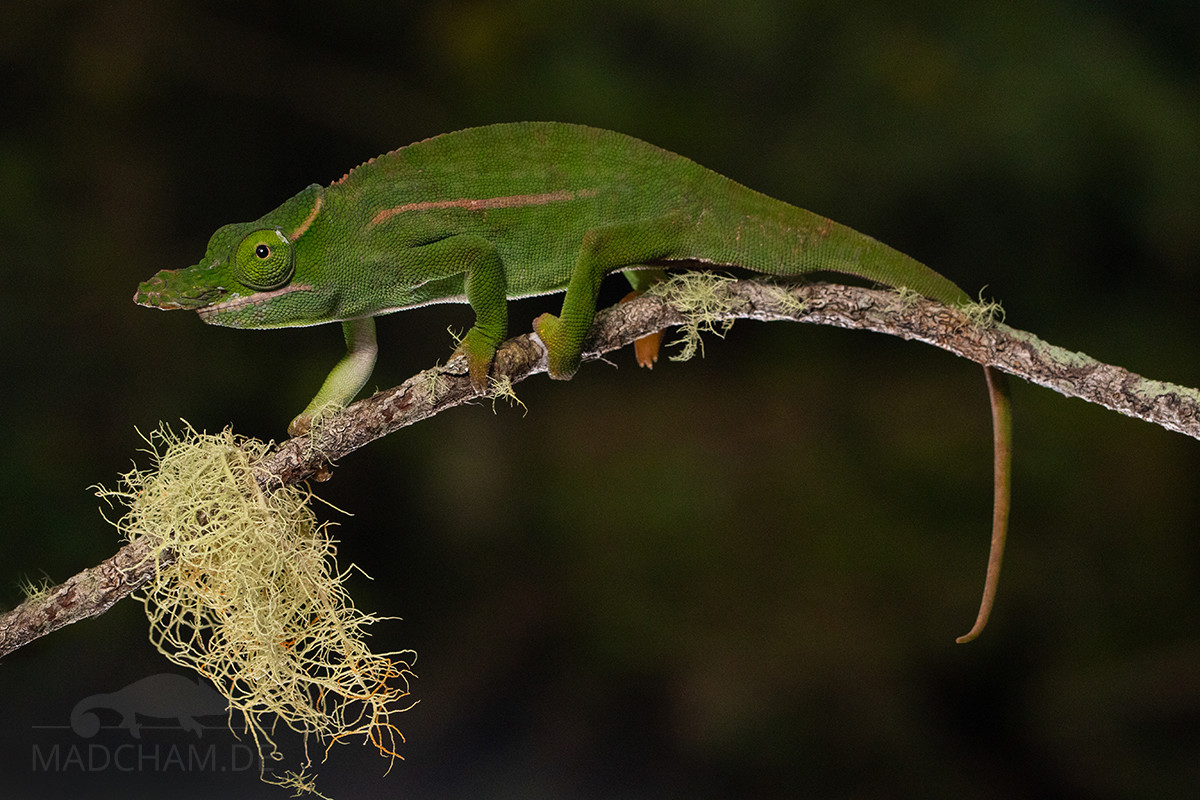 CITES quotas
2011-13 no specimens, 2014-23 each 100 specimens for legal export
First description:
(Brygoo & Domergue, 1966)

Origin of the species name:
In 1966 the zoologists Édouard-Raoul Brygoo and Charles Antoine Domergue from the Natural History Museum in Paris (France) received several reptiles. They had been sent by Jean-Jacques Petter, who had just been on an expedition to the Amber Mountain in Madagascar. Among them were also undescribed chameleons, which the entomologist Jean-Marie Betsch had collected. Brygoo and Domergue dedicated the new species to their colleague Petter.
Distribution:
Furcifer petteri belongs to bifidus group and can mainly be found in northern Madagascar. Ankarana and Amber Mountain national park are typical habitats for this species, but they also occur around Antsiranana (Diego Suarez) in the residual forests close to the coast. We find this species each year in the shrubs along the street leading to Amber Mountain, mostly at heights of one to two meters. At night, you can discover these animals between the village Ambohitra (Joffreville) and the entry of the national park in hedges, sometimes they even climb in gardens. You rather won't find this species deep in the rainforest.
Appearance and size:
These animals reach lengths of 15 to 17 cm. Both genders are green colored, the males have a thin white lateral stripe, white lips and a two parallel pointed nose appendages that point slightly upwards or to the front. The females of Furcifer petteri have no nose appendage, but a bright red colored, flat casque, partially white lips and two spots on each side. Gravid or mating females change their color to bright lemon yellow and blue eyelids. Both genders have no dorsal or ventral crest, but a white midline on the belly. From similar-looking Furcifer timoni, Furcifer petteri is easy to distinguish by its color pattern.
| | | | | | | | | | | | | |
| --- | --- | --- | --- | --- | --- | --- | --- | --- | --- | --- | --- | --- |
| | Jan | Feb | Mar | Apr | May | Jun | Jul | Aug | Sep | Oct | Nov | Dec |
| Average temperature | 23 | 23 | 24 | 23 | 22 | 21 | 20 | 20 | 21 | 22 | 23 | 23 |
| Minimum temperature | 19 | 19 | 19 | 19 | 18 | 16 | 15 | 15 | 16 | 17 | 18 | 19 |
| Maximum temperature | 28 | 28 | 28 | 28 | 27 | 26 | 25 | 25 | 26 | 27 | 28 | 28 |
| Rain days | 20 | 20 | 17 | 9 | 6 | 6 | 7 | 6 | 5 | 6 | 7 | 14 |
We have collected the data given above over several years with thermometers and hygrometers at the finding places of the chameleons. "Average temperature" means that values of a whole month have been calculated to one average value per month. For example all measured minimum temperature values of February have been calculated to one average minimum temperature for February. In plain language, this means single peak values of a day may be a little higher or lower than the average minimum and maximum temperatures. It is possible that a location has an average maximum temperature of 29°C, but one day during that month it had 33°C or even 35°C there.
Amber Mountain is an evergreen rainforest which extends over a mountain massif of volcanic origin at elevations between 850 and 1450 m. Due to the height, nights can become rather cold with temperature drops to 10°C.
During rainy season, day temperatures rise to 28°C, in sunny places even warmer. But the average temperature is a little lower. During rainy season, it rains every day for several hours. Simply the way it is in a rainforest. 😉 But also dry season has regular precipitation, just a little shorter. Climate in Amber Mountain is very humid all year long. During dry season, temperatures are somewhat lower with day temperatures up to 25°C.
Tageszeit = day time, Sonne = sun, Halbschatten = half shade, Schatten = shade
We have measured UVB data with a Solarmeter 6.5 in spring (end of April) at the peak of activity of chameleons in Madagascar. We always measured the values that a chameleon could maximally reach in its habitat.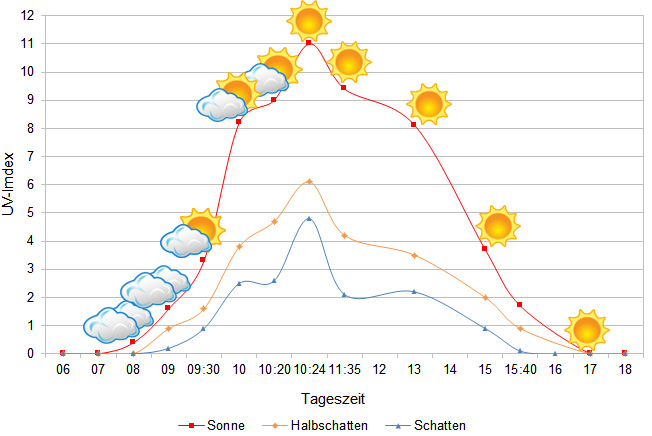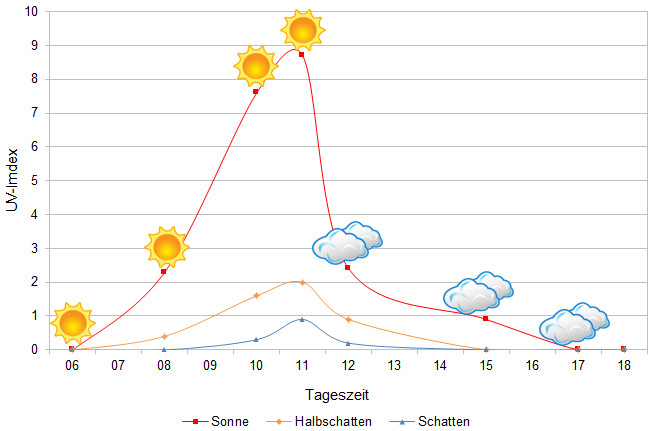 Unfortunately, we have no ground temperatures for Amber Mountain available yet.
Since 2022, in addition to other climate data, we have also been measuring air pressure at the locations we visit in Madagascar. The following data is from a day during the rainy season. On the X-axis is the time of day or night. In Madagascar, the day begins around 6 am, and night falls as early as 6 pm. The Y-axis shows the atmospheric pressure in hPa.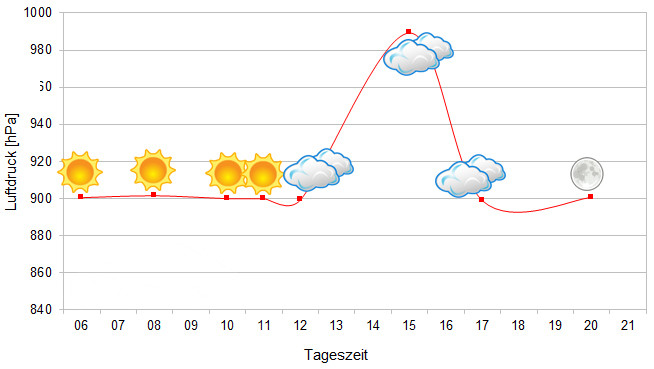 Habitat:
The habitat at the edge of Amber Mountain mainly consists of secondary vegetation with scattered larger trees. Mostly you can find them in high bushes that are very lush and dense here. The undergrowth above the soil is even dense. Again and again, you can find cut branches here, because the local people use this area to collect wood. Some gnarly, tangly trees also serve as habitat. The following pictures show some finding places of this species.