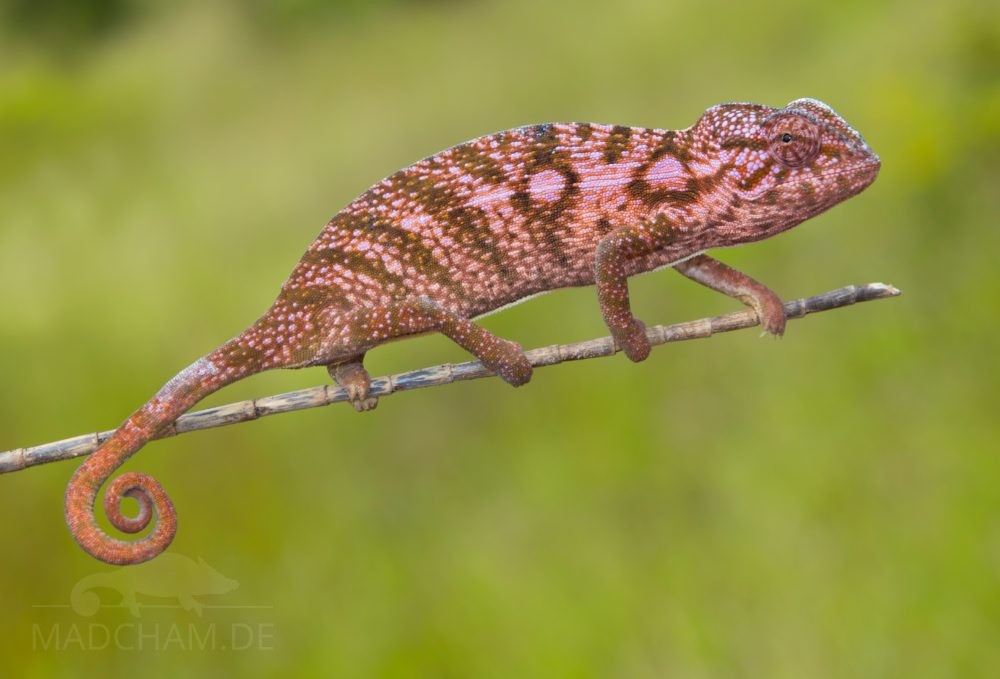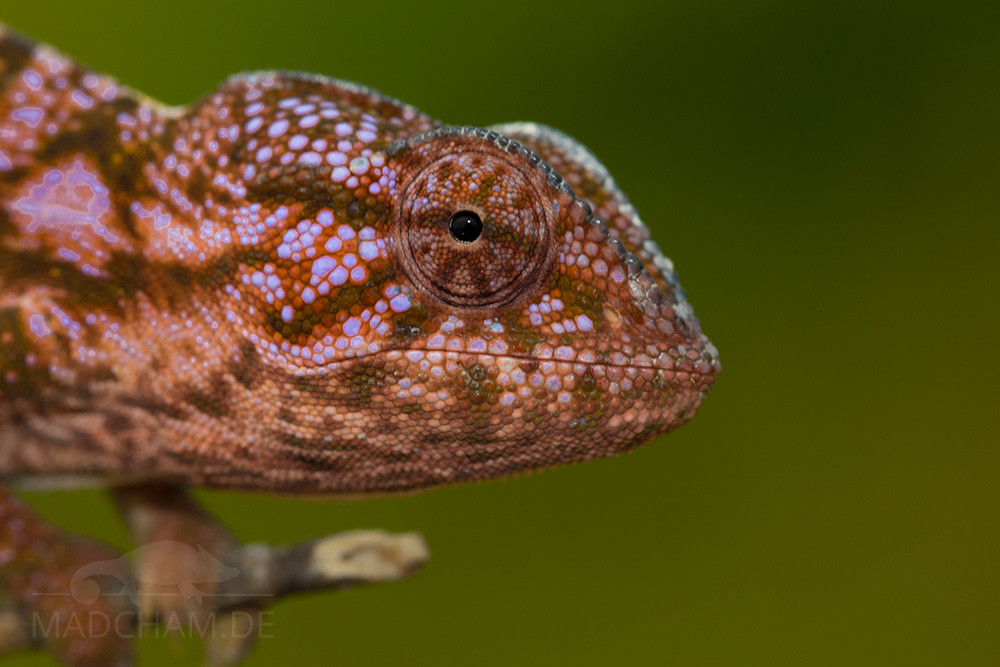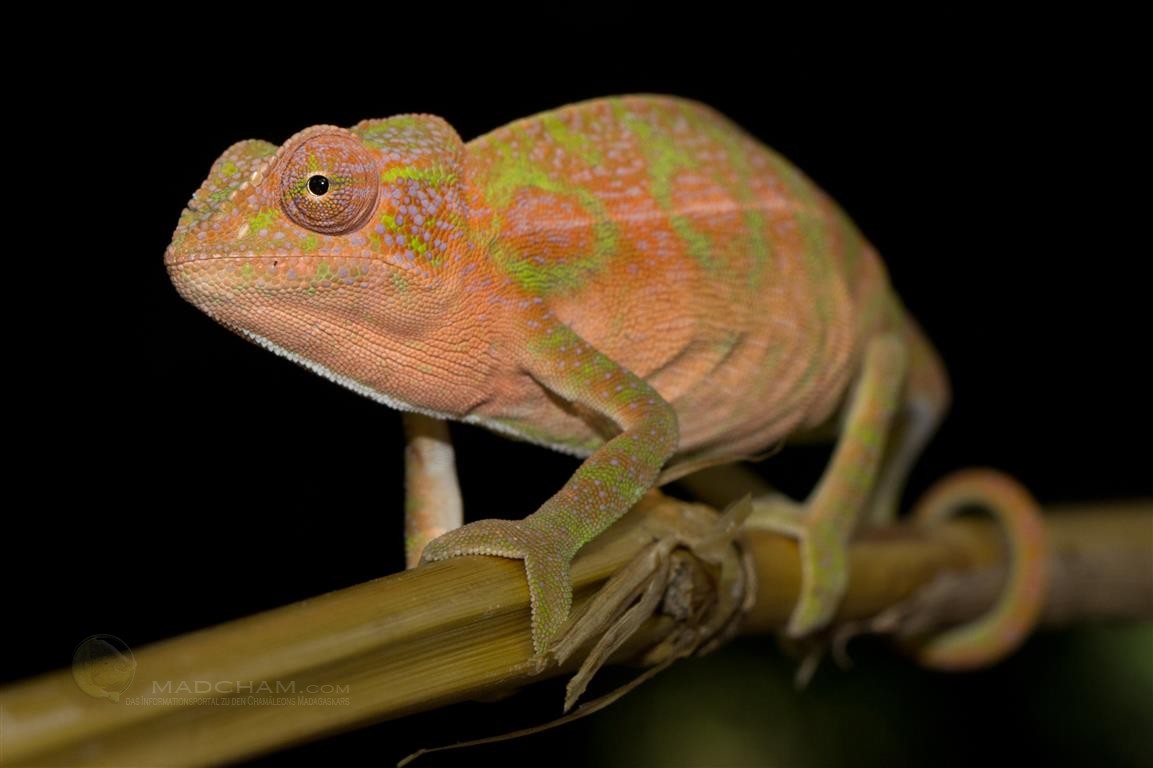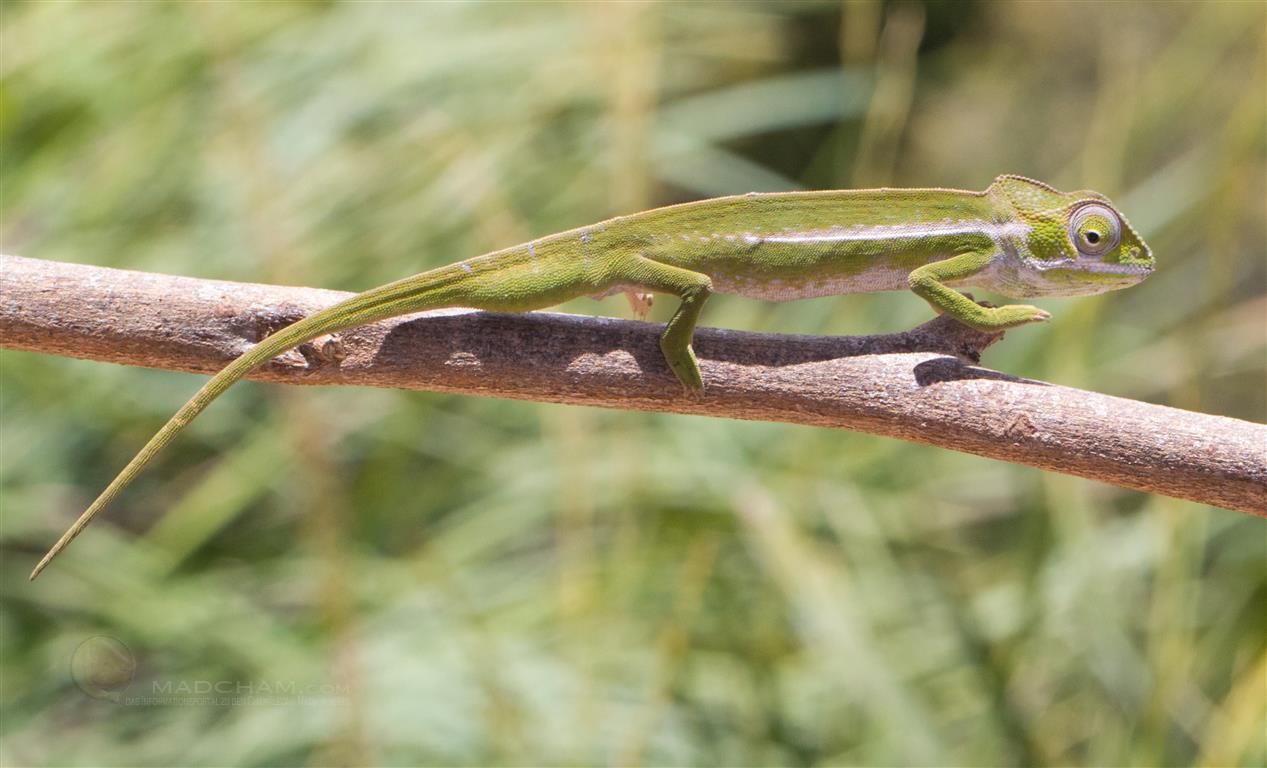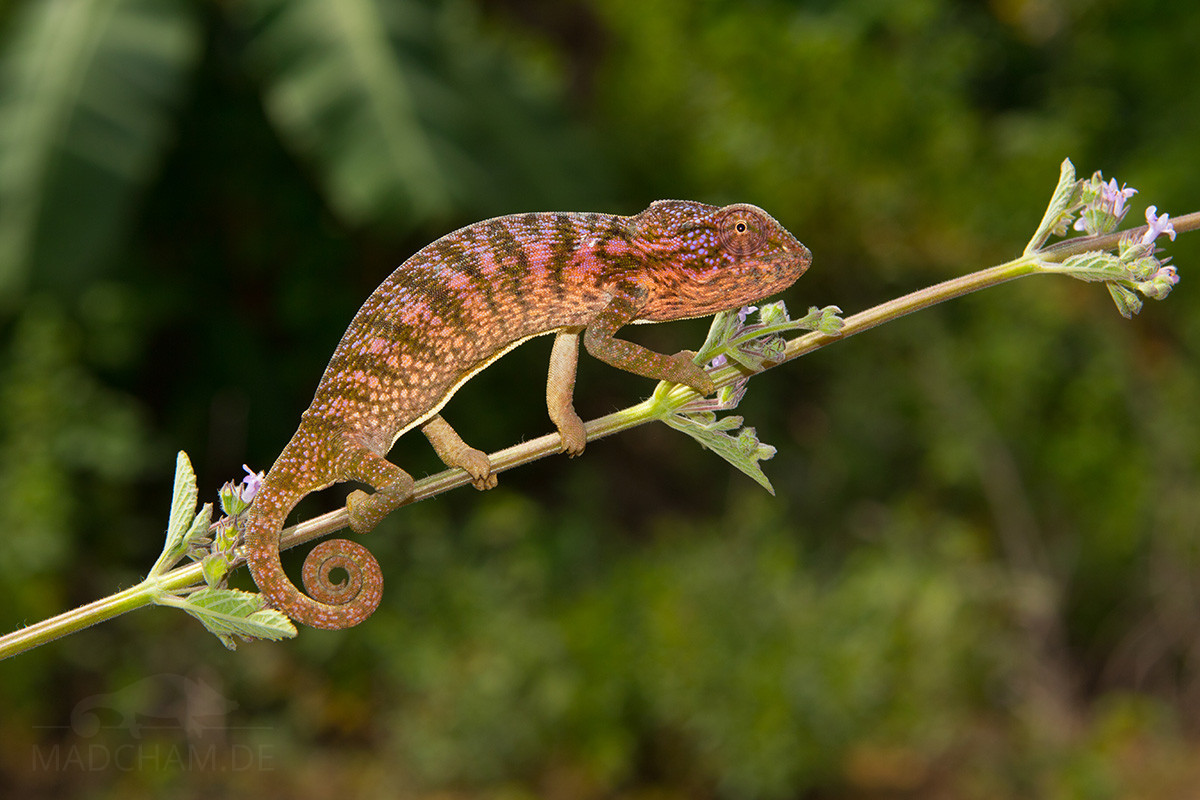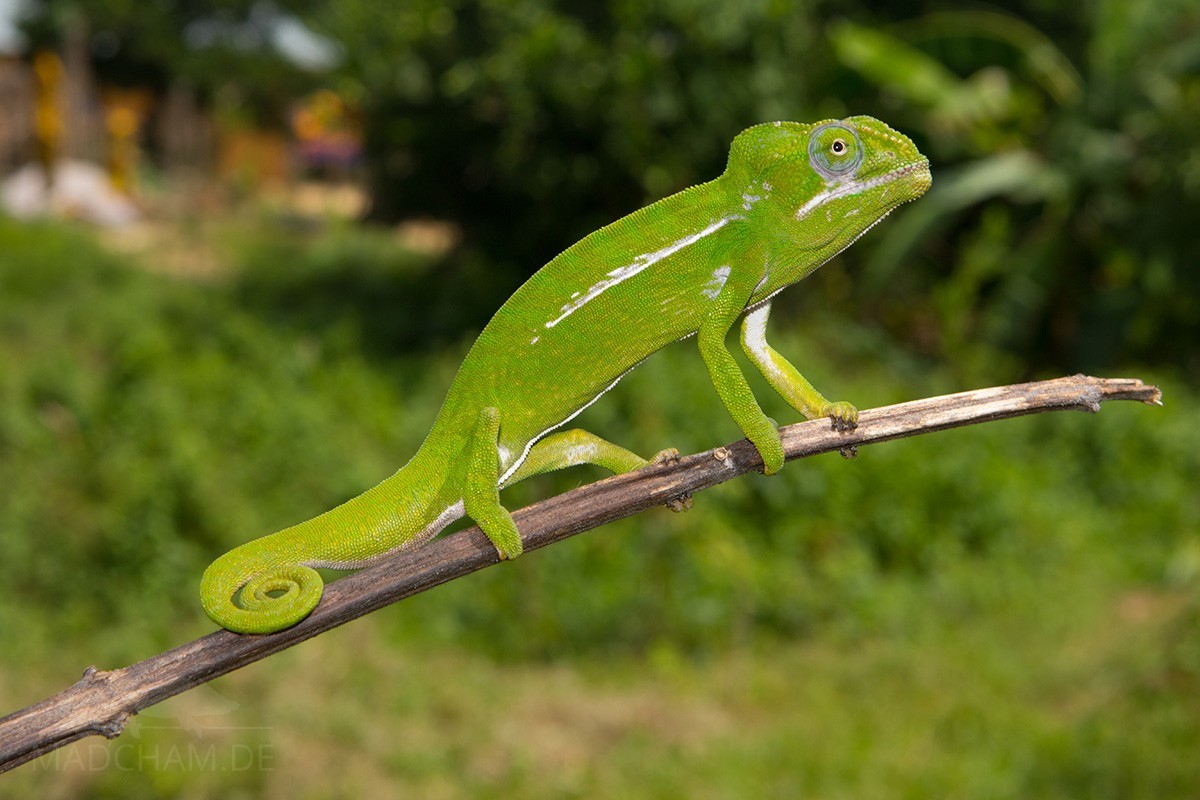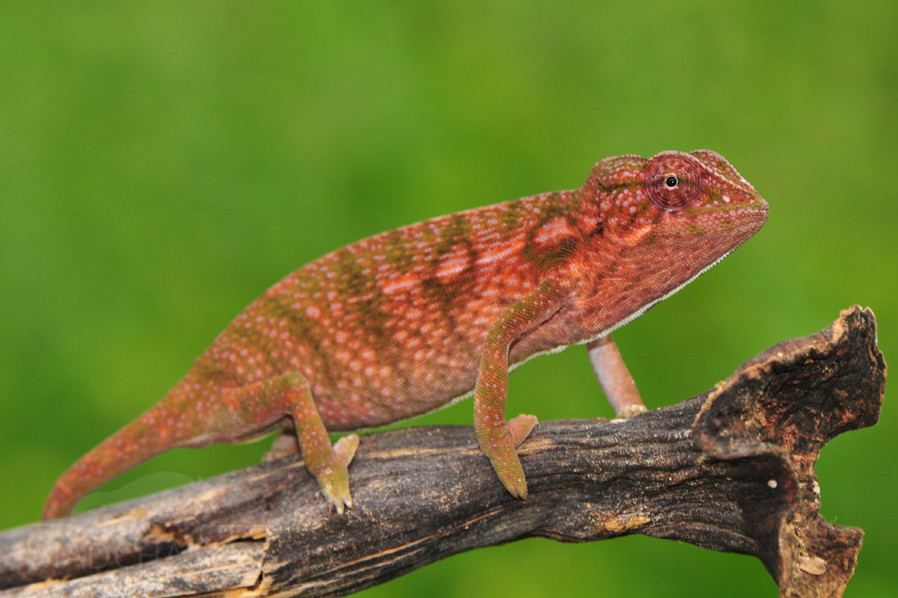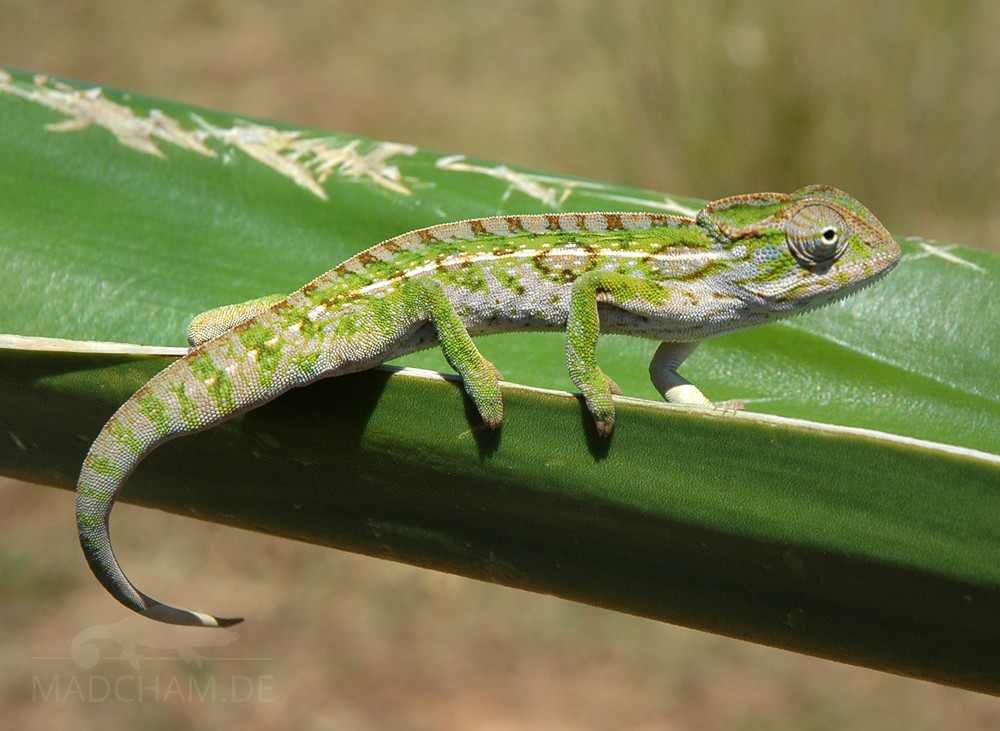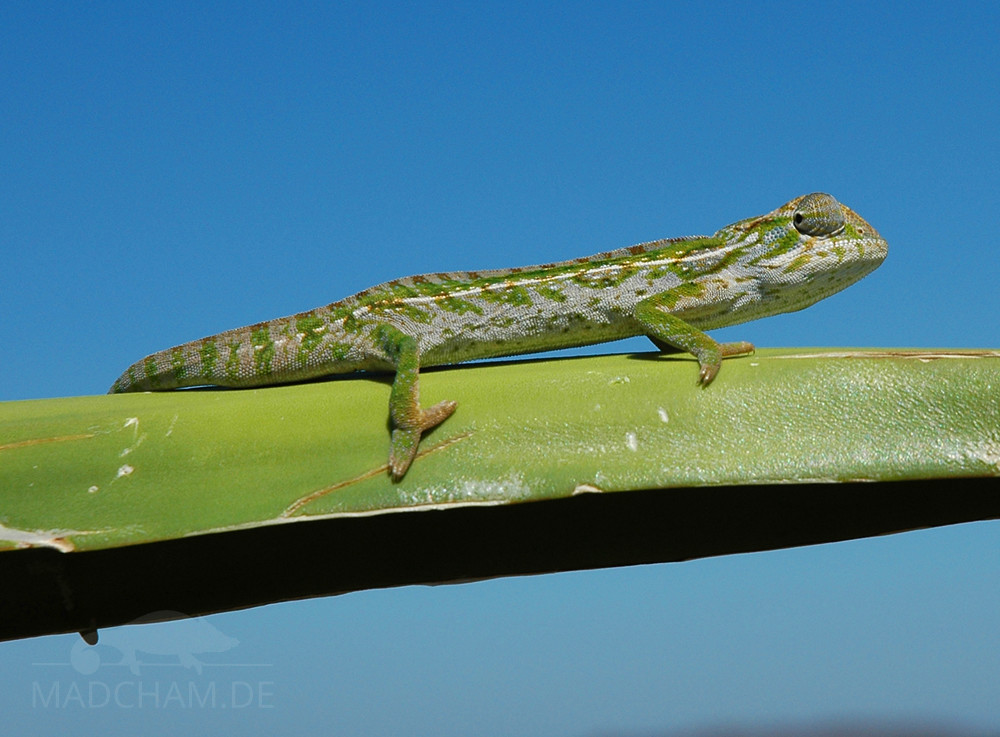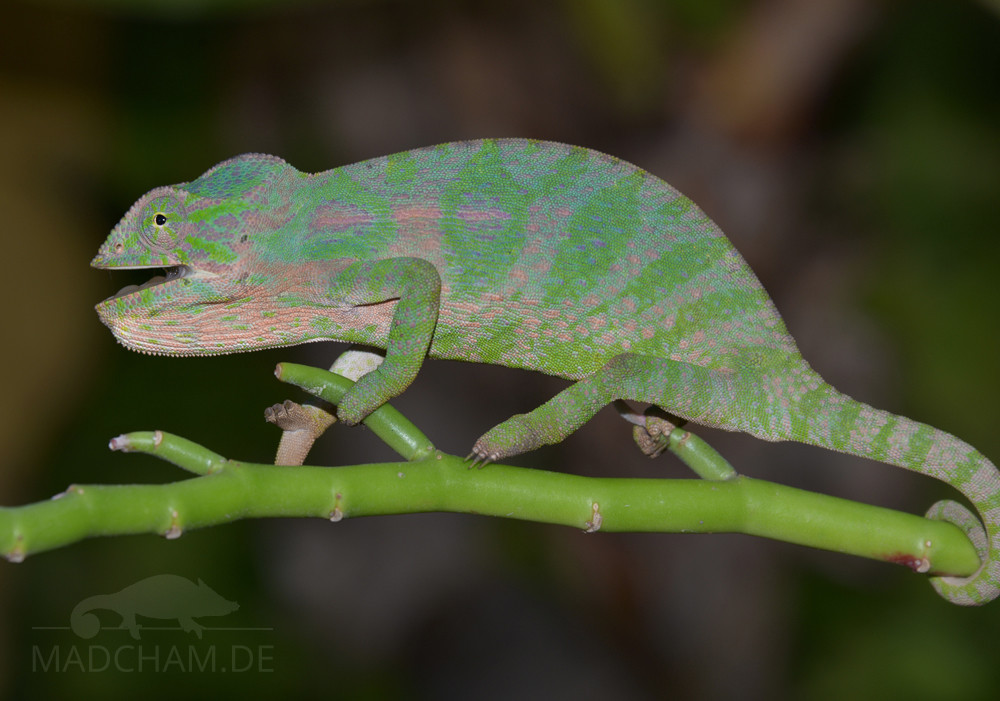 CITES quotas
2011-17 each 2000 specimens under old species name
Furcifer lateralis
for legal export, in 2018-23 under correct species name 500 specimens for legal export
First description:
Florio, Ingram, Rakotondravony, Louis & Raxworthy, 2012

Origin of the species name:
The biologists Antonia M. Florio, Colleen M. Ingram from the Natural History Museum in New York (USA), Hery A. Rakotondravony from the University of Antananarivo (Madagascar) and Edward E. Louis from the Species Protection and Research Centre of the Henry Doorly Zoo in Omaha (USA) named this species simply after its appearance. The Latin word viridis means green and thus describes the main color of the males.
Distribution:
Furcifer viridis has a large distribution area. It settles all over northwest Madagascar, from the central highlands and Maevatanana to Ambanja and along the coast down to Morondava in southwest Madagascar. We have not yet found any animals of this species south of Morondava. The habitat varies from humid-warm secondary vegetation to the borders of savannah-like, dry and hot areas. In the central highlands, the distribution area overlaps with Furcifer lateralis, and in the southwest with Furcifer major.
Appearance and size:
With a total length of 25 to 28 cm in males and 15 to 19 cm in females, these chameleons count among the mid-sized species. Females are mostly pink with green, ring-shaped accents and white and violet dots, while males are bright green with a white lateral stripe and a white belly (or green with white bands). During mating season in spring, we have seen impressively large-sized hemipenes pockets in males which we have not seen in many other species yet. The parietal crest of both species has 14 to 18 spines, they have a developed helmet and the snout is more pointed than in Furcifer major and lateralis. Furcifer viridis has obvious axillary pits, which differentiates them clearly from Furcifer major.
Good to know:
Until 2012, Furcifer viridis was counted among Furcifer lateralis, but is now seen as its own species.
| | | | | | | | | | | | | |
| --- | --- | --- | --- | --- | --- | --- | --- | --- | --- | --- | --- | --- |
| | Jan | Feb | Mar | Apr | May | Jun | Jul | Aug | Sep | Oct | Nov | Dec |
| Average temperature | 26 | 26 | 26 | 26 | 25 | 24 | 23 | 23 | 24 | 25 | 26 | 26 |
| Minimum temperature | 22 | 22 | 22 | 22 | 20 | 18 | 18 | 18 | 19 | 20 | 21 | 22 |
| Maximum temperature | 30 | 30 | 31 | 31 | 30 | 29 | 29 | 29 | 30 | 31 | 31 | 30 |
| Rain days | 29 | 26 | 24 | 15 | 8 | 7 | 7 | 8 | 7 | 10 | 18 | 25 |
We have collected the data given above over several years with thermometers and hygrometers at the finding places of the chameleons. "Average temperature" means that values of a whole month have been calculated to one average value per month. For example all measured minimum temperature values of February have been calculated to one average minimum temperature for February. In plain language, this means single peak values of a day may be a little higher or lower than the average minimum and maximum temperatures. It is possible that a location has an average maximum temperature of 29°C, but one day during that month it had 33°C or even 35°C there.
Ankaramibe has warm temperatures around 25°C all year long. In sunny places, temperatures may rise above 30°C. At night, temperatures drop to 20°C, during dry season they may even fall slightly below to 18°C.
During rainy season, it rains daily and a lot, so humidity raises quickly. But the region remains green even during dry season. It may rain a lot less, but precipitaion is still regular. Additionally, the location between rivers cares for a steady water supply of trees and other plants.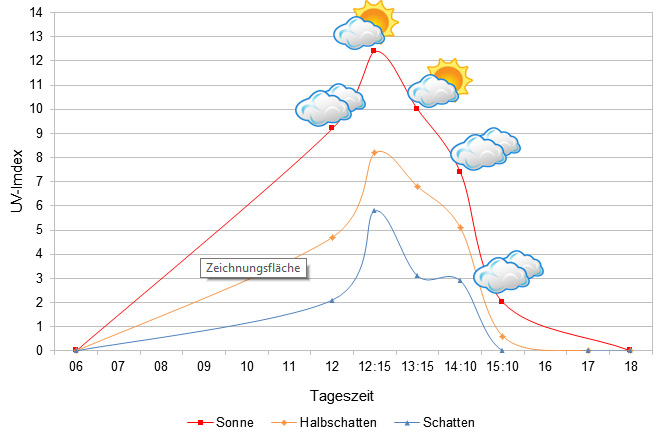 Tageszeit = day time, Sonne = sun, Halbschatten = half shade, Schatten = shade
We have measured UVB data with a Solarmeter 6.5 in spring (beginning of April) at the peak of activity of chameleons in Madagascar. We always measured the values that a chameleon could maximally reach in its habitat.
Unfortunately, we have no ground temperatures for Ankaramibe available yet.
Habitat:
The following pictures show the habitat of Furcifer viridis in Ankaramibe and somewhere south of Maevatanana. Some are even from finding places of this species. In the northern highlands, the habitat is restricted to rather cut, bare areas with high zebu grass and few bushes. You can find the animals here in the high grass. Somewhat more north, the landscape becomes greener and mango trees dominate the secondary vegetation. The species inhabits everything here from big bushes to shrubs, it just needs to have enough thin twigs and dense areas. We've even found them right on a big mango tree once.
Hereinafter you can find some 360° pictures from the habitat close to Mahitsihazo, around 100 km south of Ambanja. You can move inside these pictures via mouse click in all directions. If you click on the Theta logo, a new window with an enlarged view will open. You will also have the opportunity to look at the pictures in full-screen mode. Enjoy!
Sekundärvegetation nahe Mahitsihazo, etwa 100 km südlich von Ambanja, Region Sofia, Nord-West-Madagaskar, März 2019 Spherical Image – RICOH THETA
Sekundärvegetation nahe Mahitsihazo, etwa 100 km südlich von Ambanja, Region Sofia, Nord-West-Madagaskar, März 2019 Spherical Image – RICOH THETA
Sekundärvegetation nahe Mahitsihazo, etwa 100 km südlich von Ambanja, Region Sofia, Nord-West-Madagaskar, März 2019 Spherical Image – RICOH THETA
Sekundärvegetation nahe Mahitsihazo, etwa 100 km südlich von Ambanja, Region Sofia, Nord-West-Madagaskar, März 2019 Spherical Image – RICOH THETA