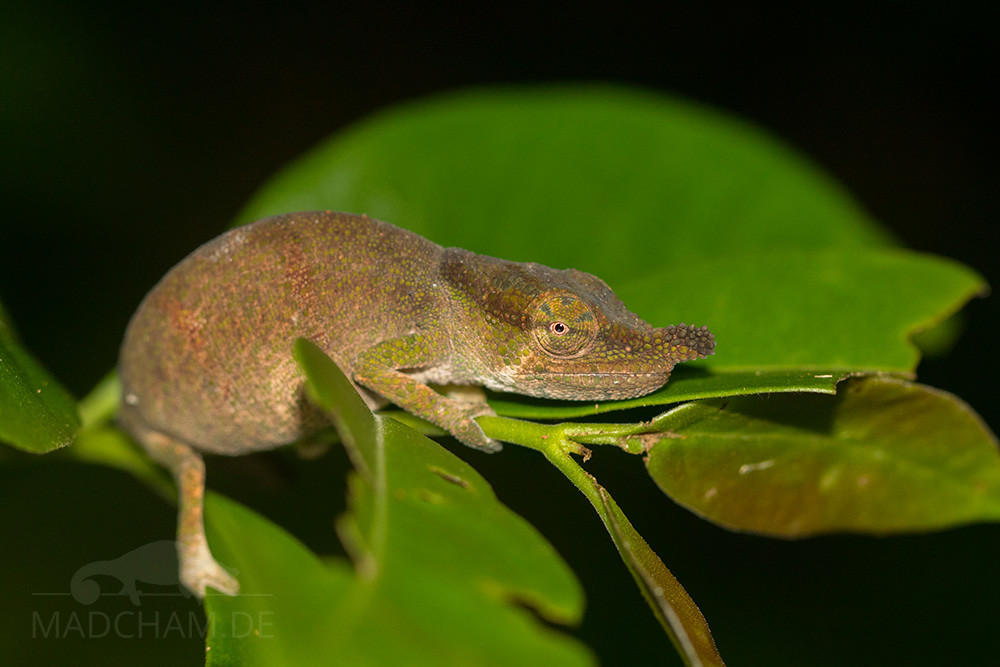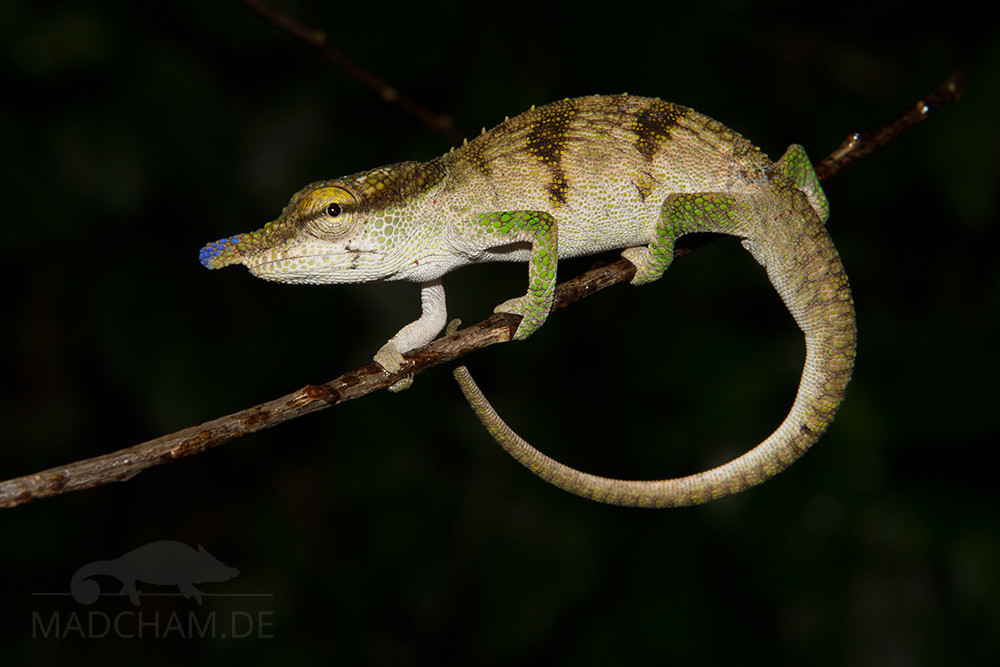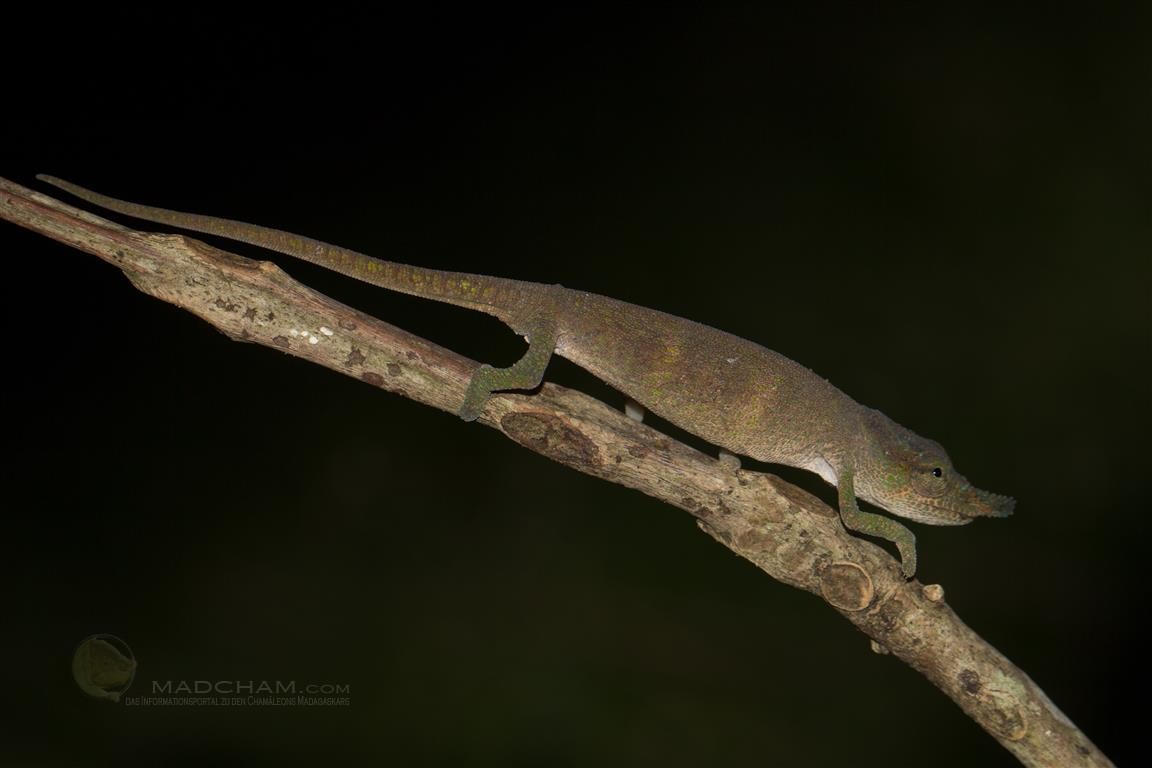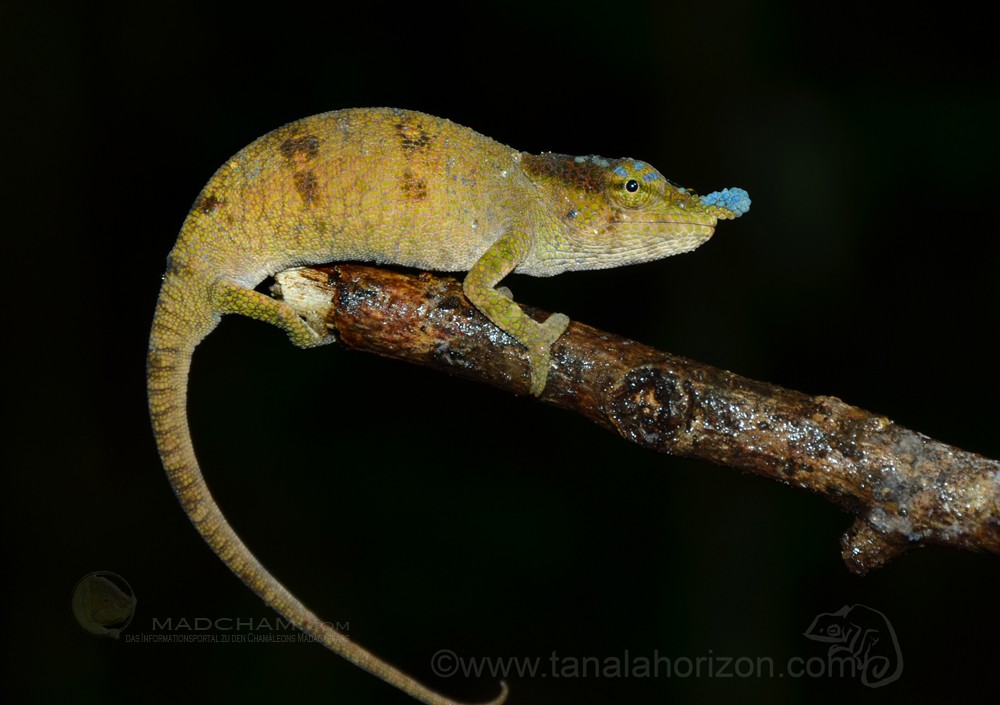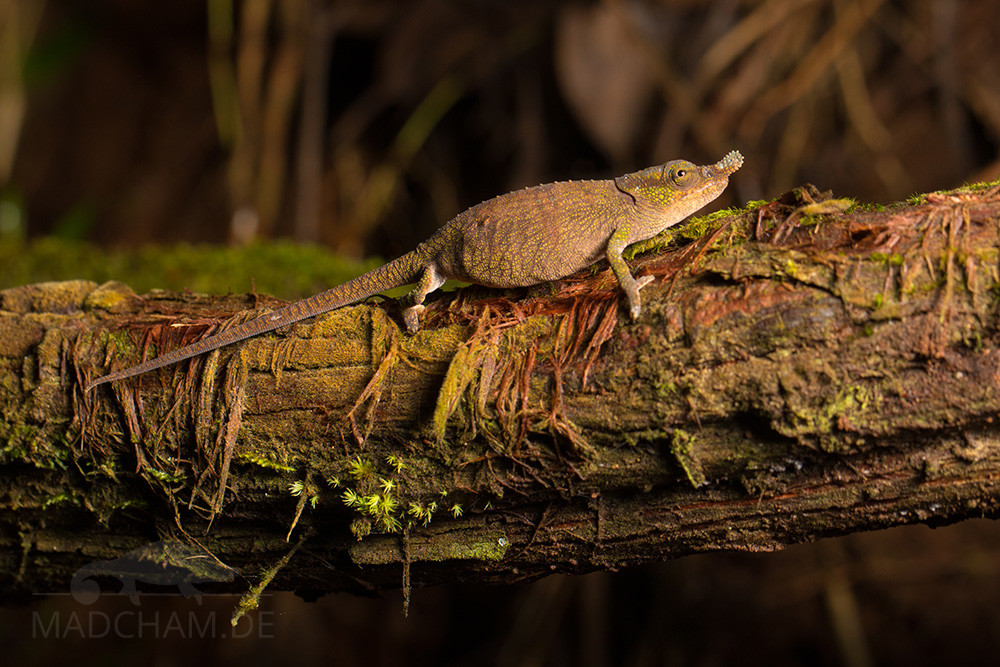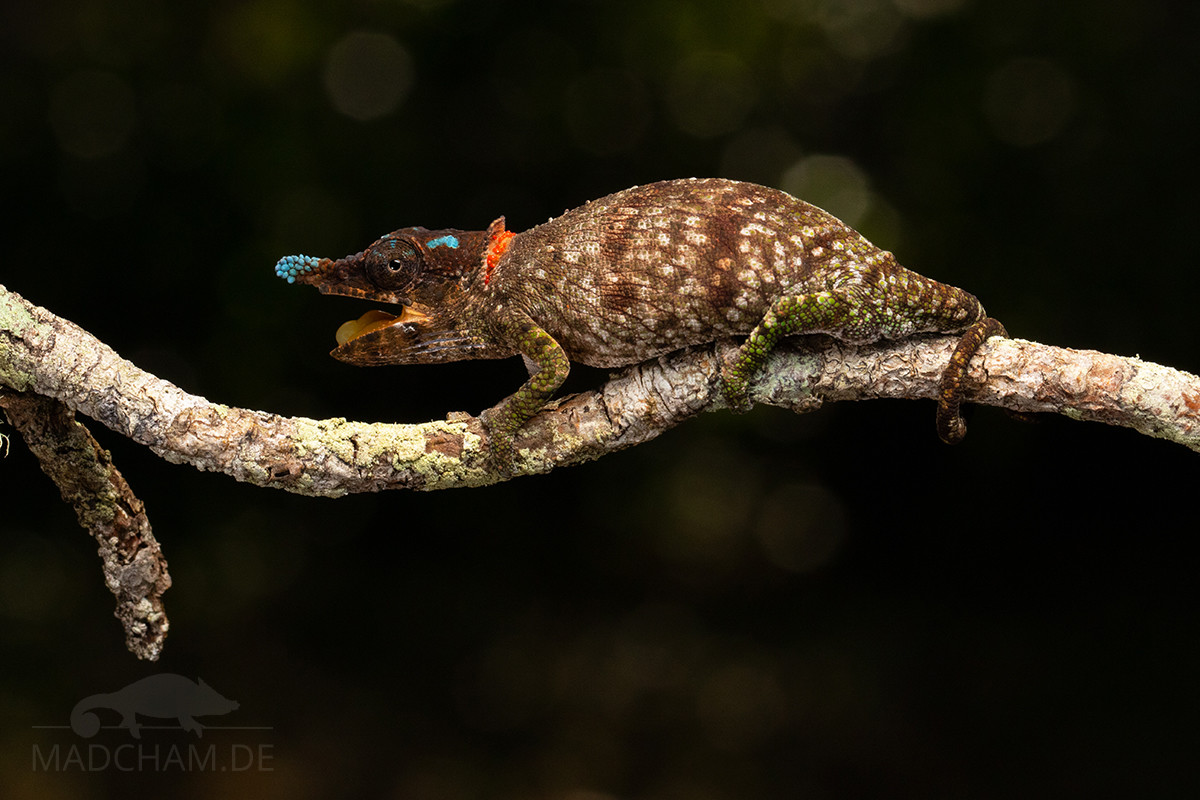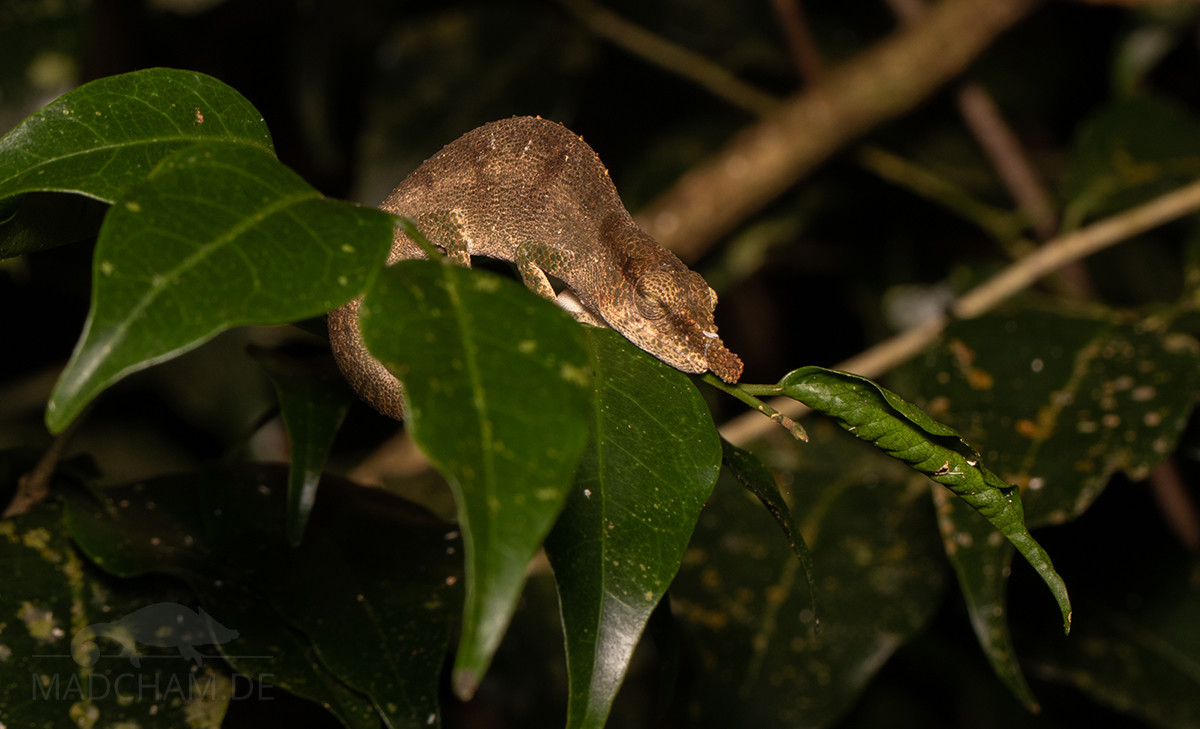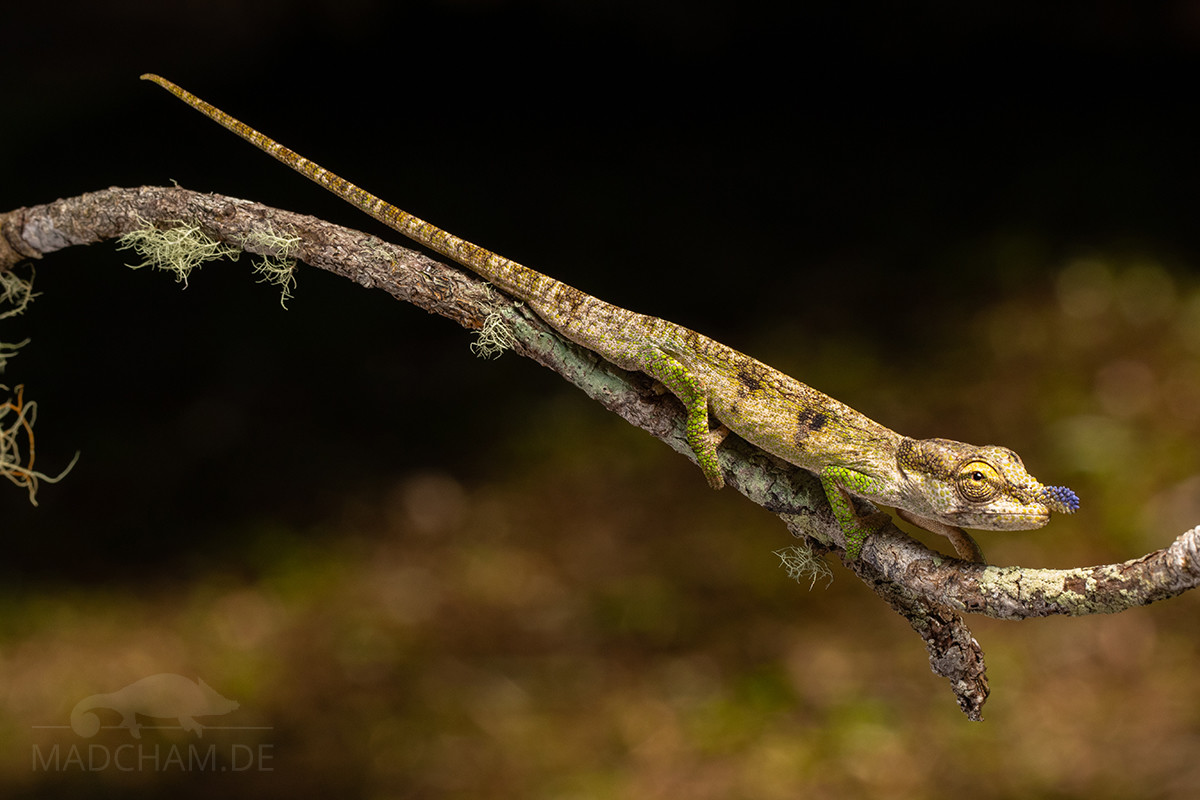 CITES quotas
no legal export possible
First description:
(Müller, 1924)
Origin of the species name:
The German herpetologist Lorenz Müller, then curator of the herpetological department of the State Zoological Collection of Munich (Germany), described this chameleon species in 1924. Müller himself had never been to Madagascar but had received prepared chameleons of the species for the State Collection. Unfortunately, he did not reveal in his first description why he chose the species name.
Distribution:
Calumma linotum inhabits the forest areas of the north. Until now, only the cool and humid Amber Mountain national park and the somewhat more southern area of Andampy are known as habitats. In Amber Mountain, you can find these animals easily at night around the campground. They sleep at head heights and both genders always sleep relatively close to each other (only some meters away).
Appearance and size:
With a total length of 13 cm in males and only 10 to 11 cm in females, this species is one of the small chameleons. It has a distinct, soft, leaf-shaped nasal process, which is more pronounced in males and characteristically bright blue in both sexes when excited. Colors are brown-gray to beige, sometimes with a light lateral stripe to the base of the tail and light throat pouch, and often with dark transverse banding on the eyelids. The legs are colored green. The helmet is very flat, barely higher than the back, and bears narrow occipital lobes. The dorsum bears enlarged cone scales at regular, larger intervals instead of a whole "crest". Stressed females are white-brown marbled on the body with green legs, bright blue nose, and bright blue markings on the helmet. Excited males are very bright whitish-beige in color with green arms and legs and bright blue noses.
Reproduction:
January through March is hatching season, and hatchlings are found in large numbers, especially around the Amber Mountain campground.
Good to know:
Calumma linotum was thought to be a synonym of Calumma boettgeri for a long time since scientific collections contained only one single specimen with the unclear finding place "Madagascar". Genetic examinations of Prötzel et al stated in 2015 that the small blue noses in Amber Mountain are not Calumma boettgeri, but an own species. They have larger scales on arms, legs and nose and a not continuing dorsal ridge that C. boettgeri lacks. And finally, both species do not occur in the same region in Madagascar.
Calumma linotum has a quite unique defense behaviour: If you try to touch them on a branch or let them walk on your hand, they roll up their bodies and fall down suddenly.
| | | | | | | | | | | | | |
| --- | --- | --- | --- | --- | --- | --- | --- | --- | --- | --- | --- | --- |
| | Jan | Feb | Mar | Apr | May | Jun | Jul | Aug | Sep | Oct | Nov | Dec |
| Average temperature | 23 | 23 | 24 | 23 | 22 | 21 | 20 | 20 | 21 | 22 | 23 | 23 |
| Minimum temperature | 19 | 19 | 19 | 19 | 18 | 16 | 15 | 15 | 16 | 17 | 18 | 19 |
| Maximum temperature | 28 | 28 | 28 | 28 | 27 | 26 | 25 | 25 | 26 | 27 | 28 | 28 |
| Rain days | 20 | 20 | 17 | 9 | 6 | 6 | 7 | 6 | 5 | 6 | 7 | 14 |
We have collected the data given above over several years with thermometers and hygrometers at the finding places of the chameleons. "Average temperature" means that values of a whole month have been calculated to one average value per month. For example all measured minimum temperature values of February have been calculated to one average minimum temperature for February. In plain language, this means single peak values of a day may be a little higher or lower than the average minimum and maximum temperatures. It is possible that a location has an average maximum temperature of 29°C, but one day during that month it had 33°C or even 35°C there.
Amber Mountain is an evergreen rainforest which extends over a mountain massif of volcanic origin at elevations between 850 and 1450 m. Due to the height, nights can become rather cold with temperature drops to 10°C.
During rainy season, day temperatures rise to 28°C, in sunny places even warmer. But the average temperature is a little lower. During rainy season, it rains every day for several hours. Simply the way it is in a rainforest. 😉 But also dry season has regular precipitation, just a little shorter. Climate in Amber Mountain is very humid all year long. During dry season, temperatures are somewhat lower with day temperatures up to 25°C.
Tageszeit = day time, Sonne = sun, Halbschatten = half shade, Schatten = shade
We have measured UVB data with a Solarmeter 6.5 in spring (end of April) at the peak of activity of chameleons in Madagascar. We always measured the values that a chameleon could maximally reach in its habitat.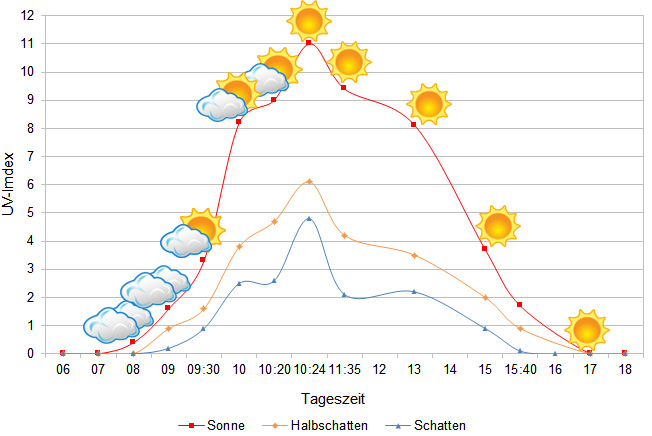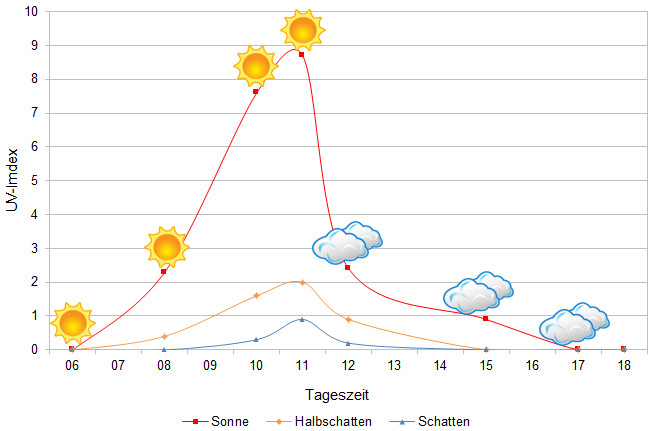 Unfortunately, we have no ground temperatures for Amber Mountain available yet.
Since 2022, in addition to other climate data, we have also been measuring air pressure at the locations we visit in Madagascar. The following data is from a day during the rainy season. On the X-axis is the time of day or night. In Madagascar, the day begins around 6 am, and night falls as early as 6 pm. The Y-axis shows the atmospheric pressure in hPa.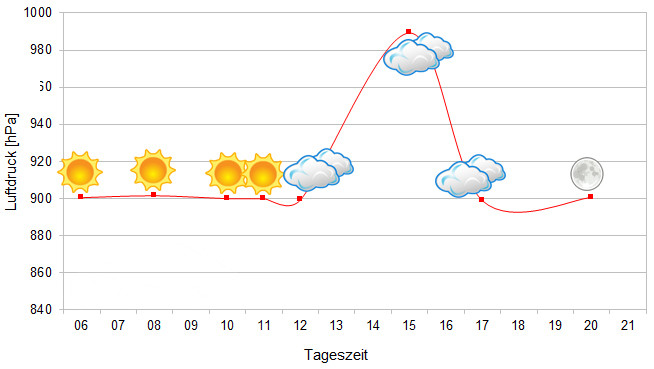 Habitat:
The following pictures show the habitat of Calumma linotum in Amber Mountain. Amber Mountain is an imperssing rainforest full of tree giants with meter wide nest ferns. Everything is full of lianas, moss and lichens, the undergrowth is lush and dense. Everything greens and blooms and it's very humid all year round. Calumma linotum climbs and sleeps mostly on very thin twigs in shrubs and bushes or on the small branches of thin trees.
Hereinafter you can find some 360° pictures from Amber Mountain. You can move inside these pictures via mouse click in all directions. If you click on the Theta logo, a new window with an enlarged view will open. You will also have the opportunity to look at the pictures in full-screen mode. Enjoy!