CITES quotas
no legal export possible
First description:
Prötzel, Lambert, Andrianasolo, Hutter, Cobb, Scherz and Glaw, 2018
Distribution:
This recently described chameleon species is only known from a small strip of rainforest near Vohidrazana in central eastern Madagascar. The small forest area belongs to the rainforest corridor of Ankeniheny-Zahamena and is unfortunately very threatened by deforestation and slash-and-burn despite protection efforts. Vohidrazana is a bit remote and it takes a few hours to walk uphill on narrow paths to get there from the route nationale 2 from direction Andasibe. Accordingly, the forest is rarely visited by travellers.
Look and size:
The main characteristic of the species is its size: With a total length of only 9.4 cm from the tip of the nose to the tip of the tail Calumma roaloko is the smallest chameleon of the genus Calumma. The optically divided scaling is just as striking: In males, the upper half of the body is bright green, the lower half greyish-white to beige. The Malagasy name roaloko describes this phenomenon exactly: roaloko is Malagasy for "two colors". The females of the species are also two-coloured but in muted brown and beige tones. The nose of the females can be yellow.
In both sexes, a white stripe runs along the entire upper lip to the small occipital lobes, which connect to the flat helmet and show a small indentation in the middle. Both also have a dark stripe running across the eyelids and a flexible, soft nasal projection. It is slightly more pronounced in males than in females. The dorsal crest is reduced to a maximum of two small conical scales in the front area, not present at all in many individuals.
Good to know:
The species was previously classified as Calumma nasutum. As has been known for some years, a whole series of partly undescribed species from the smallest areas of Madagascar hide under this species name.

Jan
Feb
Mär
Apr
Mai
Jun
Jul
Aug
Sep
Okt
Nov
Dez
Durchschnittl. Temperatur
23
24
23
23
22
19
19
19
20
21
22
23
Minimale Temperatur
20
20
20
19
18
15
15
15
15
16
18
19
Maximale Temperatur
27
27
27
27
25
23
23
23
24
25
26
27
Regentage
27
24
19
17
18
21
20
15
16
20
25
Die angegebenen Daten wurden von uns innerhalb mehrerer Jahre mit Thermo- und Hygrometern direkt an den Fundorten der Tiere gemessen und zusammengetragen. "Durchschnittliche Temperatur" bedeutet, dass die Werte eines gesamten Monats zu einem Durchschnittswert berechnet wurden, z.B. wurden alle gemessenen Minimalwerte eines Monats zu einem durchschnittlichen Minimalwert für Februar berechnet. Das bedeutet im Klartext, dass einzelne Spitzenwerte eines Tages deutlich höher oder niedriger als die durchschnittlichen Minimal- und Maximalwerte liegen können. Es ist also möglich, dass zwar das durchschnittliche Maximum bei 29 Grad liegt, es aber an einigen Tagen des Monats 33°C oder gar 35°C warm war.
Die Region um Andasibe mit den dazugehörigen Wäldern Mantadia und Analamazaotra liegen im östlichen Hochland Madagaskars auf Höhen zwiscen 900 und 1250 m über Meeresniveau. Es wird deshalb tagsüber zwar mal über 25°C warm, über die 30°-Grenze klettert das Thermometer aber eher selten oder nur in Sonnenflecken. Nachts fallen die Temperaturen immer tief in den Keller. 10° bis 15° Grad sind die Regel.
Die Luftfeuchtigkeit in den Regenwäldern um Andasibe ist das ganze Jahr über hoch. Während der Regenzeit regnet es täglich ausgiebig, manchmal hält der Regen über Tage an. Aber auch die Trockenzeit unterscheidet sich nicht massiv, außer dass sie etwas kühlere Temperaturen aufweist. Es regnet trotzdem mindestens jeden zweiten Tag, eher öfter. Regen, hohe Luftfeuchtigkeit und nächtlicher Temperatursturz sind daher die zentralen Punkte im Klima Andasibes.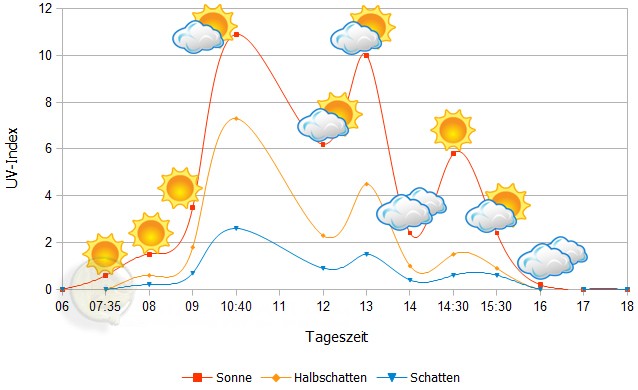 Die UVB-Daten wurden mit einem Solarmeter 6.5 im Frühjahr (März, April) zur höchsten Aktivitätszeit der Chamäleons gemessen. Gemessen wurden jeweils maximal für das Chamäleon zu erreichende Werte im Habitat.
Leider sind noch keine Bodentemperaturen für die Region Andasibe verfügbar.
Habitat:
The following photos show parts of the habitat of Calumma roaloko in the region around Vohidrazana. The species prefers very shrubby bushes and very dense, mossy branches. Probably the animals are more difficult for predators to catch due to their size and agility in such dense habitats.
In the following you will find some 360° pictures from the region around Vohidrazana. With the mouse, you can rotate in all directions. If you click on the Theta logo, the images will open in an enlarged view in a separate window. There is also the possibility to execute the pictures in full-screen mode. Have fun watching!
Copyright secured by Digiprove