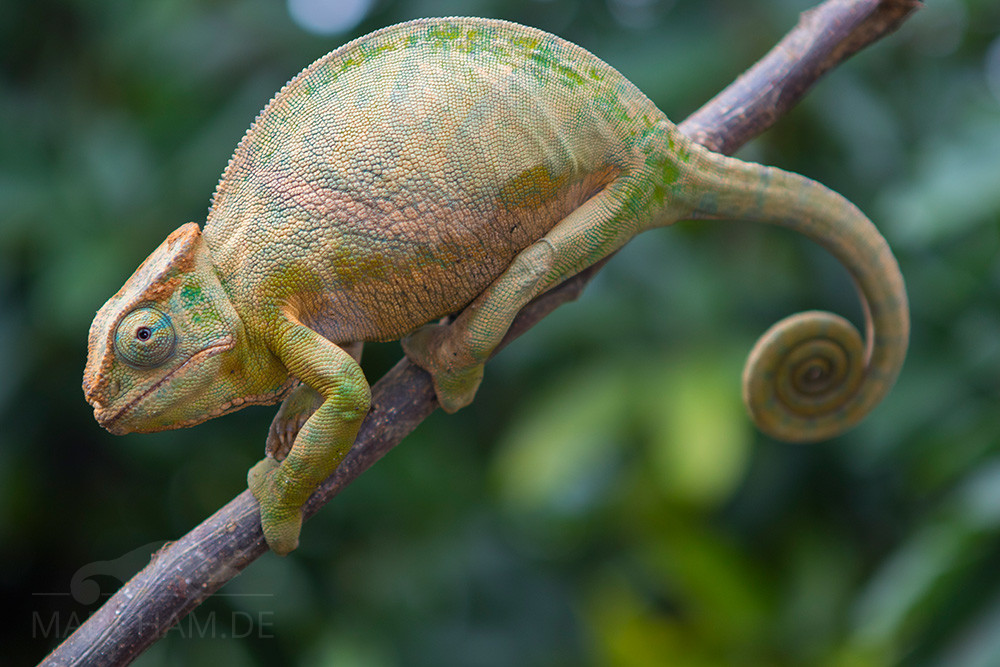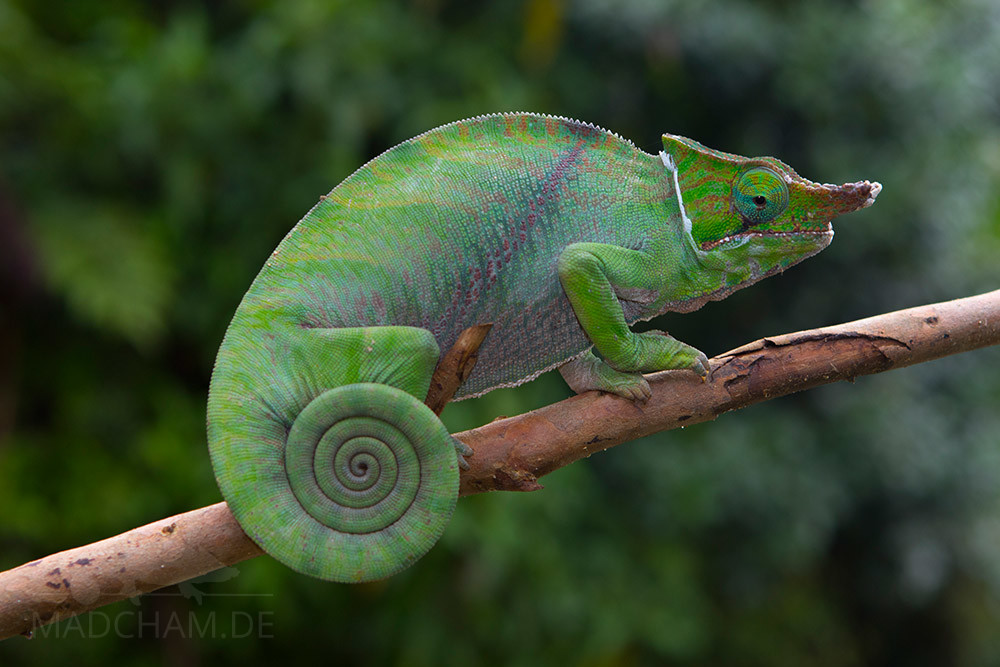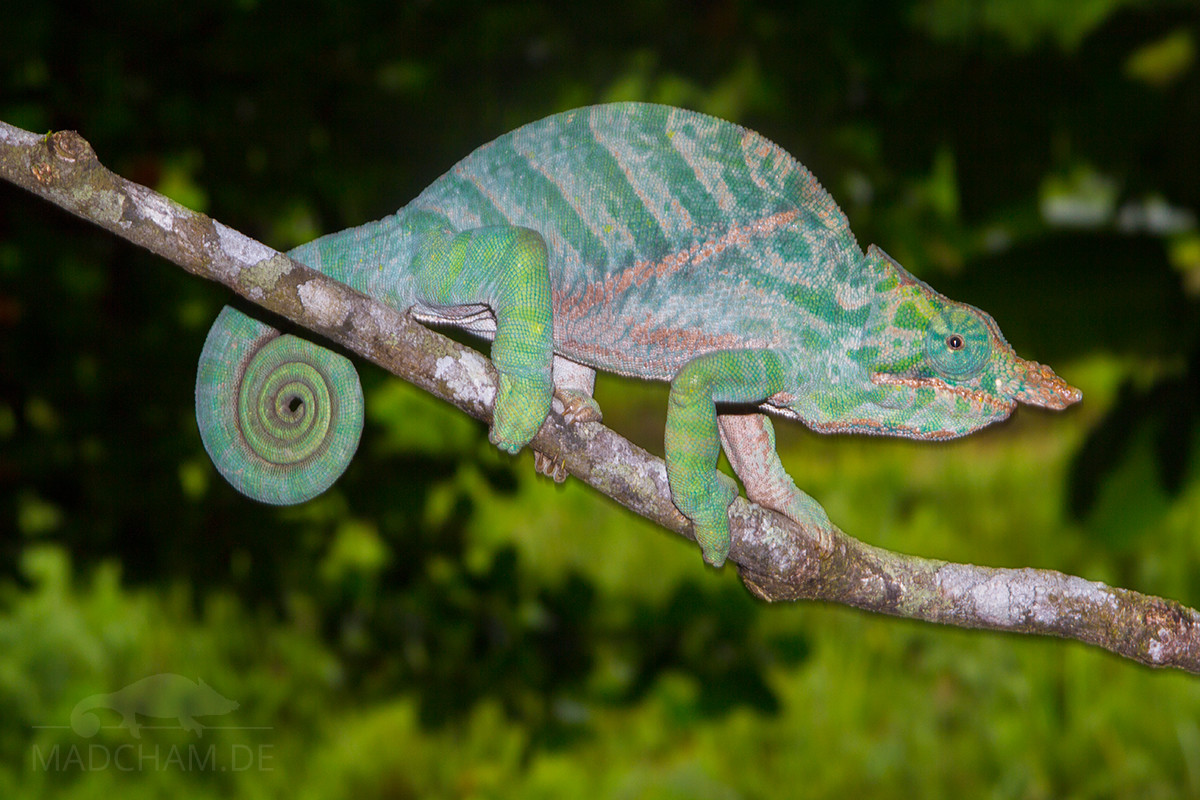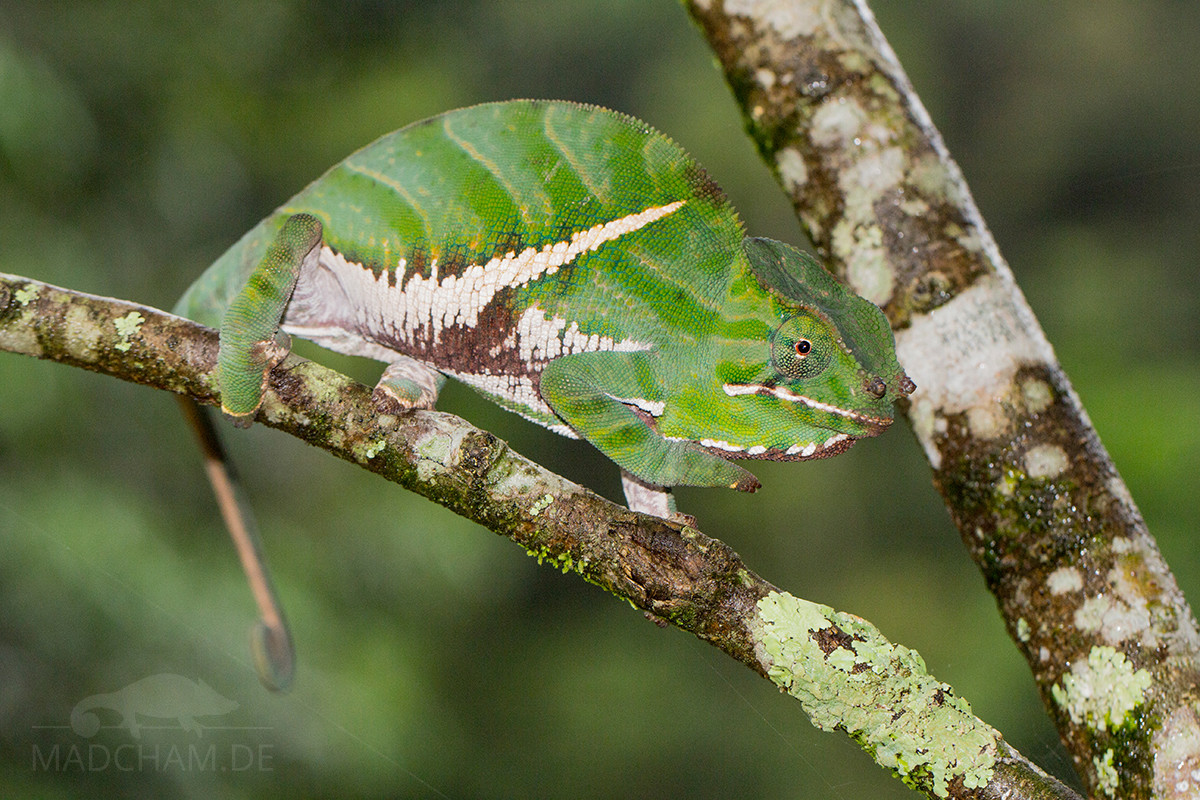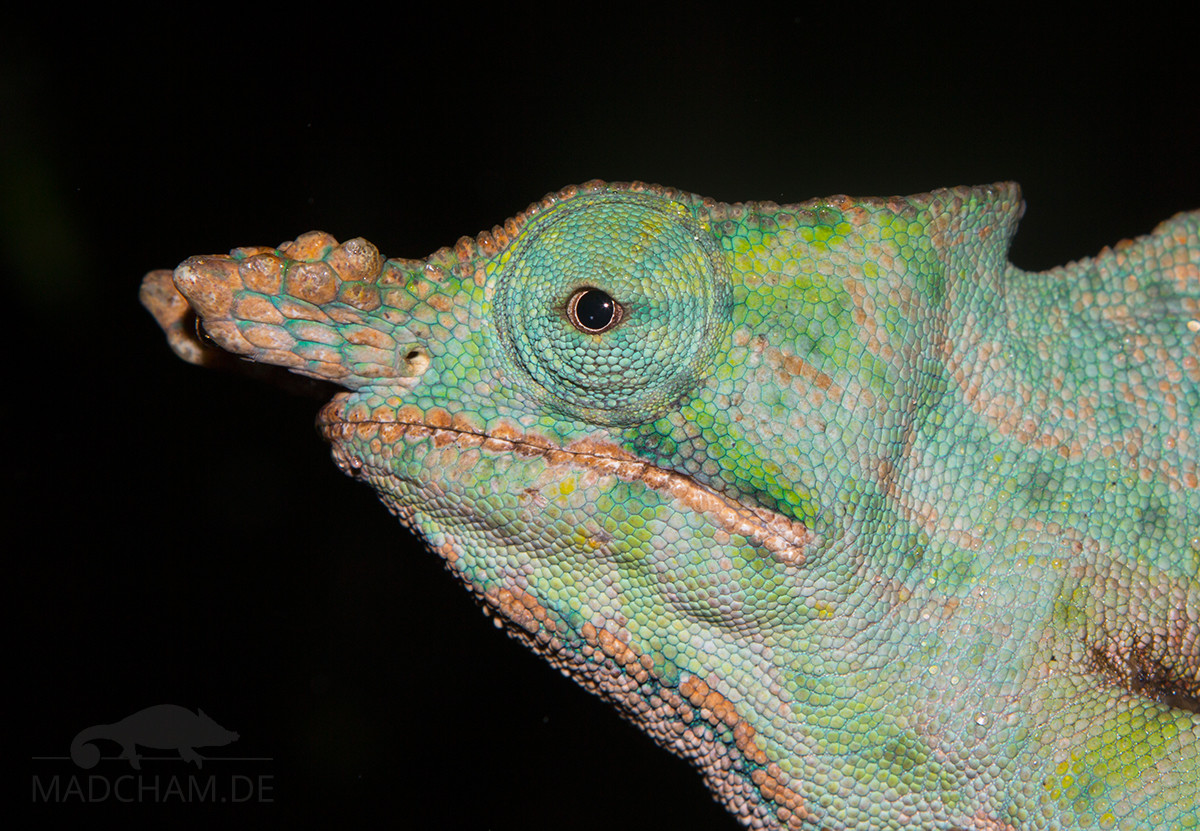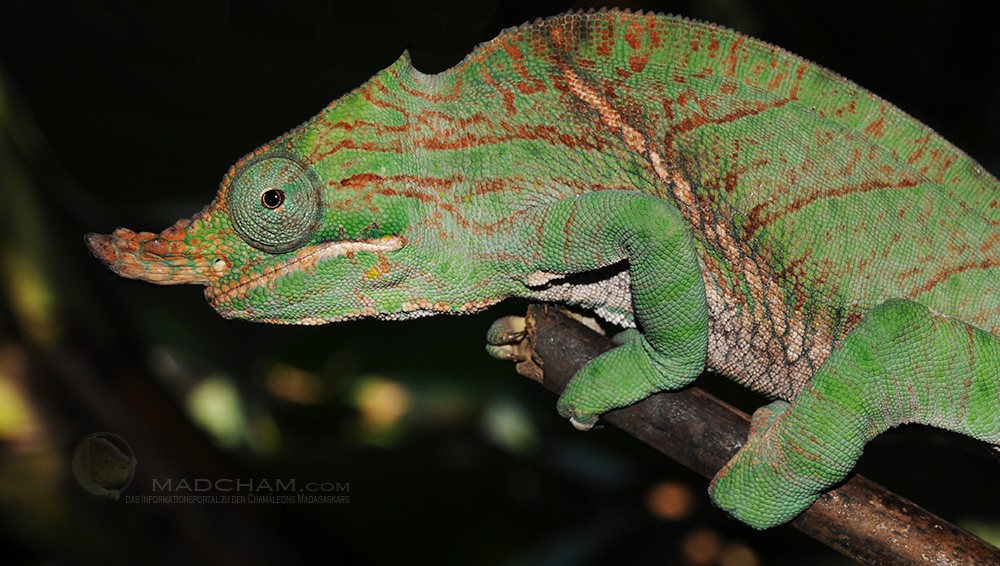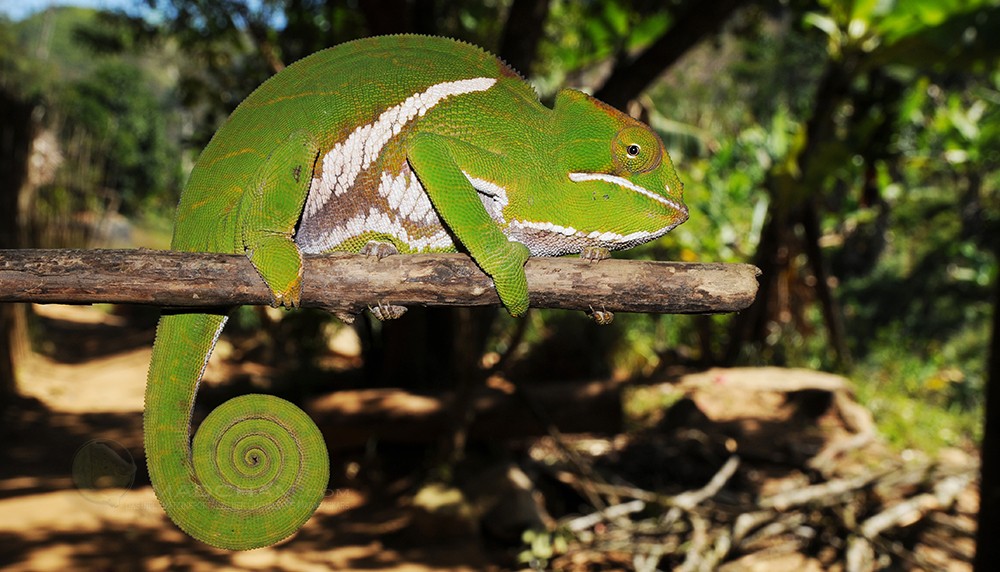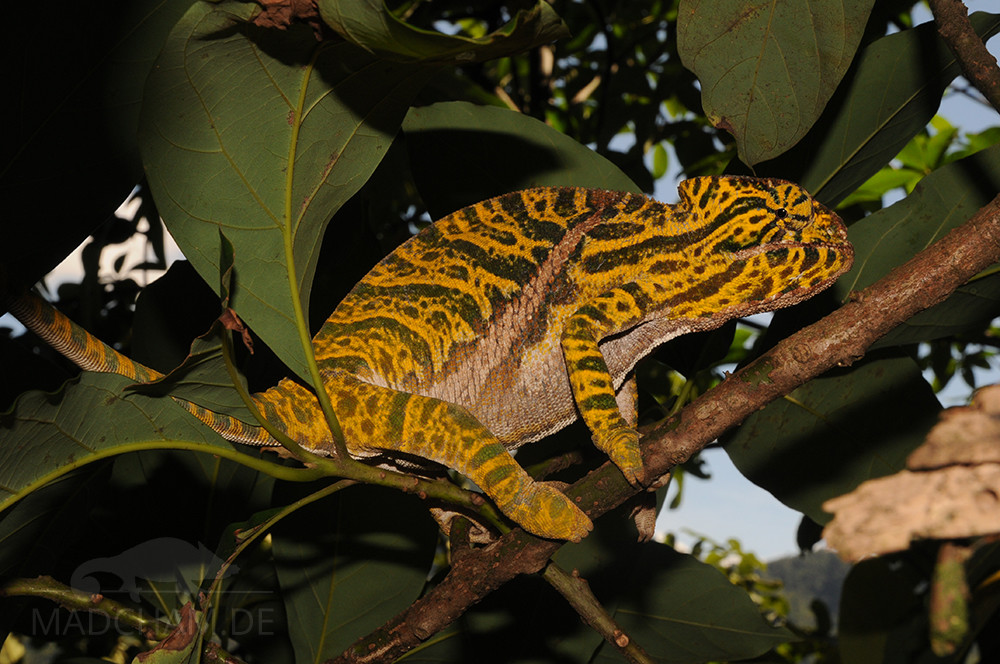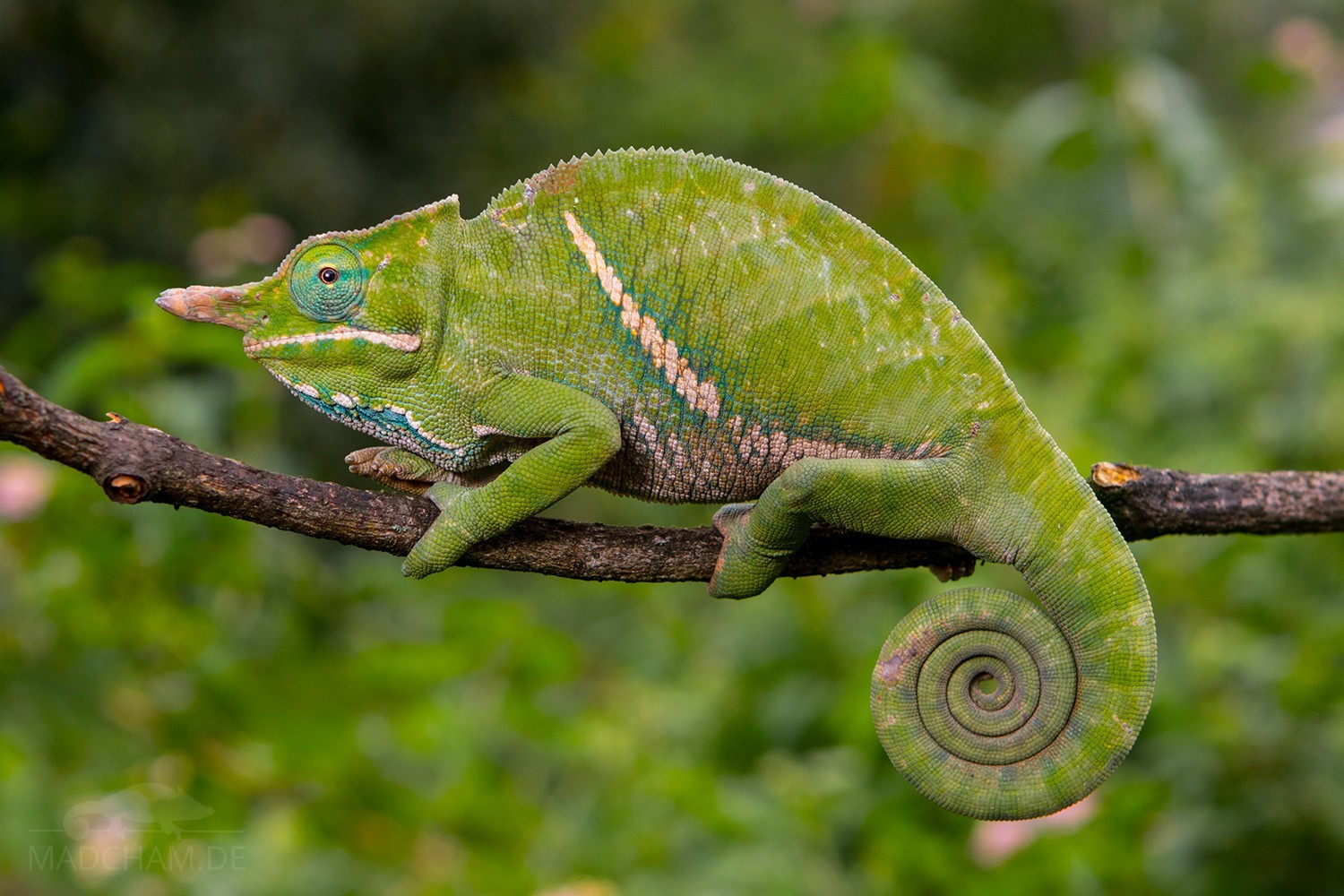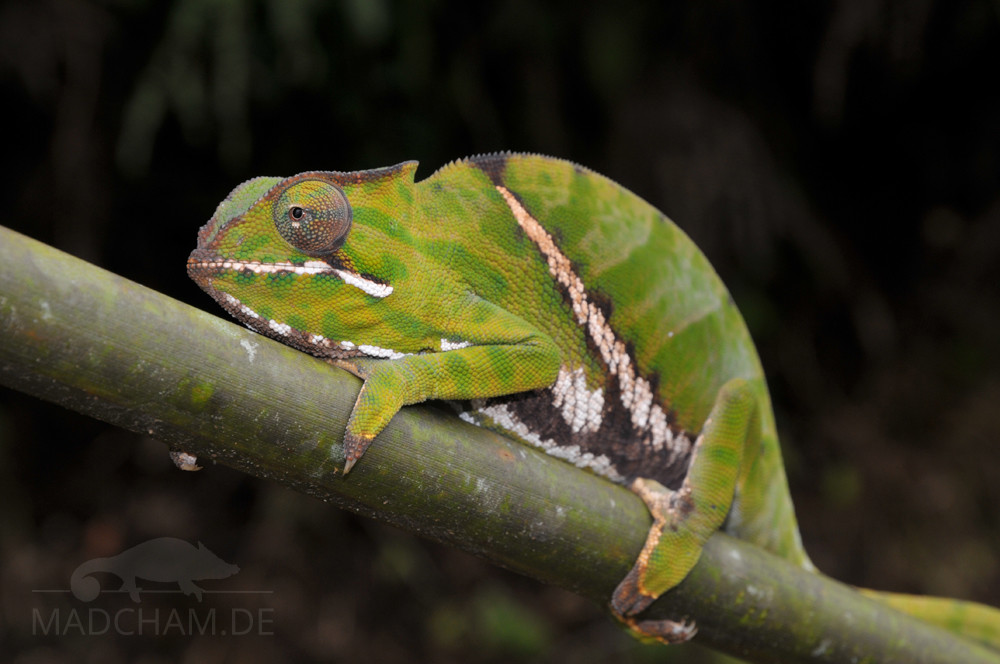 CITES quotas
no legal export possible
First description:
(Duméril & Bibron, 1851)
Origin of the species name:
The zoologist André Marie Constant Duméril, then head of herpetology at the Natural History Museum of Paris (France), together with his assistant Gabriel Bibron, named this chameleon species. Unfortunately, they did not mention where the name balteatus comes from in the first description.
Distribution:
This species exclusively lives in the mountain rainforests of Ranomafana and Ifanadiana. Sometimes they also climb in lush, high grown secondary vegetation. If you walk along the street in direction of the national park at night, you will find these animals sitting at the end of small branches of big trees. But you have to be a little lucky, it is not a very common species.
Appearance & size:
With a total length of 45 cm, especially the males are quite impressive. They have two tapered nose appendages that slightly bow to the ceiling, the females have only two small humps instead. Both genders are green colored with a white stripe running diagonally over the body, they both have white lips and whitish-brown spots on the belly. When stressed, the puffed-up throat can be bright turquoise-blue. Furcifer balteatus are easy to distinguish from other species by their body size, the special color pattern and the finding place. Young individuals are usually neon-green like the one pictured below.
| | | | | | | | | | | | | |
| --- | --- | --- | --- | --- | --- | --- | --- | --- | --- | --- | --- | --- |
| | Jan | Feb | Mar | Apr | May | Jun | Jul | Aug | Sep | Oct | Nov | Dec |
| Average temperature | 23 | 24 | 23 | 23 | 21 | 19 | 19 | 19 | 20 | 21 | 22 | 23 |
| Minimum temperature | 20 | 20 | 20 | 19 | 18 | 15 | 15 | 15 | 15 | 16 | 18 | 19 |
| Maximum temperature | 27 | 27 | 27 | 27 | 25 | 23 | 23 | 23 | 24 | 25 | 26 | 27 |
| Rain days | 27 | 24 | 26 | 19 | 17 | 18 | 21 | 20 | 15 | 16 | 20 | 25 |
We have collected the data given above over several years with thermometers and hygrometers at the finding places of the chameleons. "Average temperature" means that values of a whole month have been calculated to one average value per month. For example all measured minimum temperature values of February have been calculated to one average minimum temperature for February. In plain language, this means single peak values of a day may be a little higher or lower than the average minimum and maximum temperatures. It is possible that a location has an average maximum temperature of 29°C, but one day during that month it had 33°C or even 35°C there.
The rainforest of Ranomafana is located in Madagascar's southern highlands at elevations around 1000 m above sea level. Thus climate is generally cooler than e.g. on the coast or in the southwestern part of the island. Days reach temperatures around 25°C, rainy season may become a little warmer. Sunny places may get a little above 30°C sometimes. At night, temperature drops down to 20°C in rainy season and even lower to 15°C in dry season.
But "dry" season is very relative in Ranomafana, because the forest does not get dry at all. Never. It may rain less and precipitation is not lasting for days, but it is still rich enough to let ground and trees never dry completely. Key factors of Ranomafana's climate are high humidity and cool nights.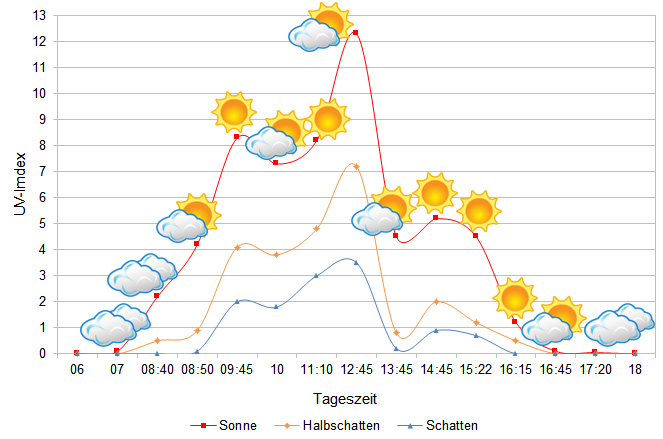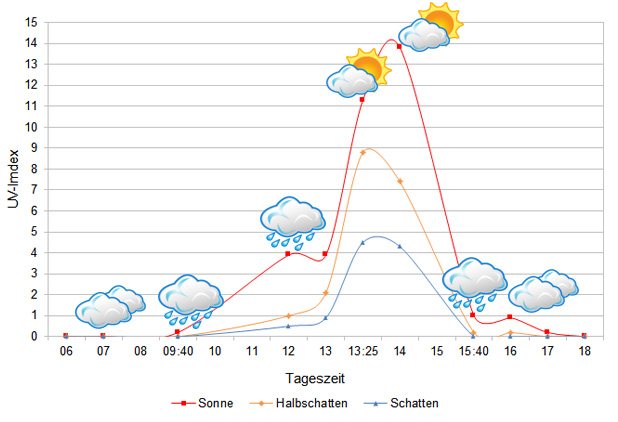 Tageszeit = day time, Sonne = sun, Halbschatten = half shade, Schatten = shade
We have measured UVB data with a Solarmeter 6.5 in spring (March) at the peak of activity of chameleons in Madagascar. We always measured the values that a chameleon could maximally reach in its habitat.
Unfortunately, we have no ground temperatures for Ranomafana available yet.
Habitat:
The following pictures show the habitat of Furcifer balteatus in Ranomafana. Some are even from "finding trees" of this species. The rainforest here covers several canyons so it is partially very steep. The ground is rocky with dense undergrowth. The trees are huge and in many locations completely overgrown by lichen and moss. In the morning, it is foggy and it generally never gets dry here. That's why the rainforest blooms all year long so fantastically. But Furcifer balteatus is not restricted to the primary rainforest only. They also live in secondary vegetation, on tamarind trees between wooden huts or on jackfruit trees next to streets. Even in a small bush directly in front of a hotel, we have already found animals of the species.
Hereinafter you can find some 360° pictures from Ranomafana that we took in 2017. You can move inside these pictures via mouse click in all directions. If you click on the Theta logo, a new window with an enlarged view will open. You will also have the opportunity to look at the pictures in full-screen mode. Enjoy!
Regenwald im Nationalpark Ranomafana, Region Haute Matsiatra und Vatovavy-Fitovinany, südliches Hochland, Madagaskar März 2017 – Spherical Image – RICOH THETA
Regenwald im Nationalpark Ranomafana, Region Haute Matsiatra und Vatovavy-Fitovinany, südliches Hochland, Madagaskar März 2017 – Spherical Image – RICOH THETA
Regenwald im Nationalpark Ranomafana, Region Haute Matsiatra und Vatovavy-Fitovinany, südliches Hochland, Madagaskar März 2017 – Spherical Image – RICOH THETA
Regenwald im Nationalpark Ranomafana, Region Haute Matsiatra und Vatovavy-Fitovinany, südliches Hochland, Madagaskar März 2017 – Spherical Image – RICOH THETA
Regenwald im Nationalpark Ranomafana, Region Haute Matsiatra und Vatovavy-Fitovinany, südliches Hochland, Madagaskar März 2017 – Spherical Image – RICOH THETA
Regenwald im Nationalpark Ranomafana, Region Haute Matsiatra und Vatovavy-Fitovinany, südliches Hochland, Madagaskar März 2017 – Spherical Image – RICOH THETA