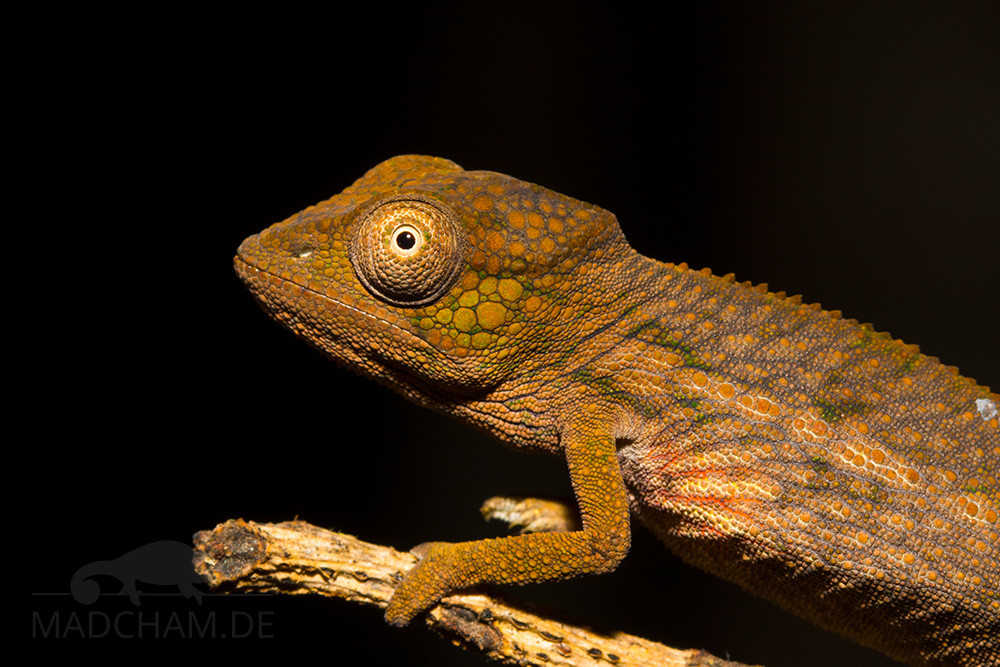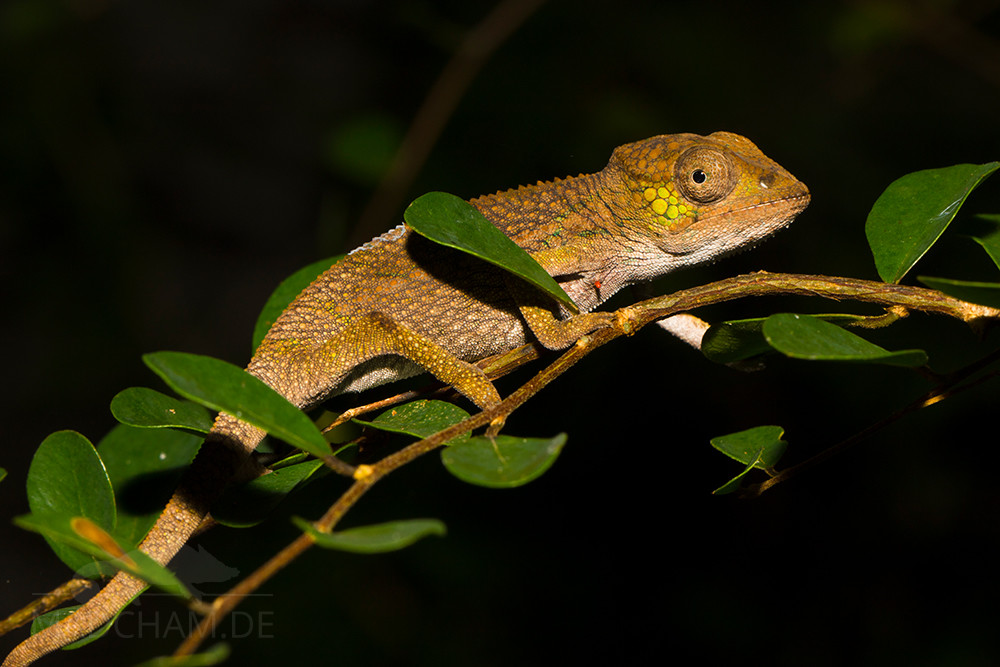 CITES quotas
no legal export possible
First description:
Jesu, Mattioli & Schimmenti, 1999
Origin of the species name:
The three Italian biologists Riccardo Jesu, Fabio Mattioli, and Giovanni Schimmenti from the Aquarium Genoa (Italy) dedicated the species to Guido Nicosia, then Italy's ambassador to Madagascar. In 1997 he had enabled the three of them to go on an expedition to discover the species in Madagascar.
Distribution:
Furcifer nicosiai only occurs in dry, hot western Madagascar. The rainy season in these dry forests is restricted to a few months a year. This species is known mainly from Tsingy de Bemaraha, but a more commonplace to find them is a little more northern in Kirindy forest. The distribution area is limited to a few intact forest areas. Most forests of this region have been slashed and burned, so they simply do not exist anymore. We've only found Furcifer nicosiai in Kirindy. And even there it is very difficult to find this species during the rainy season. In 2021 further localities of the species in the Andringitra massif in southeastern Madagascar became known. Individual animals were discovered there at about 960-970 m a.s.l. in a dry forest. Furcifer nicosiai seems to be more widespread than previously thought.
Appearance and size:
Furcifer nicosiai grows up to 17 cm in length of females and 28 cm in males from the nose to the tip of the tail. That means it is a middle-sized species in Madagascar. Both genders wear a half-high casque. Males have a dorsal ridge, females only some enlarged scales on the anterior part of the back. Only the throat has a ridge of 16 small scales in both genders. Concerning colors, males are more beige with brownish accents, broad white lateral stripe, and dark cross bands. Females are brownish with yellow or purple-blueish accents especially on the cheeks and inside the pink lateral stripe. Furcifer nicosiai is usually confused with youngs of Furcifer oustaleti that are very common in the same habitat. Since most guides in Kirindy cannot surely differentiate one species from the other, there are many wrongly described pictures on the world wide web.
Life cycle:
Most Furcifer nicosiai in Kirindy hatch in February. From the end of the rainy season, by the end of April, they grow rather slowly. Their next growth spurt comes during the next rainy season from October on. On average, they become 16-18 months old which is probably caused by harsh environmental conditions.
| | | | | | | | | | | | | |
| --- | --- | --- | --- | --- | --- | --- | --- | --- | --- | --- | --- | --- |
| | Jan | Feb | Mar | Apr | May | Jun | Jul | Aug | Sep | Oct | Nov | Dec |
| Average temperature | 28 | 28 | 28 | 28 | 25 | 23 | 23 | 24 | 26 | 28 | 29 | 28 |
| Minimum temperature | 23 | 22 | 23 | 22 | 18 | 16 | 15 | 16 | 19 | 21 | 22 | 23 |
| Maximum temperature | 33 | 33 | 33 | 33 | 33 | 31 | 31 | 32 | 33 | 35 | 35 | 34 |
| Rain days | 16 | 12 | 6 | 1 | 1 | 0 | 0 | 0 | 1 | 1 | 2 | 9 |
We have collected the data given above over several years with thermometers and hygrometers at the finding places of the chameleons. "Average temperature" means that values of a whole month have been calculated to one average value per month. For example all measured minimum temperature values of February have been calculated to one average minimum temperature for February. In plain language, this means single peak values of a day may be a little higher or lower than the average minimum and maximum temperatures. It is possible that a location has an average maximum temperature of 29°C, but one day during that month it had 33°C or even 35°C there.
Climate in Kirindy is mainly one thing: Hot. During dry season from April until September, it rarely rains and if, very short. The dry forest loses its leaves and few green survives. During daytime, it becomes extremely hot, but at night temperature drops massively, sometimes even below 15°C. This extreme temperature drop at night is typical for the area in dry season.
During rainy season from October until March, the forest blooms: It is raining several times a day, trees and plants begin to sprout. Everything becomes green and vivid. Humidity is accordingly high. During daytime, rainy season is even warmer than dry seasin. But at night, temperature drops only few degrees in rainy season.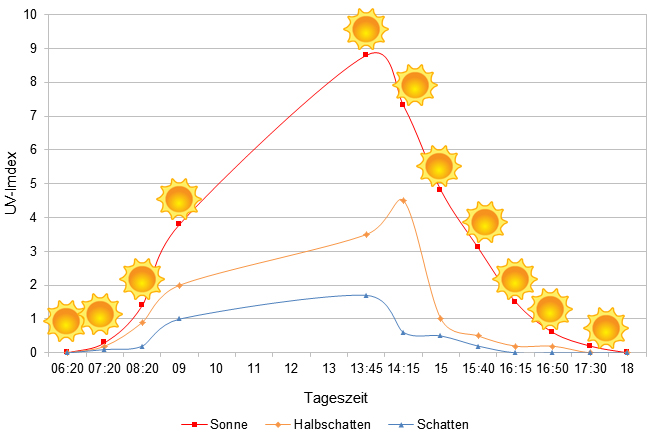 Tageszeit = day time, Sonne = sun, Halbschatten = half shade, Schatten = shade
We have measured UVB data with a Solarmeter 6.5 in spring (beginning of April) at the peak of activity of chameleons in Madagascar. We always measured the values that a chameleon could maximally reach in its habitat.
Unfortunately, we have no ground temperatures for Kirindy available yet.
Habitat:
The following pictures show the habitat of Furcifer nicosiai at the end of the rainy season in Kirindy. Some are even from finding places of this species. Kirindy is a dry forest with not really high, slender trees. All over the year, dense foliage covers the sandy soil. The habitat of this species mainly consists of shrubs and bushes.
Hereinafter you can find some 360° pictures from Kirindy that we took during the rainy season. You can move inside these pictures via mouse click in all directions. If you click on the Theta logo, a new window with an enlarged view will open. You will also have the opportunity to look at the pictures in full-screen mode. Enjoy!
Trockenwald von Kirindy, Region Menabe, West-Madagaskar März 2017 – Spherical Image – RICOH THETA
Trockenwald von Kirindy, Region Menabe, West-Madagaskar März 2017 – Spherical Image – RICOH THETA