Distribution of the locale:
Cap Est (Cape East) is a place on Madagascar's eastcoast and belongs to Masoala national park. The name does not mean a village, but the most eastern point of Madagascar. The area consists of rainforest residues and is hardly accesible. That is why hardly any traveler has seen Cap Est personally. If you want to visit the area, you will only be allowed to go there with a local guide of Masoala national park. We have been to Cap Est only few times yet, too. Due to its exposed location, Cap Est is victim of cyclones each year again, which destroys any attempts to build firm huts there. The cape is isolated from the rest of the island by rivers.
Appearance of the locale:
Due to the isolated location you can find there a locale of panther chameleons with high colour fidelity: The males are dusty blue to white with deep red stripes.
In Madagascar, it is illegal to catch animals in protected areas or even inside national parks. If you find this locale outside Madagascar, you can be sure that the chameleon was either illegaly exported or is not from this locale. In most cases, the offered animals are simply sold under wrong locale name to raise the prices. In most cases, the offered animals are simply specimen from
Nosy Boraha
(St. Marie) or
Toamasina
(Tamatave) sold under wrong locale name to raise the prices.
Weight table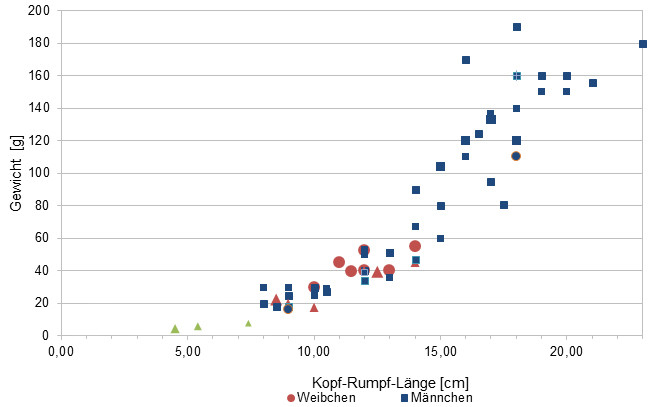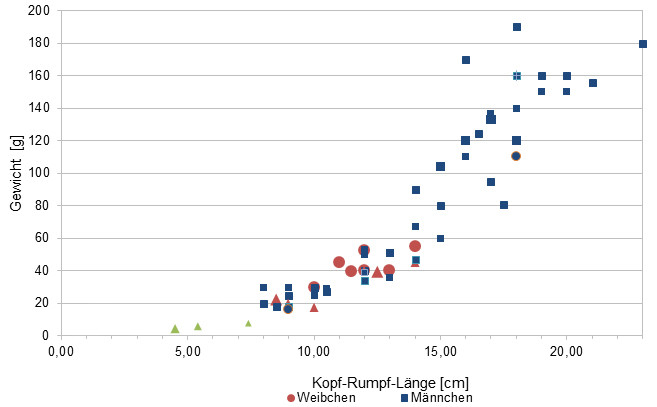 Gewicht = weight in grams, Kopf-Rumpf-Länge = snout-vent-length in cm, Weibchen = females, Männchen = males
Since 2015 we have been measuring the weights of chameleons we have found in Madagascar, as far as the animals (and our scales) are participating. So far there are only a few weights, in the long term an average weight in relation to the snout-vent-length It is important to know that all weights were measured towards the end of the rainy season (= best food supply), so they are probably maximum weights in Madagascar. Triangular symbols in females do not mean pregnant, round symbols mean pregnant. In the case of Furcifer pardalis, contrary to our original assumption, there have been no serious differences in the ratio of SVL to the weight of the individual locales.
| | | | | | | | | | | | | |
| --- | --- | --- | --- | --- | --- | --- | --- | --- | --- | --- | --- | --- |
| | Jan | Feb | Mar | Apr | May | Jun | Jul | Aug | Sep | Oct | Nov | Dec |
| Average temperature | 24 | 25 | 25 | 24 | 24 | 23 | 21 | 20 | 21 | 22 | 23 | 24 |
| Minimum temperature | 20 | 21 | 20 | 20 | 18 | 17 | 16 | 16 | 17 | 17 | 19 | 20 |
| Maximum temperature | 28 | 29 | 28 | 27 | 25 | 25 | 25 | 25 | 25 | 27 | 27 | 28 |
| Rain days | 26 | 23 | 25 | 19 | 17 | 18 | 21 | 21 | 16 | 17 | 20 | 24 |
We have collected the data given above over several years with thermometers and hygrometers at the finding places of the chameleons. "Average temperature" means that values of a whole month have been calculated to one average value per month. For example all measured minimum temperature values of February have been calculated to one average minimum temperature for February. In plain language, this means single peak values of a day may be a little higher or lower than the average minimum and maximum temperatures. It is possible that a location has an average maximum temperature of 29°C, but one day during that month it had 33°C or even 35°C there.
Masoala's rainforest is located at the coast with broad side to Antongil bay which behaves more like an open sea concerning climate. Accordingly, spring brings cyclones each year. During rainy season, it rains very intensively on a daily base. But also dry season is not really dry but has regular precipitation.
From October to April, it is warmer in Masoala than during the rest of the year, with temperatures up to 30°C in sunny places. In the night, temperatures drop a little, but are only considerably in dry season from April to October with temperature drops to 15°C at night. High humidity and moderate warmth are the key features of this rainforest.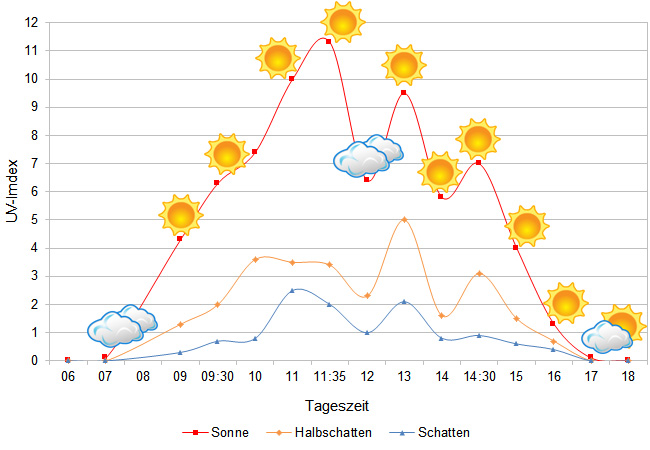 Tageszeit = day time, Sonne = sun, Halbschatten = half shade, Schatten = shade
We have measured UVB data with a Solarmeter 6.5 in spring (end of March) at the peak of activity of chameleons in Madagascar. We always measured the values that a chameleon could maximally reach in its habitat.
Unfortunately, we have no ground temperatures for Masoala available yet.
Habitat:
The local habitat of these panther chameleons consists of a mixture of rainforest and secondary vegetation. The ground is densely covered with foliage and undergrowth, the undergrowth is enormously dense. Big trees are rather found in direction of the inner national park, and less around the cape.