CITES quotas
no legal export possible
First description:
Mocquard, 1900
Distribution:
Calumma fallax occurs from the rainforests of the central highlands down to Andohahela. The best place to find it is the Ranomafana National Park in the southern highlands – that's where we took our photos. In Anjozorobe north of Antananarivo and Mandraka east of the capital, we have not yet found the species, although it does occur there.
Appearance and size:
Calumma fallax belongs to the smaller chameleons with a maximum total length of 10.1 cm in males and a little less in females. Both sexes do not have any occipital lobes but have a small, soft, round nose appendage, which seems to point a little downwards. Below the rostral appendage there is a scale of the upper lip, which is clearly separated from the appendage itself. The rostral crest is very pronounced. The males of Calumma fallax show a dorsal crest, which however consists of only six to eleven enlarged scales. The casque of the males is characteristically high (1.3 to 2.5 mm) and tapering. Females neither wear enlarged scales on the back crest nor a particularly conspicuous casque. The scales of both sexes are slightly larger on the arms and legs than on the body. A light lateral stripe is conspicuous, in relaxed state three blue broad stripes appear on the body. The males usually wear reddish colours on helmet and nose, but green on the underside of the head and on the arms. Calumma fallax can be easily distinguished from the similar sized Calumma radamanus by the higher casque and the shape of the nose. The 2020 revised species Calumma nasutum looks very similar to Calumma fallax, but is found in other places.
| | | | | | | | | | | | | |
| --- | --- | --- | --- | --- | --- | --- | --- | --- | --- | --- | --- | --- |
| | Jan | Feb | Mär | Apr | Mai | Jun | Jul | Aug | Sep | Okt | Nov | Dez |
| Durchschnittl. Temperatur | 23 | 24 | 23 | 23 | 21 | 19 | 19 | 19 | 20 | 21 | 22 | 23 |
| Minimale Temperatur | 20 | 20 | 20 | 19 | 18 | 15 | 15 | 15 | 15 | 16 | 18 | 19 |
| Maximale Temperatur | 27 | 27 | 27 | 27 | 25 | 23 | 23 | 23 | 24 | 25 | 26 | 27 |
| Regentage | 27 | 24 | 26 | 19 | 17 | 18 | 21 | 20 | 15 | 16 | 20 | 25 |
Die angegebenen Daten wurden von uns innerhalb mehrerer Jahre mit Thermo- und Hygrometern direkt an den Fundorten der Tiere gemessen und zusammengetragen. "Durchschnittliche Temperatur" bedeutet, dass die Werte eines gesamten Monats zu einem Durchschnittswert berechnet wurden, z.B. wurden alle gemessenen Minimalwerte eines Monats zu einem durchschnittlichen Minimalwert für Februar berechnet. Das bedeutet im Klartext, dass einzelne Spitzenwerte eines Tages deutlich höher oder niedriger als die durchschnittlichen Minimal- und Maximalwerte liegen können. Es ist also möglich, dass zwar das durchschnittliche Maximum bei 29 Grad liegt, es aber an einigen Tagen des Monats 33°C oder gar 35°C warm war.
Der Regenwald von Ranomafana liegt im südlichen Hochland Madagaskars auf Höhen um die 1000 m über Meeresniveau. Damit ist das Klima hier grundsätzlich kühler als z.B. an der Küste oder im Südwesten der Insel. Tagsüber wird es um die 25°C warm, während der Regenzeit auch wärmer. Sonnige Stellen erreichen auch mal knapp über 30°C. Nachts sinken die Temperaturen herunter bis auf 20°C in der Regenzeit und bis auf 15°C in der Trockenzeit.
Trockenzeit ist in Ranomafana allerdings sehr relativ, denn wirklich trocken wird es hier nie. Es regnet zwar etwas weniger und nicht tagelang am Stück, aber trotzdem noch ergiebig genug, dass Erdboden und Bäume nie völlig abtrocknen. Eine hohe Luftfeuchtigkeit und kühle Nächte sind die Schlüsselfaktoren in Ranomafana.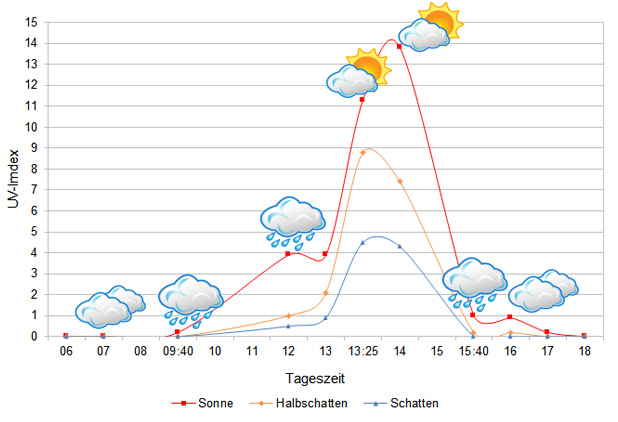 Die UVB-Daten wurden mit einem Solarmeter 6.5 im Frühjahr (März) zur höchsten Aktivitätszeit der Chamäleons gemessen. Gemessen wurden jeweils maximal für das Chamäleon zu erreichende Werte im Habitat.
Leider sind noch keine Bodentemperaturen für Ranomafana verfügbar.
Habitat:
The following photos show parts of the Calumma fallax habitat during the rainy season in Ranomafana. The rainforest of Ranomafana is constantly humid, and Calumma fallax is usually found in very dense bushes with an infinite number of thin branches and branches. However, we have already discovered them in similar secondary vegetation on the edge of the rainforest. Ranomafana is crossed by a large river and many small streams, which is why the soil is moist everywhere and mosses and ferns grow almost everywhere.
Below you will find some 360° pictures from Ranomafana taken during the rainy season. With the mouse you can rotate in all directions. If you click on the Theta logo, the pictures open in an enlarged view in a separate window. There is also the possibility to execute the images in full screen mode. Have fun watching!
Regenwald im Nationalpark Ranomafana, Region Haute Matsiatra und Vatovavy-Fitovinany, südliches Hochland, Madagaskar März 2017 – Spherical Image – RICOH THETA
Regenwald im Nationalpark Ranomafana, Region Haute Matsiatra und Vatovavy-Fitovinany, südliches Hochland, Madagaskar März 2017 – Spherical Image – RICOH THETA
Regenwald im Nationalpark Ranomafana, Region Haute Matsiatra und Vatovavy-Fitovinany, südliches Hochland, Madagaskar März 2017 – Spherical Image – RICOH THETA
Regenwald im Nationalpark Ranomafana, Region Haute Matsiatra und Vatovavy-Fitovinany, südliches Hochland, Madagaskar März 2017 – Spherical Image – RICOH THETA
Copyright secured by Digiprove