CITES quotas
No legal export possible
First description:
Glaw, Köhler, Townsend, Vences 2012
Distribution:
Brookesia micra occurs exclusively on the island of Nosy Hara in northern Madagascar. The island is about 3.2 km² in size and consists mainly of karst rock, which covers the island in layers and resembles the Tsingys, and dry forest. The ground of the habitat of this leaf chameleon has an enormously stony underground, in between there are trees and bushes. The microhabitat of Brookesia micra is surprisingly much more humid than one would expect when looking at the rocky area. The animals are best found at the roots of certain large trees, where they live relatively close to the ground. Higher than 10 cm above the ground it cannot be found even at night when sleeping, whereby the animals prefer to sleep on blades of grass. The entire island of Nosy Hara is a national park in its own right, but visitors are scarce. This is mainly due to the fact that Nosy Hara can only be reached by boat and there is neither running water nor electricity. So every supply (water, food, cooking facilities) has to be taken to the island, which means a considerable logistical as well as financial effort in Madagascar.
Appearance & size:
With a maximum total length of 3 cm from the nose to the tip of the tail as adults, Brookesia micra is the smallest of all chameleons. Thus it forms a group with other tiny leaf chameleons such as Brookesia tuberculata or Brookesia karchei, it is called the minima group. Brookesia micra has 11 or 12 spines along its dorsal crests, that do not continue on the tail. The head has only one enlarged tubercle. But the easiest way to distinguish Brookesia micra from other species of the minima group is to look at the tail: Adults wear a bright yellow to orange coloured tail, that looks rather stumpy. Many adults have a beige coloured broad line running from the head along the back.
Good to know:
Brookesia micra is not only the smallest chameleon worldwide known today, but also the smallest reptile on Earth.
| | | | | | | | | | | | | |
| --- | --- | --- | --- | --- | --- | --- | --- | --- | --- | --- | --- | --- |
| | Jan | Feb | Mar | Apr | May | Jun | Jul | Aug | Sep | Oct | Nov | Dec |
| Average temperature | 28 | 27 | 28 | 27 | 27 | 24 | 24 | 24 | 25 | 26 | 27 | 28 |
| Minimum temperature | 24 | 22 | 25 | 23 | 22 | 21 | 21 | 19 | 20 | 21 | 22 | 22 |
| Maximum temperature | 31 | 30 | 30 | 31 | 29 | 28 | 29 | 29 | 30 | 31 | 30 | 32 |
| Rain days | /td> | | | | | | | | | | | |
We have collected the data given above over several years with thermometers and hygrometers at the finding places of the chameleons. "Average temperature" means that values of a whole month have been calculated to one average value per month. For example all measured minimum temperature values of February have been calculated to one average minimum temperature for February. In plain language, this means single peak values of a day may be a little higher or lower than the average minimum and maximum temperatures. It is possible that a location has an average maximum temperature of 29°C, but one day during that month it had 33°C or even 35°C there.
The climate on Nosy Hara is similar to that of Antsiranana (Diego Suarez) on the coast: it is warm to hot, and relatively dry most of the year. The location as an island in the sea provides for a somewhat more humid climate, however, there are precipitations nevertheless mainly in the rainy season.
At night the temperatures drop only slightly and are still very warm (when camping you sweat very much).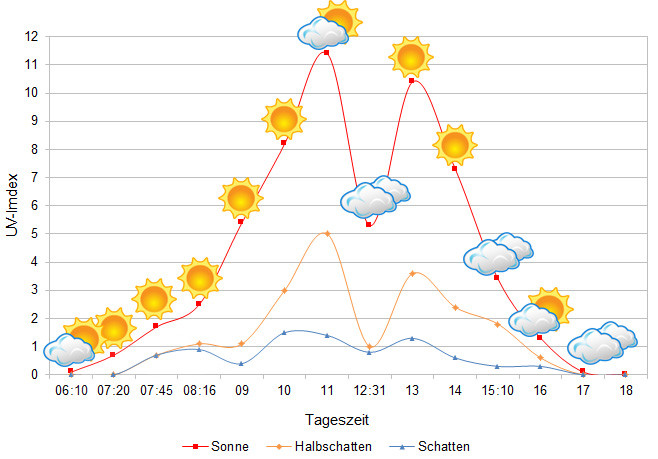 Tageszeit = day time, Sonne = sun, Halbschatten = half shade, Schatten = shade
We have measured UVB data with a Solarmeter 6.5 in spring (March, April) at the peak of activity of chameleons in Madagascar. We always measured the values that a chameleon could maximally reach in its habitat.
Unfortunately, we have no ground temperatures for Nosy Hara available yet.
Habitat:
The following pictures show the habitat of Brookesia micra at the end of the rainy season on Nosy Hara. This species belongs to the few chameleons that live right between the Tsingys, needle stone rocks, in the dry forest. The ground along the Tsingys is very rocky and crossed by gravel and stones, many small twigs lay around. Low bushes offer a little more humid microclimate than you would assume when looking at the Tsingys. Nevertheless, the habitat is very sparse and rocky, actually no typical chameleon habitat.
Hereinafter you can find some 360° pictures from habitats of the species on the island Nosy Hara. You can move inside these pictures via mouse click in all directions. If you click on the Theta logo, a new window with an enlarged view will open. You will also have the opportunity to look at the pictures in full screen mode. Enjoy!
Copyright secured by Digiprove